Hundreds of people in Barcelona and thousands throughout Catalonia responded to yesterday's sentencing of pro-independence activist Marcel Vivet to jail by rallying this Thursday afternoon to demand his acquittal. A judge convicted Vivet to five years' imprisonment for hitting a Mossos d'Esquadra police officer with a flagpole in a 2018 demonstration. 
In the protest in Plaça Sant Jaume in the Catalan capital, about a thousand people raised their voices against the court decision, with special emphasis on the prosecution conducted by the Catalan government in the case. Pro-independence groups the Catalan National Assembly (ANC) and Òmnium Cultural, as well as the Intersindical trade union, took part in the event, at which Marcel Vivet himself spoke.
Vivet denounced that, as has been reported in the media today, the Mossos allegedly carried out a parallel investigation of another young man who is also charged with the same action - an alleged assault on a Mossos officer with a flagpole during a demonstration against the Jusapol police union. The convicted pro-independence activist called for "a thousand and one airports","a thousand and one La Jonquera blockades", in reference to some of the most symbolic mobilizations of the independence process.
The speeches were accompanied by chants calling for the activist's acquittal and against the political parties ERC and Junts. As is usual in pro-independence events, the rally ended with the singing of the anthem Els Segadors, which sounded amid a sea of raised fists.
Fingers pointed at the Catalan government
The president of the ANC, Elisenda Paluzie, accused the Catalan institutions of having adopted a strategy of "surrender". "Surrender is to put down the red carpet for Operation Re-encounter," she said, citing the events held by business groupings Foment and Cercle d'Economia, also referring to next Monday's Liceu opera house event which is to feature the Spanish prime minister Pedro Sánchez.
"The other strategy is that of fighting, of saying we have no king and burning [images of] him when he comes," she exclaimed amid applause. Paluzie blamed the Generalitat of Catalonia for its role in the Vivet case and demanded that the Catalan government "stop acting out of fear of the Spanish-nationalist oriented unions in the Mossos".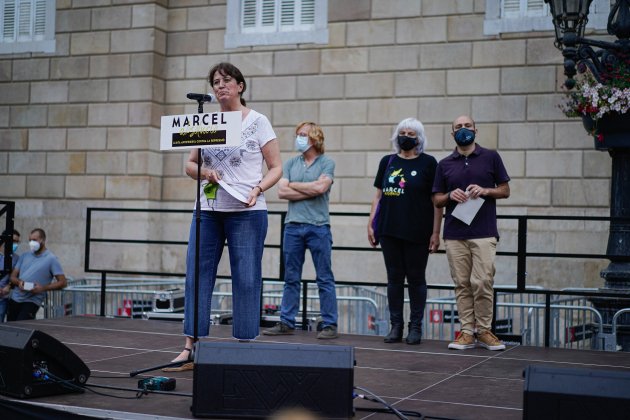 The Òmnium vice-president, Marcel Mauri, also denounced the accusation made by the Catalan government in the case and urged the executive to now join the activist's legal defence appeal. Mauri also read a letter from Jordi Cuixart supporting Vivet.
On behalf of the Marcel support group, CUP deputy Dolors Sabater called for mobilization to "end this barbarism" and "the persecution of all those who fight against the Regime of '78". She also called on the government to "stop being complicit in this police corruption."
Sergi Perelló, a representative of the trade union Intersindical, said that Vivet's trial was "political and preconstructed", and called on the public to "organize at workplaces as well, through trade union groups".