Russia has once again held up a mirror before the EU's foreign policy chief, Josep Borrell, who it accuses of trying to "lecture" the Moscow government over the case of Russian opponent Alexei Navalni. "Borrell's attempts to lecture Russia would sound particularly 'appropriate' from the streets of Barcelona," the Russian foreign ministry commented sarcastically from its Twitter account, referring to the protests against the imprisonment of rapper Pablo Hasél. It was a reply to Borrell's message in which he asked the Russian judiciary to respect the ruling of the European Court of Human Rights (ECHR) calling for Navalni's "immediate" release.
.@JosepBorrellF, attempts to lecture #Russia on Navalny would sound particularly "appropriate" from the streets of Barcelona. https://t.co/i8xx33PYEB

— MFA Russia 🇷🇺 (@mfa_russia) February 21, 2021
The Strasbourg-based court said last week it had made that decision after "considering the nature and extent of the risk to [Navalni's] life. A Moscow court sentenced the Russian opposition politician to three and a half years imprisonment in early February arising from a 2014 sentence. According to the court, Navalny had breached the terms of parole granted in 2014 by failing to appear last year before the competent authority.
Sixth night of protests
Sunday saw the sixth straight night of street protests centred on Barcelona against the jailing of Catalan rapper Pablo Hasél last Monday for social media messages and song lyrics. Although the size and intensity of the protests and incidents were smaller than on Friday and Saturday, the Mossos d'Esquadra police arrested eight people in the Catalan capital. Five of the arrests were for robbery with the use of force in a clothing store which was looted and three for public disorder and assault on law enforcement officers.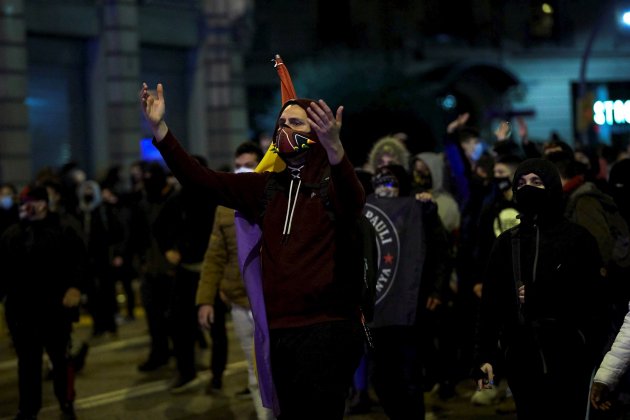 Nine officers were injured by the throwing bottles and blunt objects, two of whom required hospital treatment. Sunday's protest started at the main train station at Sants, from where the protesters walked to the city centre. The most tense moment was in Via Laietana, where a small group threw rubbish, glass bottles, food scraps and firecrackers against the police cordon that protected the Spanish National Police headquarters in the city.
Thus, with the data so far on arrests this Sunday, the Mossos put the total number of people arrested in the context of the protests and riots that have occurred in Catalonia since Tuesday 16th February at 109.