EU High Representative for Foreign Affairs, Josep Borrell, was this morning forced to listen to the criticisms of the European Union - and specifically Spain - made by Russian foreign minister Sergei Lavrov in response to the European demand for the release of opposition Russian politician Alexei Navalni and his supporters. Lavrov's reply on the Navalni question recalled issues of police brutality in Europe and, in particular, the situation of the jailed Catalan pro-independence leaders, and he accused Borrell and Europe of applying a double standard.
The exchange took place at a press conference in Moscow after a meeting between the two politicians. The head of European diplomacy publicly reiterated his demand for the release of Navalni and stated that the EU expects an "independent and comprehensive" investigation of the poisoning of the opposition leader last summer.
After listening to him, Lavrov replied by recalling recent cases of police abuse in Europe and the United States and went into some detail on the situation of the Catalan pro-independence prisoners, which he cited as an example of "politically motivated judicial decisions".
Imprisoned for a referendum
"The pro-independence leaders are in prison for organizing a referendum, a decision that the Spanish judiciary has not withdrawn despite the fact that courts in Germany and Belgium have ruled against it," he argued.
The Russian minister recalled that in the face of this situation, Spain has upheld its own judicial system and asked others not to doubt its decisions, while, for its part, Russia has not made political comments on this. "This is what we want from the West in terms of reciprocity," he said.
Lavrov, who also complained that Russia was accused without any evidence of interfering in the Catalan referendum, commented that Russia is quite used to the EU trying to impose illegitimate restrictions unilaterally. "It was rather rude. This arrogance of educated Europe seems to me quite unacceptable and we categorically reject it," he said.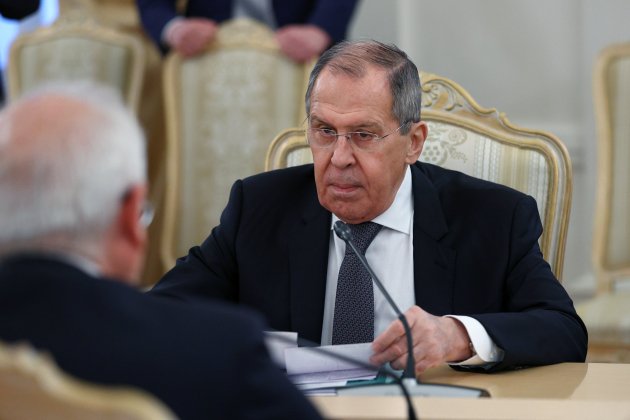 Borrell responded to the Russian minister's reproaches by assuring that when there are cases of police brutality in the United States or the EU, "there are many ways to put things in their place and demand accountability."
The EU's foreign policy chief repeated his call for a "full and transparent" investigation that could help clarify what happened to Navalni's poisoning attempt.