"What happens if there's a trial and no one is there? That's what we should have done." With that powerful image, lawyer Gonzalo Boye made the argument that all of the Catalan political prisoners should ideally be in exile. "We would have had as many legal battles as there were exiles," he added, taking part in the second session of the annual Catalan Summer University in the northern Catalan town of Prada (in French, Prades). Boye was the protagonist this Friday afternoon of a roundtable along with Neus Torbisco-Casals, Geneva human rights professor and promoter of the UN defence of the Catalan prisoners and exiles, and Josep Cruanyes, vice president of the pro-independence Catalan National Assembly (ANC).
During the discussion, Boye also predicted that after the independence trial verdict, the Supreme Court will once again issue a European arrest warrant against the Catalan leaders in exile, but he argued that although the Spanish state believes that "the problem is in the form" in which it has so far presented its case, the difficulty is actually "in the substance and the facts ", suggesting that winning the case will not be easy for the state. Before an audience of more than 200, Boye recalled the legal battle won in Germany over the extradition of former Catalan president Carles Puigdemont, and he argued that the actions that are being tried in Spain regarding the independence process "do not fit into the legality of democratic countries".
The man who is Carles Puigdemont's legal strategist went on argue that the current situation of the independence process is such that it is "difficult to wind it back to a previous situation" and that all that can be done now is to "see how the divorce can take place." Asked by those attending about what they could do to contribute to the Catalan cause, Boye recommended "pressuring Catalan politicians so that they understand that when you're in a trench, in a confrontational situation, you don't fire a gun" and called for people to take part in the Council of the Republic and for the Catalan political parties to stand together.
Minority rights, a key argument
Finally, he also gave more details on the case of Carles Puigdemont and Toni Comín's rights to take up their elected positions as MEPs. He asserted that this case, currently awaiting the hearing of an appeal in the European Court of Justice in Luxembourg, is simply "a matter of time", despite the setback in July when the Catalan MEPs were not able to take their seats in the European chamber. On this point, in fact, at his Friday morning conference, he revealed one of the arguments that could be used in this suit: specifically, relating to the rights of members of minority groups.
According to Boye, the right to self-determination - historically linked to colonies - could be called into question, but that of minorities could not be, recalling that it is included in article 2 of the EU's Lisbon Treaty. "I think that if there is a way to win, it includes a demand for respect of the rights of national minorities," Boye said, commenting that the three MEPs unable to take office - Puigdemont, Toni Comín, and Oriol Junqueras - are part of a national minority and that this should be taken into account.
"When people assert that an independence referendum must take place right across Spain, they are rolling over the rights of national minorities. Nobody can dispute that national minorities must be respected," he added.
Boye also predicted that the Supreme Court trial verdict will be issued before October 14th, the day when a court session is planned to decide on the MEP status of the ERC leader, Oriol Junqueras.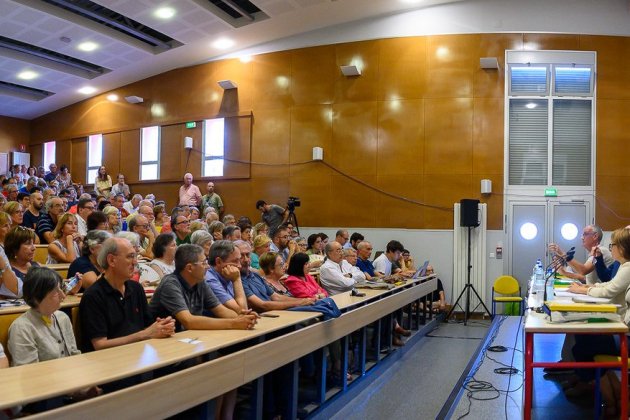 Meanwhile, human rights expert Torbisco-Casals defended the need to put more efforts into the legal battle, which she described as "crucial," and assured that, even though a single UN resolution may not be decisive for Spain and might go unnoticed, when there are ten or fifteen "many external actors will understand that there is a problem." Torbisco-Casals also argued that the right to self-determination will change over time, she described Spain as having a mentality of "internal neocolonialism" and she gave the view that the lack of a clear roadmap for independence is not such a critical matter, arguing that there is no manual for this type of case.
Finally, ANC vice president Cruanyes accused Spain's judicial institutions of acting as "hooligans" and creating offences "ad hoc" to repress the movement and create "fear." Cruanyes also said that the state has a "repressive tradition" and gave a warning for fellow travellers: "As long as we carry on fighting for self-determination, we'll have to face repression and use it in our favour."