Italian police in Sardinia have arrested the Catalan president in exile Carles Puigdemont, as sources have told ElNacional.cat. The pro-independence MEP Puigdemont had arrived on the Italian island to attend the Adifolk international gathering from Friday and until this Sunday in the city of Alghero (L'Alguer, in Catalan).
As soon as the Catalan politician got off his plane this Thursday night, a large group of Italian border police were waiting for him, according to sources in his defence team.
Tomorrow he will appear before a court
The Catalan president will remain at the police station tonight and tomorrow will appear before the Appeal Court of Sassari, which has the competence over his release or extradition. This was announced in a press note from his office, and in a tweet from the director of the office, Josep Alay.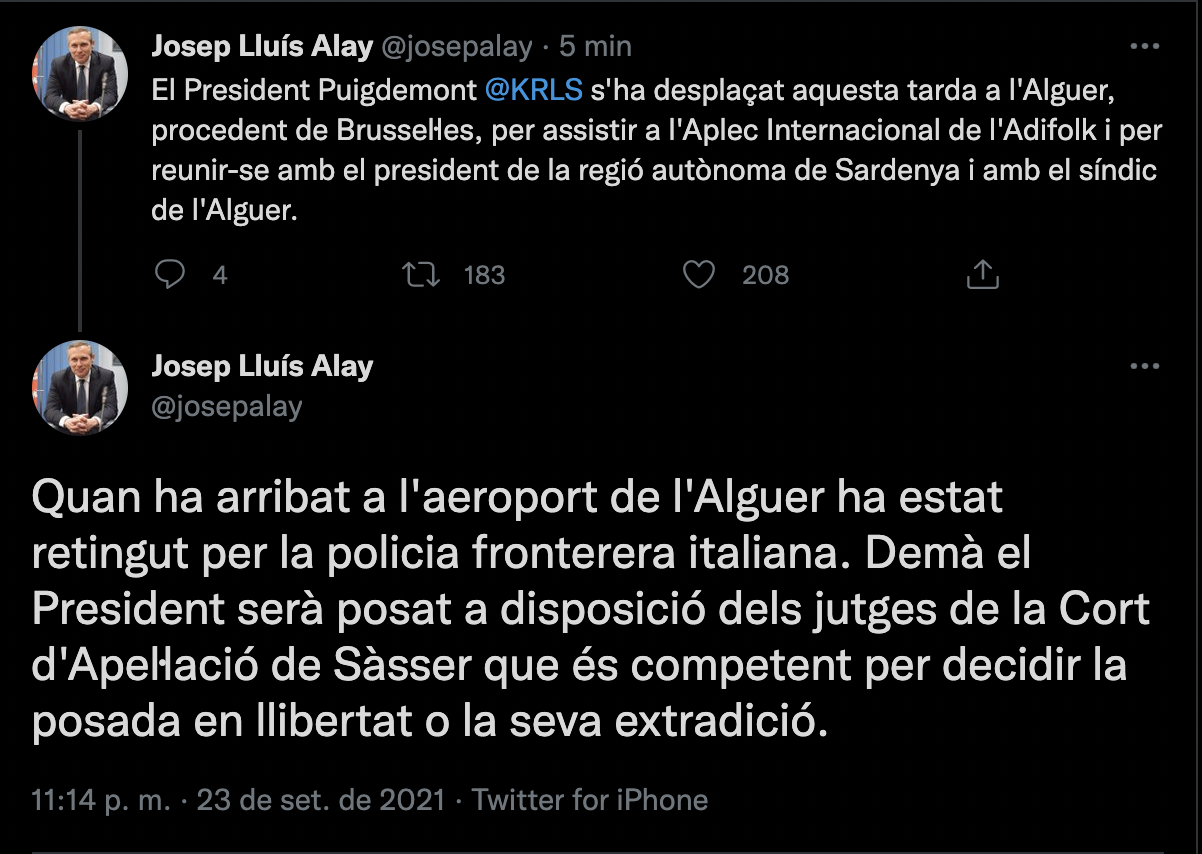 "President Puigdemont travelled this evening to L'Alguer, from Brussels, to take part in the international gathering of Adifolk, and to meet with the president of the autonomous region of Sardinia and the head of the L'Alguer municipality", says Alay in the tweet. "When he arrived at the L'Alguer airport, he was held by the Italian border police. Tomorrow the president will appear before the judges of the Sassari Court of Appeals which is the competent court to decide on whether to release or extradite him," he continues.       
The decision to detain the exiled Catalan president was taken on the basis of the European Arrest Warrant which Spain had assured the EU General Court (EGC) was suspended.
In fact, the EGC had returned the president's immunity from prosecution as an MEP, after the European Parliament last March had approved the request to lift it, made by the Spanish investigating judge Pablo Llarena. However, the Court again lifted his immunity on the basis that there was no risk of arrest as judge Llarena had assured that the warrant for his arrest had been suspended.
Meeting in L'Alguer
At the time of being intercepted by police, Puigdemont was traveling with senator Jami Matamala. Matalama was also accompanying him when he was previously arrested, in Germany in March 2018.
The Adifolk "Aplec", Puigdemont's primary reason for visiting L'Alguer this weekend, is an international gathering to celebrate Catalan culture and folklore, and among those attending will be hundreds of visitors from Catalonia.
As well, the exiled Catalan president planned to meet with the president of the autonomous region of Sardinia and the Alguer mayor. L'Alguer is a city where the Catalan language has historically been spoken since the Middle Ages.
President Puigdemont, who led the Catalonia government which held the referendum on independence from Spain on October 1st, 2017, has lived in exile in Waterloo since November of that year. Last week, he travelled to Paris and met with French MPs and senators in the National Assembly.
More updates to follow