Catalan president in exile Carles Puigdemont visited the National Assembly in Paris this morning to meet a group of French senators and deputies before whom he denounced "the Spanish state's strategy of repression".
Puigdemont asserted that this is a "very sophisticated" strategy that includes lawfare, in reference to the on-going judicial assaults on the independence movement; fake news, including most recently reports of an alleged Russian connection to the independence movement, which was published in a New York Times article, among other media; and also "political espionage to pursue and make reputational attacks on dissident politicians". "High-level political espionage, of which we have evidence, and which will be duly denounced," he warned.
Meeting at the National Assembly
The pro-independence leader explained, after the meeting with senators and deputies from the political groups La France Insoumise, Liberties and Territories and Ecologists, that he will denounce this situation in the European Parliament because political espionage is "a very serious crime" and the fact of being a victim of it and having proof of it obliges him in his capacity as an MEP to bring it to the attention of "all the authorities".
"It is unacceptable. No EU state can afford such an attitude. This is a matter of great concern because this drift affects the quality of European democracy seriously and affects us all," he said.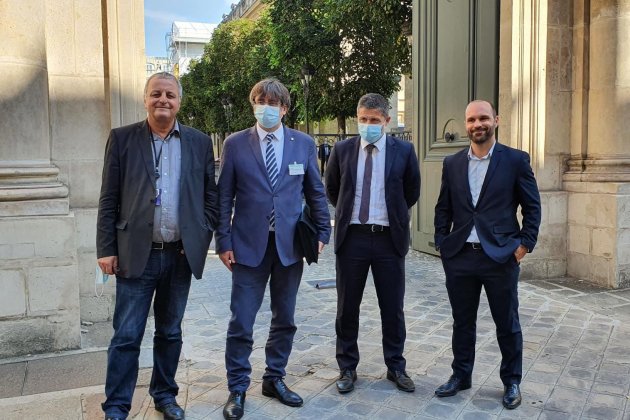 In addition to the surveillance with tracking devices that the pro-independence leader has repeatedly denounced, which were detected by the Belgian police, Puigdemont and some of those in his team have been tracked by pirated software from the Israeli company Candiru. These are programs that are sold to government agencies, as Microsoft noted when the scandal erupted. Previously, people working with the Catalan president have also appeared among the names spied on using another program also reserved for state agencies: Pegasus.
Russian connection, a fake
Speaking at the doors of the French National Assembly he reiterated, in response to accusations made against him of alleged links made with Russia to obtain support for the independence process, that he had not received any input from any country, with the only offer made of this type made was the interest of some EU countries to provide mediation during October 2017, but "unfortunately the Spanish state did not respond to these proposals."
Puigdemont, whose immunity from prosecution​ as an MEP was again lifted by the EU General Court on the grounds that there is no active European Arrest Warrant against him and therefore he cannot be arrested, has been in Paris since this Thursday, where yesterday he participated in the premiere of the Canadian film Avec un sourire, la révolution!, about the Catalan quest for independence.