Catalonia's president in exile, Carles Puigdemont, has caught the EU's foreign policy chief, Josep Borrell, with his democratic pants down. European commissioner Borrell, fresh from criticizing the alleged contacts of Catalonia with Russia, held a meeting with authorities from Qatar, a country accused of supporting jihadism.
"How's it going, that idea of only having relationships with countries with fully democratic credentials? Hypocrites," said Puigdemont in a tweet.
Borrell, on the other hand, is very pleased with his contacts with Qatar. "Qatar is a key partner for the EU. Excellent discussion with Sheikh Althani on Afghanistan. Qatar plays a crucial role in ensuring access of humanitarian aid and departure of people at risk. We thank Qatar for the assistance in the evacuation of EU citizens", said the EU high representative for diplomacy.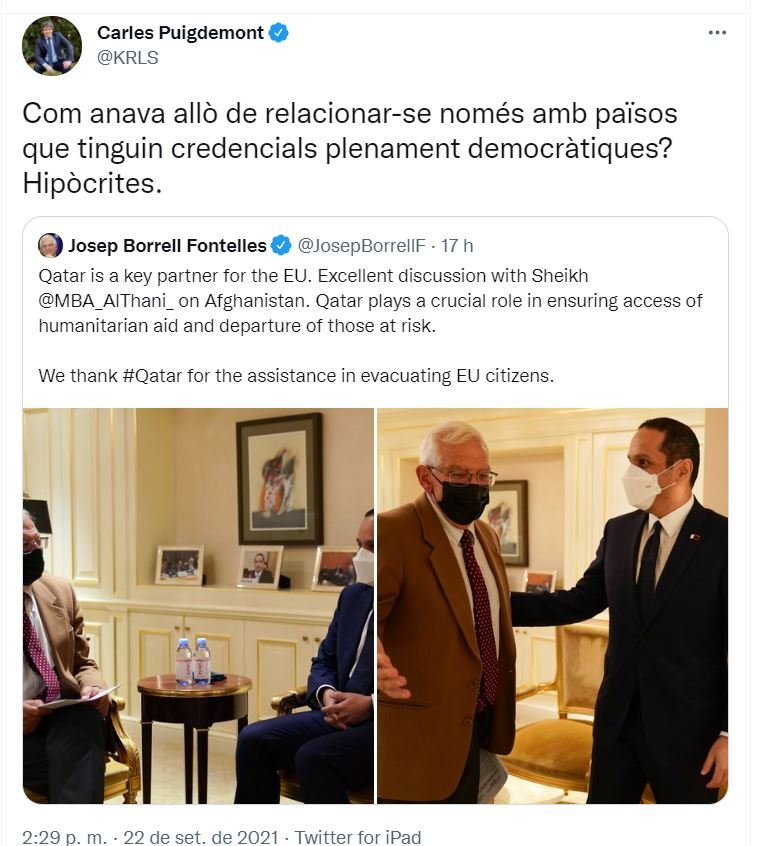 The Middle East specialist Gabriel Ben Tasgal says Qatar is currently, alongside Iran and Turkey, a major driver of instability, "either through the millions it pours into extremist groups (Hamas and the Taliban) or through Al-Jazeera broadcasts in Arabic." "The principality, which was once the moderate side oriented towards the West, has transformed itself, under the leadership of the current ruler, Emir Tamim Ben Hamid Al-Thani, into a time bomb," he has said in several interviews.
Controversy with Lavrov

Borrell applies a very different position over Russia to this amiability towards Qatar. In fact, the double standard sparked a heated controversy a year ago, when the EU representative presented Russian foreign minister Sergei Lavrov with the EU's demand for the release of opposition leader Alexei Navalny and his supporters. Lavrov replied by pointing out cases of police brutality in Europe and the situation of the Catalan pro-independence prisoners, criticizing Borrell for not always using the same criteria.
It happened at a press conference in Moscow after the meeting between the two politicians, when the head of European diplomacy insisted on publicly calling for the release of Navalni and stressed that the EU was waiting for an "independent and comprehensive" investigation into the poisoning of the opposition leader last summer.
After listening to him, Lavrov replied by recalling cases of abuse of police powers in Europe and the United States and, in particular, he referred to the situation of the Catalan pro-independence prisoners jailed in Spain, citing them as an example of "politically-motivated judicial decisions".
"The pro-independence leaders are in prison for organizing a referendum, a decision that the Spanish judiciary has not revoked despite the fact that courts in Germany and Belgium have ruled against it," he argued.