"We'll do it again", "Independence", "Unity", "Not one step backwards" and "Release [the] political prisoners". These are some of the most common chants among the thousands who gathered this Friday evening in front of the Catalan economy ministry, two years to the day after the large demonstration against Civil Guard searches of the building.
Civil society leaders Jordi Cuixart and Jordi Sànchez have spent most of these last two years in provisional detention, precisely because of their roles on that day. They contend they tried to keep events under control, liaised with police and asked demonstrators to leave as evening arrived; prosecutors argue that the damage done to Civil Guard vehicles left outside and the fact the search party didn't feel safe enough to leave by the front door mean they should be found guilty of rebellion and sedition and sentenced to 17 years' imprisonment.
They both wrote letters to those protesting today. The last one, from Jordi Cuixart, was read by the vice-president of Òmnium, Marcel Maurí, from the stage set up outside the ministry. In it, he noted the independence movement disobeyed the Spanish state with the referendum on 1st October 2017: "And yes, we'll do it again. We'll do it out of love for life. And if we do it together and without leaving anyone by the wayside, we have great chances of success."
Fragments from the letters were read by different representatives of the worlds of Catalan society and culture. The Jordis' brothers had read texts calling for non-violence from the independence movement. "Remain uncompromising with any type of violence. This fight for freedom, rights and justice we'll win with our non-violent determination," Sànchez said.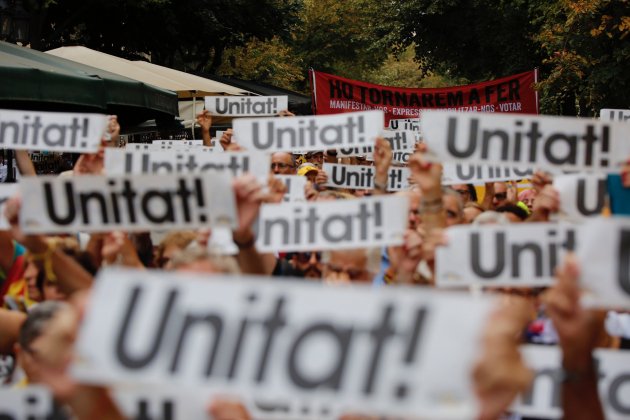 The event was followed from the front row by the speaker of the Catalan Parliament, Roger Torrent, and the vice-president, Pere Aragonès. Also present were representatives of different political parties, including the president of ERC in the Parliament, Salvador Sabrià, JxCat Congress delegate Laura Borràs, the vice-president of PDeCAT, Míriam Nogueras and former CUP delegate Gabriela Serra, who read one of the texts.
The rally closed Gran Via, one of the capital's main roads, at Rambla de Catalunya. As well as the calls for freedom, and shouts of "we'll do it again", there were also constant calls for unity from the independence movement, the main theme of this year's national day last week, every time either of the Jordis mentioned the consensus of two years ago in one of their texts.
"Whatever happens with the verdict, let's join forces to not give up, to not stop on the path towards freedom, to not let our dignity be taken from us and to continue acting like free men and women," Sànchez said in the first of the fragments read this evening.