"Next Monday we will start reopening, but we will take it very slowly." These were the words today of Catalan health minister Alba Vergés, in a joint press conference with the interior ministry, to address the plan to reopen bar terraces in a week's time, although she did not want to commit herself on possible easing of restrictions in other sectors.
However, the opening of bars and restaurants will not necessarily lead to changes in the current curfew. "We have to go calmly and slowly," she repeated several times. "We are still seeing the fall of the curve. The situation is similar to that of three weeks ago. We have passed the peak of the curve [of case numbers], but we haven't yet reached the peak of health care," she warned.
A plan with several stages
"We are going to work on the reopening plan with the sectors concerned," she reiterated. "There will be several stages to the plan and each section will run for two weeks."
The minister recalled that "the health care system could be badly hit if we don't reopen carefully." With the data provided by the Catalan health ministry this Monday, there are 2,535 people hospitalized with Covid-19 in Catalonia, and 587 of these are in intensive care.
"We are in a complex situation"
Epidemiologist Jacobo Mendioroz gave a similar warning at Monday's press conference: "It is very important to be aware that we must go very carefully and slowly." And he stressed that public behaviour must not be like in the summer. "We will not be able to head to the streets like we did in summer, in an uncontrolled way, even if places are reopened, because we are in a complex situation."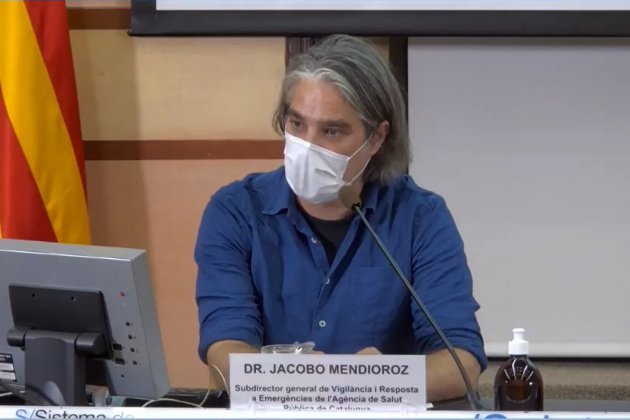 Will pharmacies offer antigen tests?
Health minister Vergés announced on Monday that the government is working with the Catalan pharmacies network on the proposal for them to carry out fast antigen tests to detect coronavirus.
She explained that the authorities are ready to use any tool that "could be made available to control the pandemic", but commented that authorization by AGEMED, Spain's agency for medicines and health products, is necessary in order to put this proposal into practice.
Additionally, Mendioroz argued that it was necessary to ensure that the people performing the tests are protected, that the spaces are properly prepared for the activity and that the privacy of those being tested is ensured.