In the end, the strike has gained traction. The unions in the Catalan education sector have succeeded in getting the school communities to support them and join them in their strike announced for March. And it shows in the numbers: Barcelona city police estimate that 22,000 people joined today's demonstration in the city to protest about the situation in the education sphere and, in particular, against bringing forward the start of the school year. However, the Catalan education department headed by minister Josep Gonzàlez-Cambray affirms that only 31% of teachers and school employees have adhered to the strike today, a figure that contrasts with what the unions have announced: 70%.
The demonstrators left the Jardinets de Gràcia in central Barcelona and went up Diagonal to Carrer Muntaner, where they turned right to reach the headquarters of the education department, located on Via Augusta. To any onlooker, it was obvious that there were thousands of protesters: seeing the end of the demonstration was very difficult. The teachers who took part in the march shouted slogans against the Catalan education minister. They called for his resignation, noting that they are not only on strike due to the school year changes, but also for many aspects of the spending cuts the sector suffered during the economic crisis, which they say have never been rectified.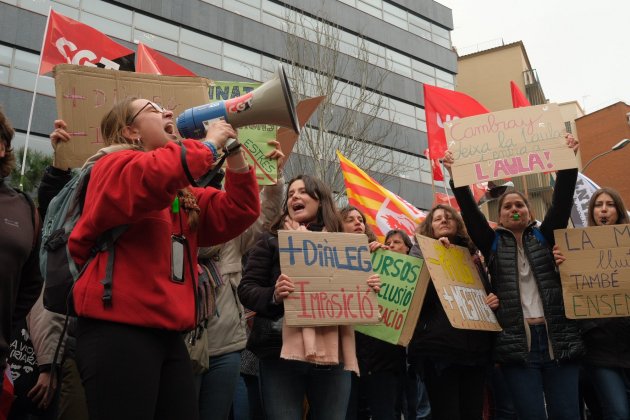 The government calls for talks
In the face of this demonstration, the Catalan government has called on the unions and the education sector to carry on negotiating to stop the strike that began this Tuesday from lasting another four days​, as is planned (continuing this Wednesday and Thursday, and then again on the 29th and 30th of this month). The spokesperson for the executive, Patrícia Plaja, has called on union representatives to "return to the negotiating table" which she says has been ignored for weeks; and that they put aside the stoppage which, in the government's view, is "harmful" especially to students. However, during today's post-cabinet meeting press conference, Plaja did not raise the possibility of the government withdrawing its planned reforms.
Meeting with Cambray
In fact, when the protesters arrived at the gates of the department, a number of union representatives entered the building to meet with Cambray. After the meeting, the spokespersons assured that they are now requesting a meeting with the President of the Generalitat, Pere Aragonès, in the face of the "immobility" of the education minister to negotiate the teachers' demands. According to union representatives, the new retirement plan is targeted at lower paid employees, leaving higher paid employees with the same level of benefits as before. The unions - USTEC, CCOO, UGT, Intersindical, Aspepc, USOC and CGT - consider that the reduction of teaching ratios from P3 is not enough.