Complete disagreement. After members of the Catalan teachers' unions had spent the whole of Thursday night occupying the education department offices, the minister for education, Josep Gonzàlez-Cambray, finally agreed this Friday morning to meet with representatives of the protesting union groups. But the meeting did not end with agreement. The position of the Catalan education department remained firm, while union groups USTEC, CCOO, Intersindical, UGT and Aspepc reiterated their main demand: that the calendar for the school year be left unchanged and, in particular, that the Catalan ministry abandon its recently-announced proposal to begin classes a week earlier than usual after summer - on September 5th this year. Faced with the discord, the unions have announced their intention to call a five-day strike during the month of March, in addition to threatening not to give classes if the department maintains the change to the school calendar.
This threat of not giving classes is on the table, but it is not final. What is a firm decision is the call for a strike, although unionists have not specified its exact dates. This was explained by union spokespeople at the doors of the education department, minutes after the minister Cambray has also told the press what his department's position was at the meeting. Although the measure surprised the educational community when it was announced without warning last week, the political head of education repeated that his ministry seeks "dialogue, dialogue and dialogue" in front of the protesters, and that is why he finally agreed to meet them.
On Thursday, the department's number two, Patrícia Gomà, had stated that the education authorities were open to negotiating "how", but not "what". The secretary general of education made it clear that the decision to move the school year forward was already taken, and that there was no going back. However, she did not specify what "how" meant. Today, the minister answered questions from journalists today and made some clarification, saying that the department is open to discussing how it can help the centres to adapt to the measure. However, the measure has already been decided.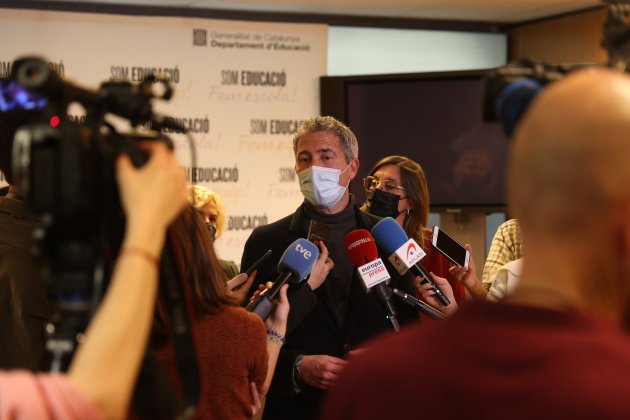 Cambray believes that this change in the school calendar does not affect the employment rights of teachers. The unions are in complete disagreement. They believe that starting the school year on September 5th means that there will be more hours taught during the summer, and that it will cause disruption to the schools' organization for the next school year. As the department does not see it that way, Cambray assured reporters that he does not plan to resign, although the announcement has not only upset the unions, but also the school community body, the School Council, with whom he has a meeting on Monday. The School Council, it should be noted, is an advisory body; and it was not consulted by the education department on the modification of the calendar, despite this being required by law.