In mid-September, the Mossos d'Esquadra (Catalan police) arrested a 63-year-old man who was planning to attack Spanish prime minister Pedro Sánchez, the online newspaper Publico reported this Thursday. Manuel Murillo Sánchez was angered by the moves to exhume the dictator Franco from his current resting place.
He was arrested in Terrassa, a city near Barcelona, where he had stockpiled as many as 16 firearms. During a search of his house, police found a Cetme military assault rifle, a Škorpion vz. 16 machine pistol and four precision rifles. In his car, he had two pistols, one of which was modified and illegal.
Murillo was a private security guard and member of Terrassa's shooting club. That club was considering expelling him and has described him as a "mediocre shot" to Catalan public broadcaster TV3. On the other hand, he was skilled at modifying weapons. His father was a mayor of Rubí, a town near Terrassa, during the Franco era.
Publico describes Murillo as having an obsessive personality and a family history of psychological problems. The Barcelona Audience court has refused him bail, holding him instead in pretrial detention.
Discovery
A member of far-right Spanish party Vox was the person who gave the alert of his "clear wish" to attack the prime minister. He had seen repeated expressions (both in text and voice messages) in a closed WhatsApp group of Murillo's wish to attack Sánchez.
Murillo had said on social media that "he had the means" to carry out an attack and only needed "logistical support", Mossos spokesperson inspector Albert Oliva said in a press conference this Thursday.
The Barcelona Audience denied an appeal from his defence for release on bail, confirming the initial decision by Terrassa's court of investigation number 3 from 4th October. Counsel had argued his statements had to be considered in the context of "the problematic politics of Catalonia". The appeal also claimed that both his mother and sister need help, the former suffering from senile dementia, the latter from schizophrenia. He is under investigation on charges of conspiracy to attack authority with the use of a weapon, serious threats, possessing illegal weapons, ammunition and explosives and a hate crime.
The Mossos arrested Murillo on 19th September in his car, close to his home in Terrassa. They say he was acting alone and didn't belong to any far-right group.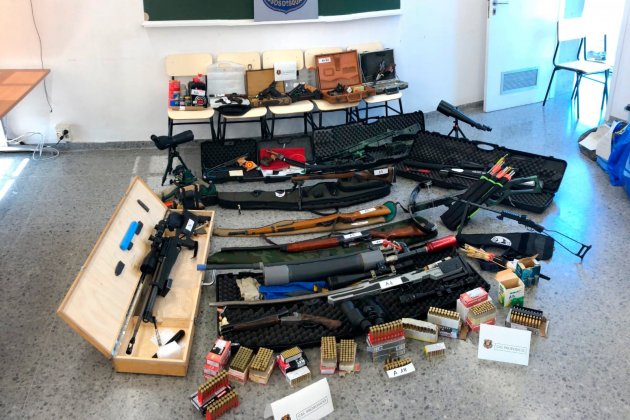 Murillo owned a firearms license for recreational use and also had a C permit for possession, due to his work as a security guard. However, among the 16 weapons found at his home were some which are "banned", either because he didn't have licences for them, or they had been illegally modified.
The Mossos informed the Moncloa government palace directly of the intentions of the man in custody.
Not terrorism
The duty court in Terrassa was responsible for deciding to not pass the case to the National Audience court. They argued that it wasn't an case of alleged terrorism, rather a plan for murder with an aggravating factor of the target being an authority figure. This classification as being unrelated to terrorism has been strongly criticised online:
Vives en un país en el que una careta y un silbato en la casa de una independentista es terrorismo y este arsenal en la casa de un fascista, no. pic.twitter.com/2RdpsLA4Tm

— Gabriel Rufián (@gabrielrufian) 8 de novembre de 2018
Congress deputy Gabriel Rufián (ERC): You live in a country where a mask and a whistle in the house of an independence supporter is terrorism and this arsenal in the house of a fascist isn't.
Criticar al rey, cortar una carretera, cantar un rap o hacer un tuit puede ser terrorismo.
Tener un arsenal d armas en casa y amenazar con matar al Presidente de Gobierno, no.
El franquismo perdura en miembros d la extrema derecha... y en algunos miembros d la cúpula judicial tb

— Ada Colau (@AdaColau) 8 de noviembre de 2018
Barcelona mayor Ada Colau: Criticising the king, blocking a road, rapping or tweeting can be terrorism. Having an arsenal of weapons at home and threatening to kill the prime minister, no. Francoism lives on in members of the far right... and in some members of the upper echelons of the law too.
Un d'aquests 4 actes no és rebel·lió ni terrorisme a l'Estat espanyol

 Obrir un peatge
 Posar urnes
 Cantar rap
 Ser franquista i planejar matar un president

Ah! Recorda que en diuen justícia independent.#FemLaRepúblicaCatalana

— Assemblea Nacional  (@assemblea) 8 de novembre de 2018
Catalan National Assembly: One of these four acts is neither rebellion nor terrorism in the Spanish state. Opening a toll barrier. Setting out ballot boxes. Rapping. Being a Franco supporter and planning to kill a prime minister. Ah! Remember that they call it independent justice. #LetsMakeTheCatalanRepublic
El FRANCO-tirador ha tenido suerte: entre su arsenal de DIECISEIS armas mortales, la policía no ha encontrado urnas. https://t.co/ZRy9ME52Ft

— Xavier Sala-i-Martin (@XSalaimartin) 8 de novembre de 2018
Economist Xavier Sala-i-Martin: The sniper was lucky: in his arsenal of SIXTEEN deadly weapons, the police hasn't found any ballot boxes. [Translator's note: the original makes a pun on the word "francotirador", Spanish for "sniper"]