First Sunday of August. It's 2:30pm and, on the ramp up to the door to Lledoners prison in Catalonia, it's 39ºC (102ºF). A coach arrives full of the day's visitors. Whole families coming to see their father, their brother, their son... We're in the queue to get in, like everyone else. Next to me are a group of Josep Rull's friends, they tell me they can take paper and a pen in. "At Estremera you couldn't", they say, whilst we wait to show our ID. Estremera was the prison near Madrid they had spent months in before being moved to Lledoners last month . "We try to make sure someone or other always comes at visiting time." They don't want him to feel alone. Further ahead, there's Jordi Cuixart's elder son, with his mother. It's the first time he's come to see him at Lledoners. He went to Estremera every six weeks.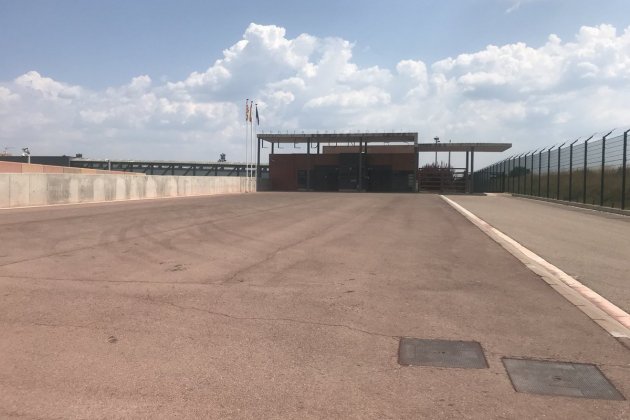 The hands on my watch have just passed 3pm when they shout "Forn", and we get into the queue to go through the second checkpoint. We go along a raised walkway and, after going down some stairs, cross one of the prison's courtyards.
We enter the visiting room. A labyrinth of glass booths. We walk along one corridor and the prisoners another, but their silhouettes can be made out perfectly. The first we spot is Jordi Cuixart. I saw him enter the National Audience court on 16th October last year, and haven't seen him since. His reaction is striking: he lifts his arms as he always used to do at the demonstrations to greet someone, with his eyes bright and an impressive gesture of strength.
Booth 19
Further away we see Quim Forn, former Catalan interior minister, who waves to us, saying "dinou", 19, the number of the booth we've been assigned to. At the start, it's as if he is inviting us to sit down in his living room. He watches over every movement and corner. He picks up the phone and raises his hand to the glass. We do the same. It's all smiles and the obvious question: "Com estàs?" - "how are you?".
He's thinner and more tanned thanks to the hours of sun. He's well. Strong. He doesn't hide it. "Everyone should spend some time in prison," he laughs.
"Our lives have changed here with the topic of communication," he says. It's nothing like Estremera: "That was torture". He says that everything they saw in the media "dehumanised" them, wondering how people could believe it.
"Here we're all together. We're well," he says. "We eat better, the food is better," he laughs.
We've got 40 minutes of relaxed conversation ahead of us. We jump from one topic to another: from the routines of prison life (he eats dinner with Raül Romeva and Jordi Sànchez because Jordi Turull and Josep Rull work in the kitchen and so eat earlier) and the basketball team the seven have formed (the six mentioned plus vice-president Oriol Junqueras), to the current political situation.
"I returned [from Brussels] for the Mossos"
Quim Forn doesn't regret having returned from Brussels, even though on 2nd November National Audience court judge Carmen Lamela would send him to prison and Supreme Court judge Pablo Llarena has never considered the possibility of releasing him. Forn left with president Carles Puigdemont and a group of other ministers on the night of Friday 27th October 2017. On the 31st, he received the summons from the National Audience to testify in Madrid on 2nd November. Like minister Meritxell Borràs, he was an unexpected presence at court that day. Puigdemont and the others still in exile have since had the international arrest warrants against them dropped.
"I returned for the Mossos", he now tells El Nacional, referring to the Mossos d'Esquadra, the Catalan police force. Forn wasn't sure about going into exile and leaving the political leadership of the Interior department, head of the Mossos Josep Lluís Trapero and superintendent Teresa Laplana facing the courts. Trapero and Laplana had already testified before the National Audience on 16th October, Lamela in the end letting them go free. But prosecutors were asking for prison and soon would come the summonses and the prosecutions for those closest to the minister: Cèsar Puig, secretary of the interior, and Pere Soler, director general of the police. All of them are now awaiting trial, which is not expected to start until the ministers and members of the Catalan Parliament's board also charged take their turn in the dock.
"I didn't have long to think. Looking back, I could have been here over the weekend and thought about it all more calmly, but I left and then decided to return to accept my responsibility as interior minister," he says. Forn was sent to prison on 2nd November and, despite having given up all his political roles, including his seat in the Parliament, he hasn't been released. Not even when all the ministers except himself and Oriol Junqueras were released. The judge believes he poses a flight risk and risk of reoffending
"Ens hi estarem uns quants anys"
"They think I'll leave to Germany", he says, half-smiling. In fact, we spent the forty minutes smiling and laughing and at no point did we cry. Who has the right to cry when behind the window there's so much strength, and such clear ideas?
"We'll be a few years", he says, straight up, whilst explaining that the most important thing now is the trial. "We're preparing the trip to Madrid", he says. All the statements they've made have been behind closed doors and nobody, other than their lawyers, the judge, the prosecutor and lawyers for the state and for VOX, has ever heard them. Their message, full of strength, comes when you have the chance to talk to them, albeit through a window, and to hear their irrefutable arguments. It hints at a trial, which could come at the end of the autumn, with great orators defending the rights of a whole country in court. It will be a political trial, at least that's what the defence will be. There's no other option. "We'll keep going", exclaims the former minister with his bonhomie and an optimistic smile, thinking about those in prison and around the country. He's sure there's a solution.
No change with prosecutors
Forn changed his mindset in March. He saw he wouldn't leave prison before the trial and that any sentence would be long. And, as such, he's facing his time behind bars with a cool head, focusing on the country and trying to find a solution to the situation. He's seen no change from public prosecutors since Pedro Sánchez became prime minister. "You speak to them and they're cordial, but then, in the room, when you ask for release, they tell you that, for the time left before the trial, you'll just argue there for your freedom". He has little hope that prosecutors will back down even the slightest and end up charging them with sedition instead of rebellion. They're also accused of misuse of public funds.
Suddenly he tells us to hurry to say whatever we want to make sure to get in because time is running out and the phone is about to be cut. A little later we stop hearing his voice. We say goodbye with our hands flat on the glass and run out to see if we're still in time to see Cuixart or Rull again. We are. The first raises his arms again and the other smiles timidly.
And we leave. With that feeling of anger and of seeing injustice which you can't always communicate in journalistic articles discussing facts, but which can appear in more personal reports. We're back to the 39ºC ramp and the yellow path leading us to another reality.