Why did hundreds of young Moroccans decide to cross the border into Spanish territory in such a short space of time? The hypotheses continue on the precipitants of the migration crisis that has been taking place in Spain's North African enclave of Ceuta, where there are still about 700 children and teenagers retained in a warehouse near Tarajal Beach, while their parents, in Morocco, carrying on searching for them, as they had no idea that their children, mostly boys, had decided to seek a new life in Spanish territory. On the other hand, some who crossed the border appear to have been deceived, or at least that's the theory of the authorities who are investigating the matter.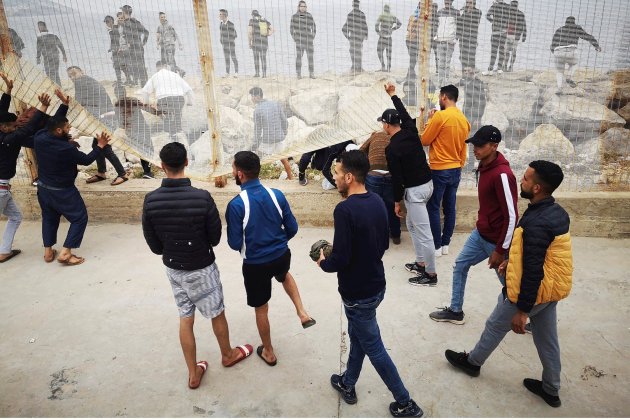 A chance to see Cristiano Ronaldo play
According to a report this Thursday in the newspaper El Faro de Ceuta, a key reason for this astonishing event is a rumour that the Moroccan authorities spread with great success. The fake news was that Juventus star Cristiano Ronaldo would be playing a football match in Ceuta. "There were minors who thought they were going on a day-trip. Others were told that they had a chance to see a football match in which Cristiano Ronaldo would be playing..."  said a woman from Fnideq (its Spanish name, Castillejos), the Moroccan city closest to the border, which has been left bereft of much of its young male population.
"Many simply saw that people were running, they said that the border had been opened, that it was like a party, and they went too. The school is now empty, with no children, and parents are crying," the Fnideq resident told the newspaper.
Unsustainable situation in Tarajal
The Spanish National Police estimate that more than 1,500 Moroccan minors, aged between 10 and 18, arrived in Ceuta between Monday and Tuesday. Many continue to roam the streets, although most are in a large warehouse, close to the point where the border fence meets the coast at Tarajal.
Sources from the Juvenile Prosecutor's Office of Ceuta warn that the crowding in the industrial building is excessive. In addition, the vast majority of the minors are not carry any documentation, while on the other side of the border their parents continue to look for them. The method to be used to allow children to return to Morocco is still being considered. Those under the age of 14 will not be able to return alone, so the only formula that seems viable is for the parents themselves to go and look for them.
In addition, the congestion at the Tarajal warehouse has meant that about 250 of the youths have been transferred, in military buses, to the migrant reception center at Piniers, which has caused even more confusion among parents looking for desperately for their children.