The defiant stand taken by Luis Rubiales, refusing to resign as president of the Spanish football federation (RFEF) over the non-consensual kiss incident at the Women's World Cup final, has provided a true media earthquake this Friday, and, naturally, it awakened countless responses from personalities related to the world of football.
However, it was the footballers of Barça Femení who were particularly emphatic about Jenni Hermoso, the world champion player that Rubiales kissed on the mouth last Sunday. Hermoso is from Madrid, and now plays her club football for Mexico's CF Pachuca, but until a year ago she was one of the stars of the Barça women's side. And those who shared a dressing room with her in the blaugrana team were quick to respond on social media this Friday. There were two main themes: on the one hand, their unconditional support for their former colleague in the 'Rubiales case'; and on the other, the links between this week's controversy and the long-running crisis in the management of the Spanish women's side which led the so-called "Fifteen" to act - 15 top players who last year refused to play for the team unless there were management changes. Only three of that group of leading women players ended up taking part in Spain's World Cup-winning side.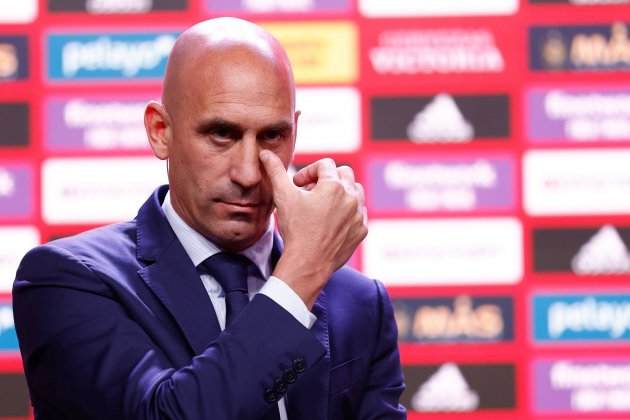 The connection between Rubiales' actions and the "mutiny of the 15"
One of the world-class Barça players who never gave in and ended up not taking part in the World Cup side in the absence of management changes, Mapi León, tweeted one of the messages that received most response on social media. The Aragonese fullback noted that "it has not taken long to see that what was demanded months ago was not just due to a bad temper".
For Patri Guijarro, the heroine of last June's Barça win in the Champions League, and another of the footballers who refused to play under Jorge Vilda's coaching and gave up the World Cup for it, texted: "[I'm] with you, Jenni Hermoso. It is terrible to have got to this point to make people believe that the complaints of months ago were real."
No ha hecho falta pasar mucho tiempo para ver que lo que se exigía hace unos meses no era una simple pataleta. Las imágenes hablan por si solas, y creo que no hay mucho más que añadir. Es inaceptable. Por todas las mujeres, contigo @Jennihermoso

— María León (@MapiLeon16) August 25, 2023
Se acabó. Contigo @Jennihermoso
Lamentable llegar a este punto para creer que las quejas de hace meses eran reales.

— Patri Guijarro (@Patri8Guijarro) August 25, 2023
And with them, footballers from the Barça club who did agree to join the World Cup team and became world champions less than a week ago, now affirming their support as well. Ona Batlle, Irene Paredes and Cata Coll all told Jenni Hermoso that they are "with her more than ever", with Basque defender Batlle noting that "everyone saw what happened, you are the victim" while the Mallorcan goalie Coll showed her unconditional support with a "to the death, with you" message.
Que pena me da que 23 futbolistas no seamos las protagonistas… se acabo!
Contigo a muerte @Jennihermoso

— cata coll (@catacoll2001) August 25, 2023
In men's football, Borja Iglesias takes action
The messages of support for Jenni Hermoso and denunciation of Rubiales' attitude and his subsequent words have been limited only to the teammates of the CF Pachuca player, but extend to to referees, political parties and football clubs. However, on the men's football stage, the only footballer who has taken action has been Borja Iglesias, a striker for Betis and an international with the Spanish side who has given up playing with the national team until "things change".