The Spanish authorities are preparing to mount a campaign accusing the Catalan independence movement of misinformation to coincide with the upcoming trial of the pro-independence leaders in Spain's Supreme Court. The Spanish government plans to release videos and undertake social media campaigns, and to assign official spokespeople and make use of forums. This plan has been explained by Spain's Secretary of State for Global Spain, Irene Lozano, a senior official responsible for the country's international reputation, who confirmed in an interview with the EFE agency that a special budgetary allocation will be made for this purpose.
Lozano explains in the interview that her department "has been largely set up because it was seen that there was no [defence] mechanism when our reputation came under attack" and that "because the Catalan theme is very sensitive, and the minister [Josep Borrell ] is especially sensitive, there are many areas in which people are working" to counteract what she defines as "independence movement misinformation".
"We are aware that there is a lot at stake and that this must be done well," stresses Lozano, adding that "what is absolutely certain is that, although, at the time [of the independence referendum] the policy was 'don't respond', now there will be a response; to the extent that it could damage our reputation, we will answer." "It's clear that there is a lot at stake for us," she says. "It is clear that they want to discredit [Spanish] democracy and the Spanish state as much as they can, and to defend this, which is the very essence of the state, there must be funding and there will be, from the government," she says.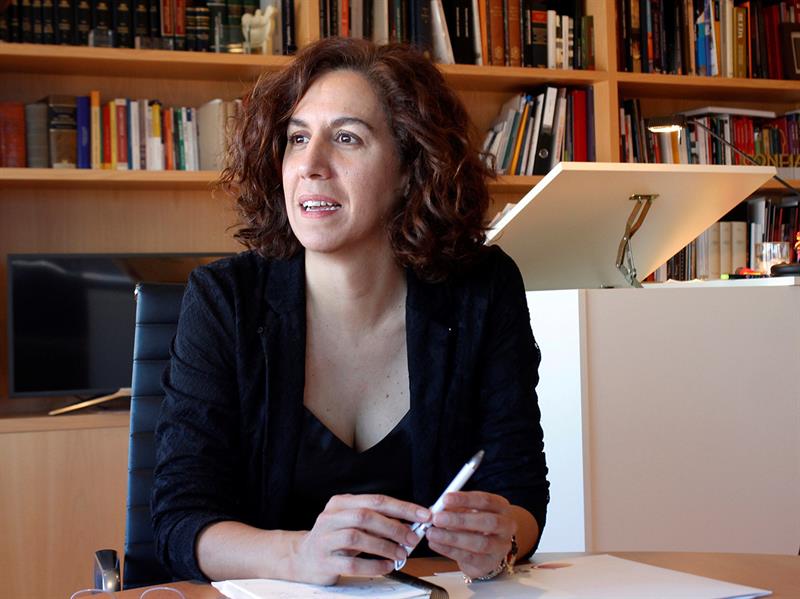 Given the likely return to prominence of pro-independence campaigns while the Catalan referendum trials are held, Lozano says "there is widespread concern in the [Spanish] government," and several institutions are already working to counteract this. "I am aware that the judiciary is very well prepared to explain to the Spanish and foreign press what is really happening, in legal and technical terms, because it is predictable that there will be attempts to try and misinform, to make incorrect interpretations of procedural questions in order to increase the victimization," she says.
The "most political" information will be handled by the Spanish government, especially by the prime minister's department and the foreign affairs ministry, headed respectively by ministers Carmen Calvo and Josep Borrell. Spain's Diplomatic Information Office (OID) is also preparing videos and campaigns, some of which are "already being released."
Relationships with foreign media correspondents in Spain will also carefully managed, something that in the past "the independence movement did very well and the [Spanish] government, not so well" and, in fact, there are already different institutions that intend to be involved in this during the trial, such as senior judicial body the General Council of the Judiciary, the justice ministry and the prime minister's department. The secretary of Global Spain will have an official spokesperson who will "constantly attend to [the media], giving them accurate and real information about Spain" since the "commitment is not only to Spain's reputation but also to the truth in these times of fake news".
Asked about who will be responsible for counteracting the predictable information about political prisoners or exiles, Lozano becomes indignant: "Excuse me, but if they talk of political prisoners, my grandfather was a political prisoner, and I find it offensive that in a country like this there is talk of political prisoners and exiles, because it is very recent, it is a major misinformation operation," she says. "Neither Amnesty International, nor Human Rights Watch, nor any serious international body has acknowledged them as prisoners of conscience, nor have they said that there are any limitations on freedom of expression in Spain, I think we have it easy in this regard. Things have to be explained as they are," she asserts.
For Lozano, "the [independence] process has been a gigantic 'fake news', and we are bearing the consequences of that", especially in Catalonia where there is "a society divided in two, the social harmony has been broken, and when misinformation disrupts social harmony, it threatens democracy." Lozano also notes that numerous independent studies say that what has happened in Catalonia has not significantly damaged the image of Spain abroad, but "it has affected the reputation of Catalonia."
According to Lozano, "there is bewilderment among European public opinion about the situation in Catalonia and I think that this is due to the fact that Spain has failed to explain what the reality is."