Harsh words against Spain's Socialists. Exile Catalan president Carles Puigdemont has attacked the PSOE for downplaying the controversial words of former Spanish police commissioner José Manuel Villarejo on the link between the Spanish National Intelligence Centre (CNI) and the 17-A terror attacks on Barcelona and Cambrils. He assured that the Socialists "have come out in a flurry to protect the reputation of the Spanish state and erase the deep state's traces in its structures". It did not end here: "They have been doing it since the GAL (death squads illegally established by officials of the Spanish government to fight against ETA) murdered, kidnapped and tortured," he added in a tweet this Wednesday.
Puigdemont criticized the words of the PSOE's top brass, which quickly disavowed Villarejo's statements about the alleged role of the Spanish state in the 2017 terror attacks, days before the October 1st referendum. The president made this tweet after the delegate of the Spanish government in Catalonia, Teresa Cunillera, assured this Wednesday that the accusations of the former commissioner "have no credibility".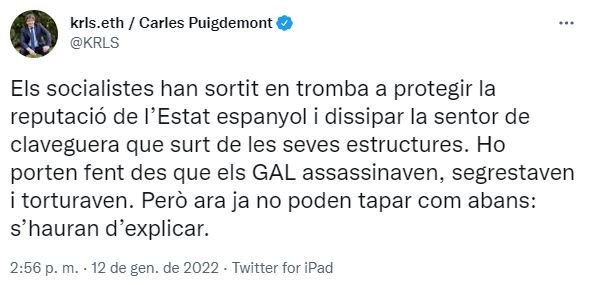 In addition, Puigdemont also insisted on the need for the socialists to give explanations following the words of Villarejo. "They can no longer cover it up as before: they will have to explain themselves" he stated on social networks. The president already pointed out on Tuesday that the Spanish state has responsibility in the 2017 terror attacks due to the lack of investigations.
While Puigdemont attacked the PSOE, president Quim Torra took on the commons. The mayor of Barcelona, Ada Colau, broke her silence this Wednesday to say that "if serious assertions are made, that must be accompanied by evidence". Torra reminded her that "the evidence is classified by the Francoist 1968 law of official secrets". Only you, who are part of the government, can declassify them. Will you do it, or will you cover up a terrorist state? It is your responsibility," he said on Twitter. In fact, the president stated on Tuesday that if the revelation of the former commissioner were true, we would be facing a "state crime".

It should be recalled that this Tuesday Villarejo blamed the CNI for the 2017 terror attacks, which were a "serious error" by Félix Sanz Roldan, who was then the director of Spanish intelligence. He accused the retired policeman of "miscalculating the consequences in order to give Catalonia a small scare" in the days leading up to the October 1st referendum.
In fact, this Wednesday he insisted on this: "The intention was probably not to carry out an attack, but to cause a sense of risk so that Catalonia would feel the need for the protection of the Spanish state". Many times, fictitious commandos have been created to reassure people", he added