Spanish politics has become a Netflix series, but it is not clear who is writing the script. As all the cameras were focusing on the headquarters of the Ciudadanos party this morning, there was a new move on the chessboard, probably the least expected of all. Spain's second deputy prime minister Pablo Iglesias announced that he is leaving the Spanish government. Why? To run in the snap election called in the Community of Madrid and contest the Madrid regional power with incumbent president Isabel Diaz Ayuso (Popular Party). According to sources close to Iglesias, the decision was made last Thursday, when Ayuso originally called for the snap vote, and was kept in absolute secrecy amid the political confusion of the intervening days, which was clarified by Sunday's court decision backing the PP leader's election call. Thus, Iglesias appeared this morning to place what is a very risky bet. He also proposed passing his government role on to fellow Podemos minister Yolanda Díaz and put forward the idea of single candidacy with Íñigo Errejón, of Más Madrid. The handover of powers in the Spanish cabinet will take place on April 20th. Prime minister Pedro Sánchez, who was at a bilateral summit in France today, with Emmanuel Macron, later responded, with only positive words for Iglesias and for his proposed substitute, Díaz.
It was Pablo Iglesias himself who on Monday announced his decision in an eight-minute recorded video. How did he justify it? "In politics you have to have the courage to fight the battles that have to be fought," said the Podemos leader. And he referred to the dangers of the May 4th elections in the Community of Madrid: "Bipartisanship will not return, but democracy is threatened by a new Trump-ist right, well placed and backed by massive economic and media powers". In this context, the outgoing deputy PM asserted that "it is necessary to confront this criminal right".
"Madrid is facing a huge risk, which is a risk for Madrid but also for all of Spain: that there could be an ultra-right government with Ayuso and Vox," warned Pablo Iglesias. However, he added, "history gives us an opportunity that we cannot allow to pass us by": that is, to elect a left-wing government in the Community of Madrid. "An activist must be where he is most useful," he said. The decision will be submitted to the party membership. He will also propose a unitary candidacy with the "transformative" left in Madrid, with a view to allying with Más Madrid - the party formed by his former Podemos colleague Íñigo Errejón - given the current fragmentation of the left in Madrid.
Iglesias also took the opportunity to prepare his substitute. While he thanked all the ministers of Unidas Podemos for their work, he emphasized in particular that of Yolanda Díaz, one of the most valued members of the Spanish coalition government. "She is the best labour minister in history," defended the Podemos leader. And he went even further along the same lines: "I think I'm saying something that millions of left-wing people in Spain feel if I say that Yolanda Díaz could be the next Spanish prime minister."
Although awaiting the endorsement of the party grassroots, Iglesias is already campaigning: "On May 4th it will be decided whether the far right will complete its assault on Madrid or whether we will halt them. We must stop these criminals, who celebrate the [Spanish] dictatorship, who glorify state terrorism, promote violence against migrants, homosexuals and feminists, who, when a group of military officers talk about shooting 26 million 'reds', say that these are their people... we must prevent them obtaining all the power in Madrid."
Ayuso's response was not long in coming: she symbolically changed the campaign slogan she has already launched, from "Socialism or Freedom" to "Communism or Freedom."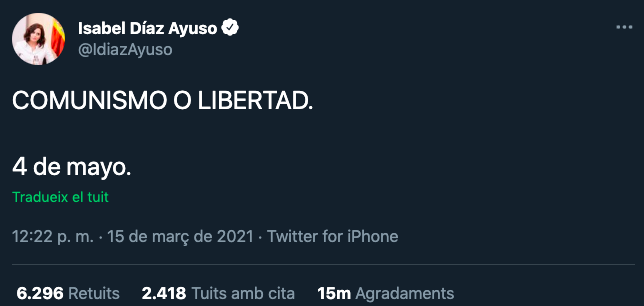 Sánchez: "I wish him luck"
After the Franco-Spanish summit with Emmanuel Macron in Montauban, north of Toulouse, Spanish prime minister Sánchez confirmed that he had had a call this morning from Pablo Iglesias telling him of his decision. "I wished him luck. A little less than Ángel Gabilondo," the Socialist leader joked, in reference to the PSOE candidate who will also contest the Madrid regional election. As well, he recognized "the contribution he has made during this long year," describing working alongside Pablo Iglesias as "optimal", despite numerous discrepancies. It guaranteed "continuity".
With regard to Yolanda Díaz as a possible substitute for the second deputy PM, Sanchez confirmed that he has "the best of opinions" on the labour minister, who is doing "extraordinary work". He wanted to quash any debate on whether he would accept Díaz as a replacement: "I am a person who fulfills agreements", he said.