Together for Catalonia (Junts) has this Wednesday completed the last step necessary to give its support for the agreement that will allow Republican Left (ERC) candidate, Pere Aragonès, to be invested as president of a new pro-independence coalition government in Catalonia. After a day of electronic voting, the membership of the party led from exile by Carles Puigdemont ratified the agreement with 83% of the votes in favour and 17% against. 62% of the party's members took part.
Backing for Sànchez
The result was welcomed by the Junts leadership as it also shows that, despite the critical voices that have been heard with regard to the agreement, including that of former president Quim Torra and the MEP Clara Ponsatí, a clear majority support the negotiation carried out by the secretary general, Jordi Sànchez.
Support for the agreement was announced at the same time as the president of the parliamentary group, Albert Batet and parliamentary spokesperson, Gemma Geis, met with the speaker of parliament, Laura Borràs, to communicate the party's support for the investiture.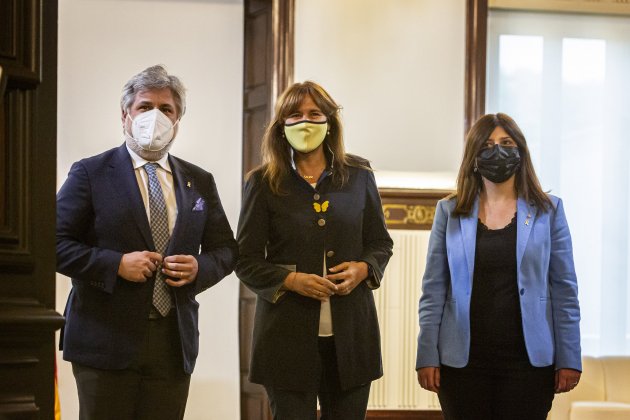 A new government, assured
Junts asked its members whether or not they supported the agreement reached between Pere Aragonès and Jordi Sànchez last weekend, on the understanding that in the case that the membership rejected the deal, the party deputies would still support the investiture of the ERC candidate, allowing him to form a minority government.
The question that was put to the vote was: "Do you give your support to the JxCat executive's proposal  to endorse the legislature and government agreement with ERC to make use of the 52% vote for independence?" The text added: "If this agreement is not approved by the party membership, Junts will invest the ERC candidate as president and move into opposition".
There were 3,364 votes in favour and 689 against, from a total census of 5,628 members. The electronic vote started on Tuesday at 2pm and ended today at 1pm.
The agreement, reached over the weekend by Aragonès and Sànchez, also provoked intense debate in the party's executive when the general secretary explained the conditions of the deal on Monday. However, it was approved unanimously. The party's executive had left the negotiations in Sànchez's hands, and the pact was concluded after an intense weekend of negotiations, with the general secretary informing party president Carles Puigdemont of the result on Sunday evening.