After more than 531 days in prison, Oriol Junqueras (Barcelona, 1969) will, this Good Friday, break the silence imposed on him by Spanish justice and move outside the Soto del Real prison walls, in order to enter the election campaign. Even if that movement is purely telematic. Spain's electoral commission has finally authorized the Catalan Republican Left (ERC) leader and candidate to the Spanish Congress to give a press conference by video to the Catalan News Agency, just as the campaign for the 28th April Spanish general election reaches the half-way mark. It will be his first oral interview after a year and a half in jail. In a written interview with El Nacional, Junqueras says he's very keen to express himself orally and considers that being able to do so is "the first victory against repression." In his responses, he also appeals to voters to give his party an election victory to "tell the world that Catalonia wants to be free," he calls for an end to the bickering between different independence groups and also demands a strong Catalan government to face a guilty verdict in the Supreme Court trial.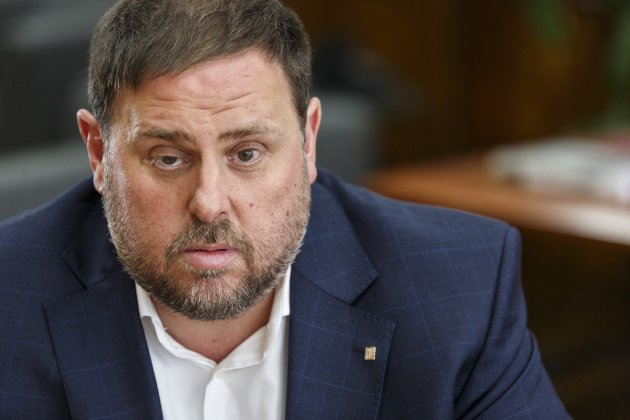 For almost a year and a half you've been in prison. The first question is almost obligatory: how are you?
I am strong, serene and in good spirits. The daily transfers between court and prison and the day-to-day routine with the trial are very tiring, but I am decided, convinced and keen to demonstrate our innocence and, above all, to continue working for Catalonia and for the truth.
How do you see that the trial is going?
We can't assess the trial just from what is happening inside the courtroom - this is a general case against the Catalan independence movement with many aspects and, above all, an almost systematic denial of rights to a defence, the clearest point in that regard evidently being our preventive prison. But the bugging, the division of the case into several courts simultaneously, the impossibility of confronting witness falsehoods with videos and the lack of time and resources to prepare the defence cases are clear violations of our rights. It's clear that it's not a fair trial and that many of these violations will have to end up in another court.
Indeed, the court is not allowing witnesses' testimonies to be compared with videos during their testimonies. How do you think this affects your right to a defence? Do you think the verdict is already decided?
Not only that right, but practically all of our fundamental rights have been violated since the beginning of this judicial process. In any case, we'll take it to the end in order to defend our rights and above all our innocence. Everyone knows that voting and organizing a referendum isn't a crime and that to prevent it by force, as the Spanish state did, is a crime. It's likely that there are people who already have the verdict written down, but at the same time it's also true that this trial is an examination above all for Spanish democracy.
To face a guilty verdict, we'll need a response at country level, and a strong government
What should be the response be from the independence movement and the Catalan government to a guilty verdict?
The response will have to be political, from the country, like the response we made on October 3rd and, therefore, it must be coordinated among all Catalan democrats, because the sentence will be an attack not only on the people to be sentenced but also on democracy, freedom and fundamental rights. We'll need a response from the country, that rises to the importance of the moment, and a strong government to confront one of the most important moments since October 2017.
It's been a year and a half ago since that October. What went wrong and what's been learned?
After the event, it's very easy to say what should have been done. The best decisions were taken at every moment, based on the context. And there's something that's very clear, we've gone further than ever. But at the same time, it's also obvious that we're still not where we'd like to be, we have to continue working to complete this process towards the Catalan Republic. In any case, we've learned many things, we're very strong, but we can be stronger, we've seen how far Spain is prepared to go to defend the unity of the kingdom and that the injustice, state violence and the prison have exposed the Spanish state before the world.
If independence wins a Spanish election for the first time, we'll be back to telling the world that Catalonia wants to be free.
How do we have to continue the process now? Should there be a break, a kind of 'reset'?
The best message we can send is for independence to win a Spanish election for the first time in Catalonia. If we do that, we'll be back to telling the world that Catalonia wants to be free.
Beyond the trial, you're also the head of the ERC list in the general election on April 28th and, for the first time since you went to jail, the Spanish electoral commission has authorized you to take part in the campaign and hold a press conference this Friday. How are you treating that?
I'm facing it with a great desire to express myself, to be able to go beyond these walls. It's the first victory against the repression of this electoral campaign, because we'll be able to break the silence they want us to submit us to, although we shouldn't be giving thanks for things that should be normal in a democracy, such as the fact that a candidate can take part in an election campaign. They want us shut up, silenced and forgotten, but we won't be, we are winning the battle of public opinion, in international terms too, because injustice is persistent and the truth is uncomfortable.
They want us silenced and forgotten, but we won't be 
What are you going to do to in Spain's Congress of Deputies?
Defend democracy, defend the right to self-determination and Catalonia. We have to be everywhere where people talk and decide about Catalonia. We don't want to give ground to those who are against Catalonia and want to subjugate it. Those who have already announced that they want to apply a perpetual 155. If we're not there and don't have outstanding representation, they'll make the decisions for us.
What should ERC do in Madrid?
We've been decisive in the fall of two governments and we can be so again if they continue to refuse a democratic response. In any case, we'll once again be the most faithful partner to the people of Catalonia, let nobody doubt that. The stronger ERC is, the more we'll be able to defend the interests of Catalans.
According to the polls, victory in Catalonia is being disputed by ERC and the Socialists (PSC). The PSC say that only the "useful vote" for them can stop the right, and stop Vox. Do you think that in the end this message could block the expectations of ERC among a sector of voters that are hovering on the edge of your constituency, also shared with the Commons (En Comú Podem)?
I don't believe that, because the ERC vote in these elections is a "useful vote" in a triple sense: it stands up to the extreme right and stop the right-wing tripartite; it prevents Ciudadanos (Cs) from being part of the government; and it makes possible a political solution that will lead us to the inevitable referendum. Everyone knows that in these elections, voting for the PSC is the best way to make Inés Arrimadas into a minister and Albert Rivera into Spanish deputy prime minister. And, at the same time, the best way to avoid that is by voting ERC.
No-one should make the mistake of setting red lines that end up turning into a blank cheque to facilitate a government of the  extreme-right tripartite 
If you get the seats to form a coalition, what conditions will ERC impose on the investiture of Pedro Sánchez as PM?
The first thing that should happen is for the independence movement to be very strong on 28th April. We have the opportunity to achieve an independence victory in the Spanish elections in Catalonia for the first time and this message would be very powerful. In any case, no-one should make the mistake of setting red lines that end up turning into a blank cheque to facilitate a government of the tripartite of the extreme right, PP-Cs-Vox. And, at the same time, you can't give a blank cheque to the PSOE that will act as a red line for a true democracy in Catalonia, which everyone knows requires, unavoidably, a referendum.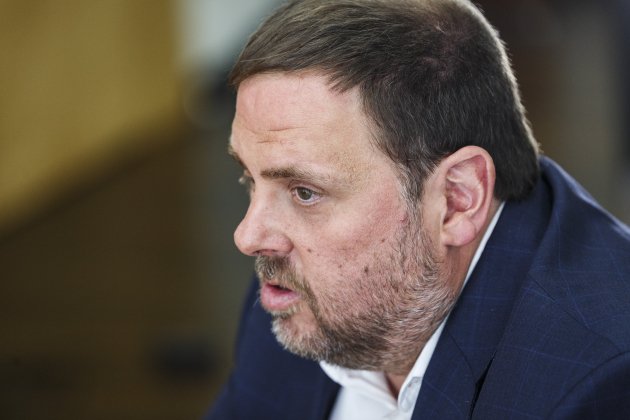 Pedro Sánchez is undertaking a very tough campaign against the independence movement. And, in fact, he's said he would prefer new elections before forming a pact with ERC if you don't give up the goal of self-determination. This version of Sánchez doesn't seem very open to dialogue, does he?
Once again, the cowardice of the PSOE and the fear of the extreme right is causing Sanchez to renounce dialogue and stop defending democracy, as when they got up from the negotiating table before the elections were called. In any case, if Pedro Sánchez and the PSOE say they don't intend to reach an agreement with ERC,  it's because they have already decided to reach one with Cs. This is precisely why it is more important than ever that everyone votes ERC so that Sánchez doesn't form a government with Arrimadas and Rivera as ministers. In these elections, and it's more and more obvious, a vote for the PSC is a vote for Cs. On the other hand, a vote for ERC is a vote for Catalonia, self-determination and the Republic.
If Sánchez and the PSOE say they don't intend to reach an agreement with ERC,  it's because they've already decided to reach one with Cs
What will they do if you don't accept their conditions?
That's a question you have to ask Pedro Sánchez.
In the previous legislature, ERC and PDeCAT voted the same way in the no-confidence motion and on the introduction of the budget. Do these two political spaces, ERC and now JxCat (in place of PDeCAT), need a joint strategy in Madrid on an investiture? Have you talked to the JxCat candidate, Jordi Sànchez?
We've said and always defended, that we need to work and coordinate together, to agree on a common strategy to continue moving towards shared goals, from diversity, but with a common goal. That's how we are stronger.
ERC is standing at the Spanish election with newly-signed candidates, such as Joan Josep Nuet, who has openly said that he believes in self-determination but not independence. Doesn't this dilute the pro-independence stance of ERC?
On the contrary, it makes us stronger and not just in ERC, but above all, in the entire independence project. With the Sovereignists space within the Commons, with Joan Josep Nuet, we can move together towards the proclamation of the Catalan Republic. ERC is working to create the Catalan Republic, as it always has done. And doing what we've done in recent years. Make ourselves bigger and becoming a majority. Getting stronger. Speaking with other political spaces and reaching agreements and combining. ERC has become the gateway to independence, a plural and welcoming space from which we can walk to the Republic. There are more and more people taking the step to join the Republican family.
There is another party standing in the April election, the Republican Front, which believes that neither you nor JxCat represent the mandate of the 1st October referendum. For you, what is that mandate? Do you think they represent it?
For the last year and a half, I've been in jail for the 1st October, for defending democracy and for having fulfilled a political mandate. It's in our interests to stop the bickering between pro-independence groups, because otherwise, we won't be able to keep moving forward and working for the Catalan Republic, which we all want. Let's stop competing to see who is the most pro-independence and just work every day so that more people are, that's the only thing I ask of everybody. The 1st October belongs to everyone and no-one should have any doubt that we won't stop struggling [for that] until this process is completed.
We need to stop the bickering between pro-independence groups, and stop competing to see who is the most pro-independence
You're a candidate for the Spanish Congress and the European Parliament and, in addition, you still officially hold a seat in the Catalan Parliament. You can only stay with one of the three. Will you accept a seat in Congress? From which will you resign?
I have already announced that I will take the seat in the Spanish Congress, I have no intention to give up my rights as much as they want me out of the way. Accepting the seat is the best way to fight the repression and state of democratic exception which we are enduring, for the rest of the political prisoners as well. They want to silence us and the answer will be in the form of votes at the elections. We won't stop, we'll fight as long as we have to against this persecution of democracy. The Spanish state should understand very clearly that we'll never give up and they'll have to give a good explanation if they try to prevent me from exercising my political rights in Congress or the European Parliament.
JxCat continues to insist on a unitary list. What do you think?
We have said many times that from diversity, we will form a greater sum than from electoral uniformity. That is why we're in favour of the unity that does add more people: unity of action. And that means working together in all the spaces which want to achieve the independence of Catalonia. What we can't afford to allow is that the competition between independence parties causes votes to go to non-independence parties.
Can this argument also apply to the European Parliament? JxCat, with Carles Puigdemont at its head, argues that at international level, a single list would have more impact.
We have learned that the best way to represent and defend the transversality of the independence movement is with plural lists that represent different spaces. We have to work so that each space is the strongest in its sector and form a sum after the elections. Work together: as we did for example in the European Parliament with Ramon Tremosa and Raül Romeva.
We can't afford to allow that competition between independence parties causes votes to go to non-independence parties
Also, in the European election, Toni Comín will be number two to Puigdemont. Did his decision surprise you? Have you been able to talk to him lately, even indirectly?
I haven't been able to speak directly to him. In any case, with regard to his decision, I'm grateful for all he's done for the country and the Republican project and I wish him the best in this new political phase that he's starting.
Should Comín's seat as a ERC deputy be returned to the Catalan Parliament?
That's a personal decision. For our part, ERC will do nothing that could harm a person who is suffering fierce repression from this undemocratic state.
Regarding the municipal elections in May, what government would you like to have in Barcelona?
I think that Ernest Maragall is the best mayor that Barcelona could have and the independence project needs a Republican mayor at the head of the country's capital. I have no doubt that this will be the case.
We need strong institutions, and to preserve the victory we achieved on 21st December 2017
Finally, regarding the Catalan government, the opposition accuses those in power of having neither a plan to govern nor a majority to govern. Will we also need elections in Catalonia in the near future?
What we need are strong institutions, preserving the victory we achieved on the 21st December, and working for everyone, this is our obsession and, in fact, this is why we are pro-independence because it is the best way to build a better country, one that more is just, cleaner, freer.