Today's joint press conference by the Spanish prime minister, Pedro Sánchez, and the president of the Madrid region, Isabel Díaz Ayuso - held to mark their agreement to work together on the current Covid-18 spike in the Spanish capital - was certainly an attention-grabber.
More than twenty flags (both of Spain and the Madrid region, alternating) adorned the stage on which Sánchez and Ayuso explained the accords they have reached after months of battles and mutual public rebukes over the management of the Covid-19 pandemic.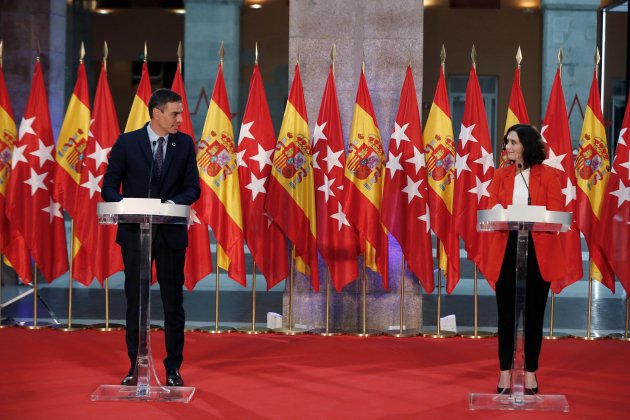 The display of flags, as if it were an international summit, outshone even some of Donald Trump's recent spectacles at the 2020 Republican convention.
El presidente de EEUU, Donald Trump, dijo de su opositor demócrata, Joe Biden, que es "débil" y capaz de acabar el sueño americano, luego de aceptar la candidatura de su partido para la reelección, al cierre de la Convención Nacional Republicana. #RNC2020https://t.co/Xe56CiSnbu pic.twitter.com/GZ4knRNInO

— EFE Noticias (@EFEnoticias) August 28, 2020
Politicians and other social media users were quick to comment on the dazzling images. Catalan pro-independence politician from the JxCat party, Elsa Artadi, mentioned ironically that "today the fighters against nationalism have come together."
Avui s'han reunit els lluitadors contra el nacionalisme. pic.twitter.com/aonoM3s2Ua

— (((Elsa Artadi))) 🎗 (@elsa_artadi) September 21, 2020
"We see that in Madrid they are already finding effective solutions," said the Tarragona delegation of the Catalan National Assembly. 
Veiem que a Madrid ja estan trobant solucions efectives.🙄 pic.twitter.com/esORfQXfjW

— ANC Tarragona🎗 (@ANCTarragona) September 21, 2020
In a similar vein, journalist Bea Talegón said: "Calm down. They have flags. We are saved."
Tranquilos. Tienen banderas. Estamos salvados pic.twitter.com/IPoWRekDdZ

— Bea Talegón 🎗🔻 (@BeatrizTalegon) September 21, 2020