The Catalan pro-independence politician of the CUP party, Anna Gabriel, who has been living in exile in Geneva since 2018, provided the surprise of the event held by Òmnium Cultural this morning in Elna (Northern Catalonia) on the occasion of the 60th anniversary of the organization.
Without any prior announcement of her presence, Gabriel walked into the courtyard of the Ancien Collège Paul Langevin where the stage had been set up for the event, joining the Òmnium president Jordi Cuixart, former Catalan president Carles Puigdemont and former vice president Oriol Junqueras.
A seat had been reserved for her next to Puigdemont where, instead of her name, there was a paper with an x written on it, which had already provoked all sorts of speculation throughout the morning.
Gabriel, parliamentary spokesperson for the CUP in 2017 and a leading pro-independence voice in the period leading up to the referendum, did not speak at the event or make any statements to the press - nor did any of the other Catalan politicians who attended. But Cuixart brought her to the stage, to be alongside other exiles and prisoners.
Important contingent from the CUP
Along with Gabriel, a large group of politicians from the left-wing CUP (Popular Unity Candidature) was present in the courtyard of the Elna school, including the Catalan deputies Dolors Sabater, Carles Riera and Eulàlia Reguant, and the deputy in Madrid, Albert Botran, among others.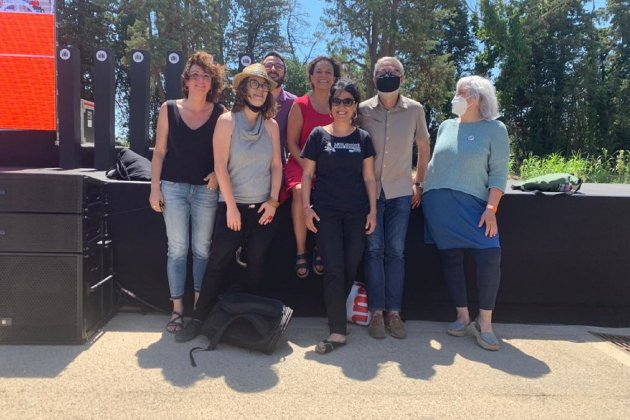 The CUP politician took part in many of the selfies that the audience demanded at the end of the event. In fact, her CUP colleagues also wanted to take a picture with her. At the end of the event, like the other prisoners and exiles, Gabriel left accompanied by her family.