Democratic Tsunami has no intention of blocking access to polling stations for Spain's 10th November general election and it defends the right of all citizens to vote. The protest platform set up to respond to last month's Supreme Court verdicts against Catalan pro-independence leaders has given this assurance in a statement this Sunday, with the intention of counteracting rumours from various sectors - including the Spanish government - which have asserted that the Democratic Tsunami platform aims to disrupt the election day next Sunday.
With regard to its call to mobilize next Saturday, on the day of reflection when campaigning is banned, Tsunami insists on the festive nature of activities on what it calls the "day of disobedience" of the Electoral Commission. Last Thursday, the protest platform called on the public to fill the squares, neighbourhoods and cities of Catalonia from four in the afternoon until ten at night on 9th November "with a self-organized civic, cultural and festive day".
"If the repression of the state won't stop during the day of reflection, the people won't stop either," says the Tsunami press release on social media. The tone of the actions will be similar, they say, to initiatives such as those of the Indignats and 15-M movements held on the days of reflection before Spanish elections in 2011 and 2015.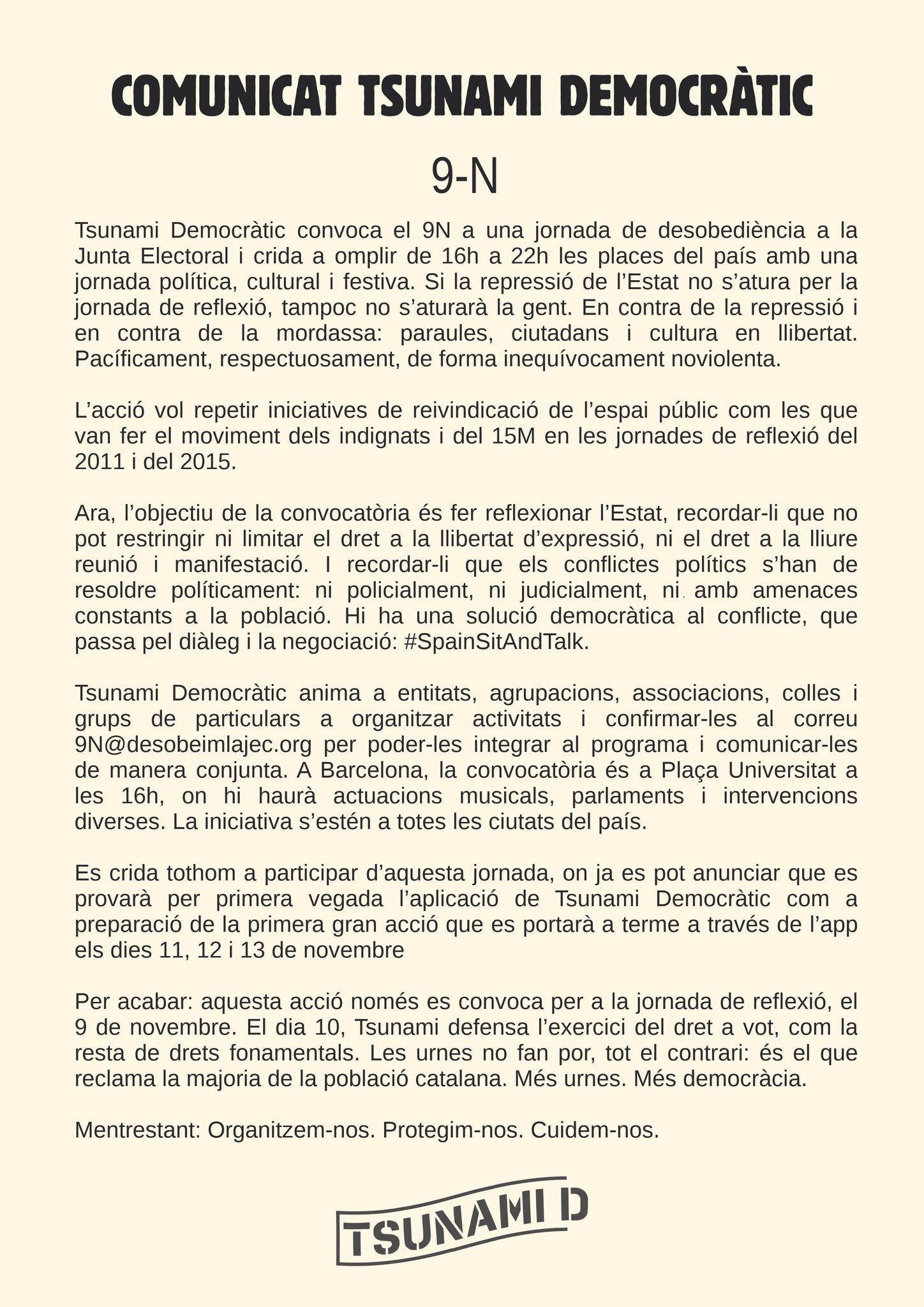 Convinced that the solution to the conflict requires "dialogue and negotiation," the objective of the citizen movement is, through an "indisputably non-violent" approach, to "remind the state that it cannot restrict or limit the rights to freedom of expression, assembly and protest".
Tsunami app to go into action
Meanwhile, Democratic Tsunami has also announced that on the day of reflection, November 9th, people will for the first time be able to interact using the Tsunami mobile app. The announcement says that the application will then be used to communicate details of the following actions planned by the protest platform - after the election, on November 11th, 12th and 13th.
Last Tuesday, via a court order, Spain's Civil Guard obtained the agreement of Microsoft to block the dissemination of the mobile application through its GitHub source code repository service.
This blockade received an immediate response from Tsunami. "Control, censorship, lies, contractions of our rights," replied Tsunami via Twitter, adding that "this is the democracy of the Spanish state attacking those who raise doubts about it."
Within a few hours, Democratic Tsunami already had a new version of the mobile application available, which, as they said, was "improved and more operative" than the previous one. Next Saturday it will be operational for the first time.