Catalan protest platform Tsunami Democràtic has announced a new action for 9th November, a day after Spain's Civil Guard ordered source code repository GitHub to block its app from Spain.
9th November is the day before Spain's repeat general election. Known as the "day of reflection", campaigning is banned, to allow voters to consider their choice without pressure.
Indeed, the platform's plan plays on the idea of the day, calling on supporters to "disobey the Central Electoral Commission" and "make [Spain] reflect".
Atents i atentes! 👇 pic.twitter.com/VIJTtPne7Z

— Tsunami Democràtic (@tsunami_dem) October 31, 2019
The anonymous group says it wants to make the Spanish state reflect on "the Supreme Court's sentences and the tens of political prisoners and exiles", on the "police violence applied against the peaceful population" and on "its inability to negotiate".
It encourages members of the public in "all the cities, towns and neighbourhoods of the country to self-organised a day of cultural, political and festive activities" for that day.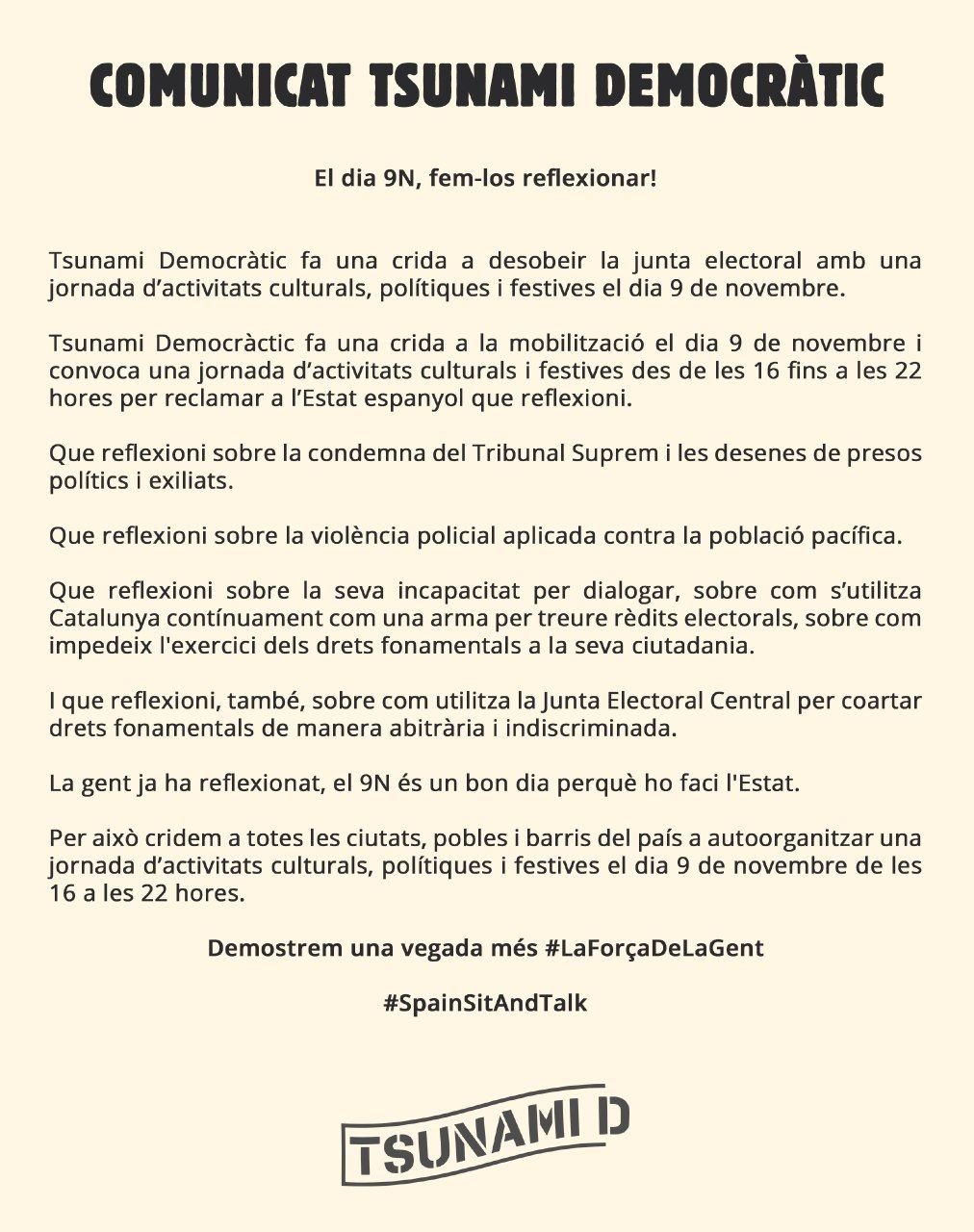 Six days ago, on Twitter, Tsunami Democràtic had told its supporters to "save" a list of dates, including the 9th November. The others they mentioned then were the 11th to 13th November inclusive, when they say the action will take place in a "surprise location", and 18th December. That last date, with the note "we're playing at home", seems to be a reference to the rescheduled Clásico Barça-Real Madrid match.
🌊 Guardeu dates:
9/11 [a tot l'estat]
11/11 [lloc sorpresa]
12/11 [lloc sorpresa]
13/11 [lloc sorpresa]
18/12 [juguem a casa]

— Tsunami Democràtic (@tsunami_dem) October 25, 2019