The judicial initiative taken by Quim Torra against Spain's Central Electoral Commission has not been successful. A court in Madrid has rejected the complaint filed by the disqualified Catalan president against the electoral board member appointed at the proposal of the Ciudadanos (Cs) party, Andrés Betancor. The complaint alleged that Betancor was guilty of electoral offences and activities and advice prohibited to public officials while a member of the Central Electoral Commission, the administrative body which took issue with Torra over his hanging of a "Free political prisoners" banner, for which he was eventually removed from office.
The judge maintained that there are no indications of any offence by Betancort, a professor of administrative law at Barcelona's Pompeu Fabra University and an advisor to Cs, given that "he is not a public official who takes advantage of this condition to form part of the commission and resolve against the interests indicated by the plaintiff". However, he believed that if there was any possible incompatibility, it would be administrative, not criminal. The prosecution opposed Torra's complaint.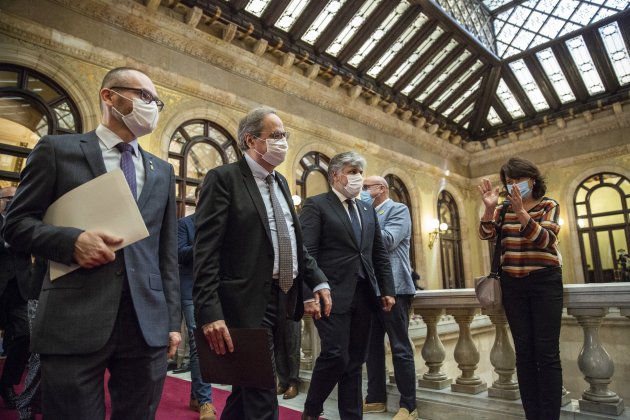 Yellow ribbons and disqualification
Andres Betancor, as Torra argued in the case, participated "actively" in six electoral board resolutions arising from actions proposed by the Ciudadanos party, such as the requirement for the removal from the Palau de la Generalitat of the yellow ribbons and banners in support of the imprisoned pro-independence leaders - which later led to the disqualification from office of president Torra.
Torra maintained in the suit that Betancor, university law professor, combined his work at the board with his advice to Ciudadanos between 2017 and 2019. In addition to receiving a salary from the party, he had an office in the Spanish Congress, and according to the complaint "far from showing a public attitude of legal and partisan neutrality" he boasted "of his personal interest" in all these resolutions by the electoral board, and this was evidenced by articles and messages on Twitter published by Betancor. When he ceased to be a member, he became legal secretary for the Ciudadanos' interim management committee, created when leader Albert Rivera resigned.
No evidence of an offence
The judge, however, did not see any evidence of any crime having been committed by Betancor "since he is not a public official who takes advantage of this condition to be part of the board and resolve against the interests indicated by the plaintiff." The court clarified that he acquired the status of civil servant precisely at the time he became part of the electoral body, in which he took part in the decisions of a joint body.
Quim Torra's statements about the intentionality of the former board member, regarding his personal interest in the matters subject to the body's decision, were "only opinions without any factual confirmation", said the judge.