In a major police operation across Catalonia, Civil Guard officers have arrested 21 people who, they allege, took part in the diversion of public funds to Belgium, in a case which is also supposedly connected to the pro-independence protest platform Tsunami Democràtic. Police sources told El Nacional that among those arrested this Wednesday, for alleged misuse of public funds, abuse of office and money laundering, are several present or former office holders in Catalan political parties CDC and ERC: David Madí, Xavier Vendrell and Oriol Soler. Another arrested was Josep Lluís Alay, head of Carles Puigdemont's office in Belgium, who has already been released.
According to the Catalan High Court, 31 searches were made in eight judicial districts throughout Catalonia. Aside from corruption-related offences, the court indicates there are alleged offences of public disorder, which could imply a link of the entire operation with the Tsunami Democràtic protest platform which operated in late 2019. Unlike other police macro-operations and cases directed at the independence process, however, this time terrorism offences are not included in the allegations. Claims of such crimes would automatically cause the escalation of the case to the Madrid-based National Audience court.
Allged web of connections
The alleged network that is being investigated relates to supposed misappropriation of funds from the Barcelona provincial body, the Diputació, ​​asserting the existence of a web linking the financing of the independence process via public funds, the Tsunami group, relationships with Russia and an alleged property sale operation. Those arrested are Catalan businesspeople connected to former governments of Catalonia, the political parties ERC or CDC (Convergència Democràtica, a predecessor of the current JxCat), or linked to pro-independence leaders, especially with exiled president Carles Puigdemont.
Under investigation
Those arrested today are scheduled to appear in court on Friday. Among those named as being investigated by the operation are Xavier Vinyals Capdepon, president of a pressure group supporting the creation of Catalan national sports teams; David Madi Cendros, former communications secretary under Catalan president Jordi Pujol, and also close to president Artur Mas; Xavier Vendrell Segura, former Catalan interior minister and ERC politician; Oriol Soler Castanys, a media entrepreneur linked to ERC; Antonio Fuste Piñol and Roc Aguilera Vaques, from the company Events; Pilar Contreras Llanas, a senior figure in the Catalan education ministry; Marta Molina Alvarez, teacher and head of the Catalan government's pro-gay and lesbian policies from 2008 to 2010; Jordi Mir, mayor of coastal town Cabrera de Mar; and Jordi Serra, a former comptroller for the Catalan government.
Josep Lluís Alay, head of Puigdemont's office in Waterloo, was released after being accused of misuse of public funds. Speaking on radio station RAC1 after his release, he said that he was calm and when asked about the crime he was accused of, said "the usual one". Alay has denounced the operation as "persecution of the pro-independence cause."
The Civil Guard arrested a total of 21 people in 31 searches in Barcelona, Sant Quirze del Vallès, Sant Joan Despí, Vilafranca del Penedès, Cabrera de Mar, Igualada, Montcada i Reixac and Girona.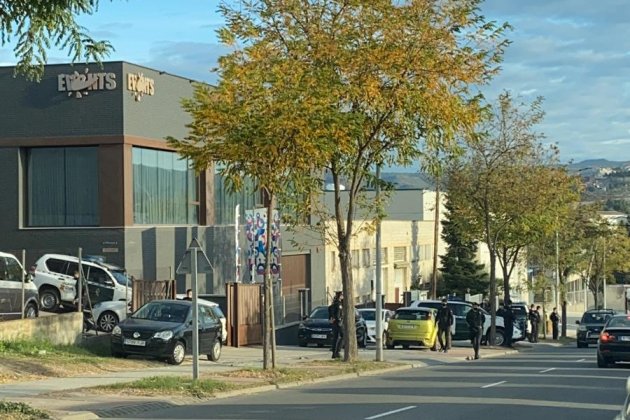 The investigation, directed by the Barcelona court of instruction number 1, is part of a case opened in 2016 which had been kept confidential until today. The original case was related to alleged corruption crimes in the Diputació de Barcelona provincial authority.
Origin of the case
This February, a report prepared by the Civil Guard called for the investigation of 48 more people in relation to the Catalan independence process. The report, which summarised searches carried out by the state paramiliary body in May 2018, asserted that between 2012 and 2015 contracts were awarded and subsidies granted in an irregular way by the Diputació de Barcelona, affecting a total of one million euros.
Part of these funds, about 180,000 euros, went to two foundations with political party connections, CATmón and Ingman, according to the report. The investigation asserts that this money was used to pay bills for the independence process. CATmón and Ingman were linked through former Convergència official Víctor Terradellas, arrested in the operation in 2018.
The Civil Guard also suspects irregularities in subsidies from the Catalan government and Barcelona city council, when CDC was in power in 2011-15 period, to the two foundations, but in this case there is no evidence.
Among the 48 people that the Civil Guard was at that time asking the judge to investigate are officials from the provincial body and members of the organs which received subsidies, such as Francesc de Dalmases, former president of Ingman and a current member of parliament for JxCat.
By following the trail of the investigation, police have allegedly found the origin of the Tsunami Democràtic protest platform which appeared this time last year coinciding with the enormous public reaction in Catalonia to the sedition sentences for the nine pro-independence political prisoners. The case also alleged irregularities in urban planning in the town of Cabrera de Mar, with Xavier Vendrell claimed to be involved.