For the second night in a row, thousands of people have taken to the streets in several Catalan cities against the arrest and imprisonment of the rapper Pablo Hasél. Twenty-four hours after Tuesday's rallies and subsequent riots with multiple incidents - a woman lost an eye to a police foam bullet, around 50 others were hurt and there were 18 arrests - this Wednesday's march also began peacefully but changed after protesters headed to the downtown square of Plaça Urquinaona, a symbolic location after the clashes during the October 2019 protests against the sentencing of the pro-independence leaders. It was there that, first, damage to property was seen, and subsequently riots began, with more violence than on the first night of protests, although there were fewer protesters.
Several shops were broken into, and some protesters entered a hotel on Passeig de Gràcia as well as a car dealership on Gran Via, where several vehicles were damaged.
At the moment, six people have been arrested: one person in Barcelona for attacks on authority and throwing objects at police lines; three arrested in Lleida for public disorder; and two in Tarragona, one for attack on agents of authority and one for resistance and disobedience.
In Barcelona, according to Catalonia's Mossos d'Esquadra police, there is "throwing of stones, bottles and blunt objects in the area of ​​Plaça Urquinaona / Via Laietana / Ronda Sant Pere. In Urquinaona with Pau Clarís barricades have been built with street furniture and containers". Graffiti has been sprayed in shops in the area. Several incendiary devices have reportedly been thrown at police vehicles in recent hours, causing them to retreat. The Mossos d'Esquadra began firing foam projectiles while protesters were continuing to move rubbish containers to make barricades.
A few minutes after arriving at Plaça Urquinaona, there was a clash between Mossos police and protesters after officers tried to destroy a burning barricade with vans. Some protesters even climbed onto the vehicles to stop them from advancing. In the area of ​​Ronda Sant Pere and Passeig de Gràcia, protesters removed construction fences, building barricades at several points in the area and burning containers in Carrers Diputació and Pau Claris.
The clashes then moved to Rambla Catalunya, where protesters again created barricades with containers and construction materials. The Mossos used the so-called carousel tactic of driving police vans in tight circles and fired more foam projectiles, forcing protesters to flee in the direction of Plaça Universitat. Stones were thrown at police lines at several points, while in the ​​Via Laietana and Urquinaona area, several parked motorcycles were destroyed.
A group entered a hotel on Passeig de Gràcia, causing damage, and several retail establishments were also broken into.
In the city of Girona, people threw bottles and fireworks in the area near the Spanish government's local sub-delegation. A group of protesters set fire to rubbish containers in Plaça Mercadal and built barricades in nearby streets. Scaffolding material was taken from a building and used to build further barricades as well as providing material to throw at police officers, according to the Mossos d'Esquadra. 
In Tarragona, a group of protesters blocked the A-7 motorway.
In Lleida, groups of protesters were reported moving containers and burning them in streets near the Ponent jail, where Pablo Hasél is imprisoned. Objects were also reported to have been thrown at officers from the balconies.
The initial rally
Nearly a thousand people first gathered in the Jardinets de Gràcia, near Avinguda Diagonal,  to protest against the imprisonment of Pablo Hasél. The protest passed down the city's Passeig de Gracia to chants of "Freedom Pablo Hasel" and "The streets will always be ours" before eventually reaching Plaça Urquinaona. There, some protesters moved containers with the idea of forming barricades to prevent possible intervention by the Mossos d'Esquadra.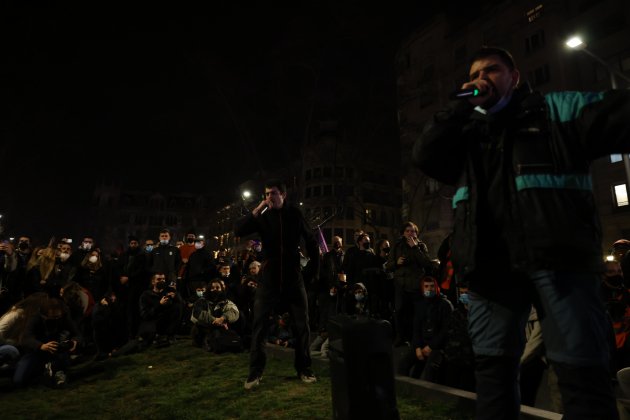 Second night of protest
This Wednesday, Catalan interior minister Miquel Sàmper had called for demonstrations to be peaceful and also announced reinforcement of the police operation. 
Tuesday night's street violence, apart from pitched battles with police, also left some unprecedented statistics: 40 commercial premises attacked in Barcelona, ​​lootings or break-ins at 25 banks and 15 shops. Up to 50 containers and 20 motorcycles were burnt. In Girona, two police cars were destroyed; in Vic, the Mossos police station itself was attacked. A total of 18 people were arrested, 25 police officers injured and 30 injured protesters were attended by emergency medical services.
The Mossos d'Esquadra were overwhelmed yesterday by the riots, although they had foreseen extra needs for protection in public buildings such as courthouses and government delegations. But the demonstrations "transformed very quickly", which caused a lack of reaction capacity. The Catalan police spokesperson, Joan Carles Molinero, admitted that the fast evolution of events made it impossible to activate the mediation unit before the rallies.
Woman loses eye to foam projectile
A young woman lost an eye in yesterday's riots in Barcelona. The Iridia Centre, which initially reported the incident, attributes the injury to the impact of a foam bullet. According to the group, the victim is a 19-year-old woman. The incident took place around 8:30pm on Tuesday night in Via Augusta, between Diagonal and Travessera de Gràcia. Iridia is seeking images to investigate what happened.
Una dona ferida per l'impacte de bala de foam en la manifestació #LlibertatPabloHasel d'ahir a Bcn ha perdut l'ull‼️

Necessitem imatges per investigar els fets: Entre 20.30 i 20.45h a Via Augusta entre Diagonal i Travessera de Gràcia.

📲 saidavi@iridia.cat
📷 @angelgarciafoto pic.twitter.com/qajJ84la5t

— IRIDIA (@centre_IRIDIA) February 17, 2021