The Catalan Council of the Republic, led by president in exile Carles Puigdemont, has announced this Tuesday that it will call together the Assembly of Elected Officials of Catalonia to decide on "the direction and strategy of the independence process if the sentence is condemnatory". The sentence referred to is the upcoming verdict from the Spanish Supreme Court against twelve civil and political pro-independence leaders on charging including rebellion relating to the events surrounding the referendum two years ago today.
The assembly is formed of elected officials from the Parliament of Catalonia and local institutions with the objective of creating a space which "brings together the legitimacies of representation". Puigdemont said it will be open to "all the elected officials of Catalonia who want to take part".
"If the sentence is just, [namely] acquittal", the Assembly wouldn't have to meet, the president said, but the Council doesn't believe that will happen and, as such, has to be "prepared". "This assembly will decide on the path of the country after the sentence," he said.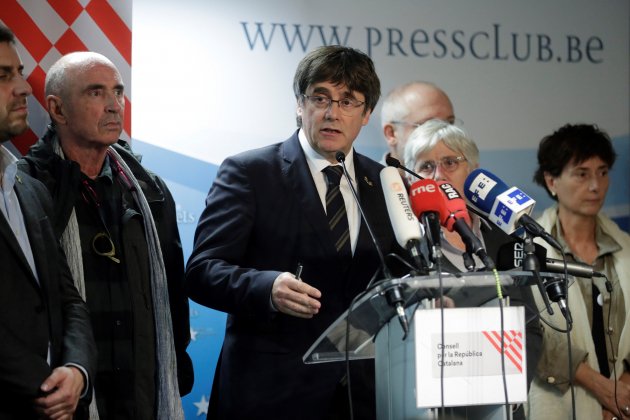 Asked about the possibility of the European Arrest Warrants against him and his ministers being reactivated by Spain once the verdict is announced, Puigdemont said they're ready to face them from Belgium and Scotland. He denied intending to move to any other country to avoid extradition.
Puigdemont said they're also prepared for an "accusation of terrorism without bombs", as they consider any charge to be possible. "That indicates their degree of desperation", he said, when there "has never been violence on the part of the independence movement".
The president was giving a press conference to evaluate the second anniversary of the 2017 referendum from the Press Club of Brussels, accompanied by the government in exile and members of the Council of the Republic. Earlier, he had protested alongside his ministers outside the European Parliament, calling for himself, Toni Comín and Oriol Junqueras to be allowed to take their seats as MEPs.