The leader of Spain's centre-right PP, Pablo Casado, visited Barcelona this Thursday for the first and only time during the campaign for this Sunday's general election. The candidate for prime minister said that, if he takes office, he will order the Catalan president to comply with Spain's Constitution in his very first cabinet meeting, starting the procedure to re-apply article 155 of the Constitution to Catalonia.
To shouts of "president, president", Casado said that article 155 of the Spanish Constitution, which allows the central government to suspend an autonomous community's autonomy, is a mechanism to guarantee the rights of all Catalans. If he doesn't use it, he feels he "would be failing his duty", as he believes Pedro Sánchez has over these months. He added that prisoners like Oriol Junqueras (ERC), Arnaldo Otegi (EH Bildu) and Jordi Sànchez (JxCat) cannot be allowed to control Spain's government, given their possible key role in PSOE getting the votes in the Congress to return to power.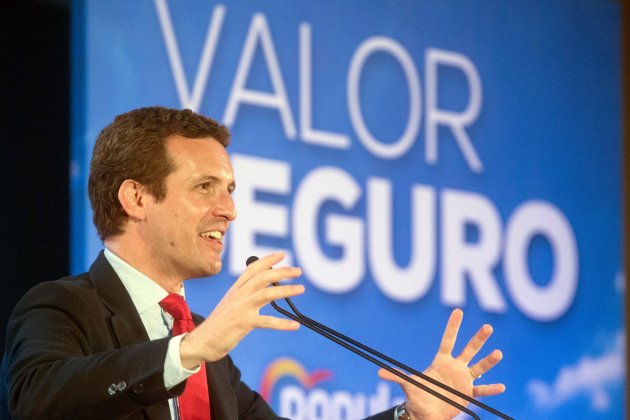 Casado said he doesn't believe the public deserves a prime minister like Sánchez, who he predicted would negotiate with pro-independence parties: "We cannot tolerate a Trojan horse like Sánchez, hiding ERC, JxCat, Bildu and CUP" governing again.
Casado repeated that he would make it illegal to call an unofficial referendum and that he would change the law on pardons to ban them for those convicted of sedition or rebellion.
Praise for the king
During her turn, PP's candidate for Barcelona, Cayetana Álvarez de Toledo, praised Spain's king Felipe VI and his controversial speech two days after the 2017 Catalan referendum, describing him as "the supreme defender of liberty, equality and fraternity in Spain". "They've tried to ban the king's speech, they want to erase his words from history," she said.
Catalonia's "anomalous" situation
Álvarez de Toledo said that Catalonia is experiencing an anomalous situation and attacked presidents Carles Puigdemont and Quim Torra, who she called a racist and Puigdemont's deputy. At the same time, she attacked governing centre-left PSOE, accusing them of having "whitewashed the nationalists" who they "want to reward", through which she says they have excluded themselves from the group of Constitution-supporting parties.
The candidate repeated some of her rhetoric from yesterday's debate on Catalan public broadcaster TV3, calling again for Vicent Sanchis, the debate's moderator and the channel's director, to resign after being charged with disobedience by a Barcelona court.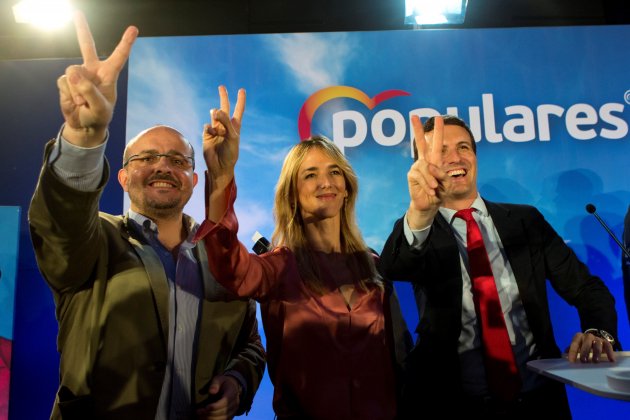 Álvarez de Toledo also asked on PSOE to "stop exploiting" gender-based violence as a "dirty political stratagem". She repeated a comment she has made before that there is no organisation of men dedicated to murdering women.
The party's leader in Catalonia, Alejandro Fernández, warned that the independence movement aims to "reactivate its coup" but "differently". "They are inept in the execution of their plans, but they're not bluffing", he told the audience of some 300 people.