The Rambla fell silent once again this Monday morning as Catalonia and Barcelona marked the third anniversary of the terrorist attacks of 17th and 18 August 2017 in Barcelona and Cambrils, gathering at the Pla de l'Ós, the midpoint of the city's famous pedestrian avenue. Among those in attendance were the father of the three-year-old Catalan boy who died, Javier Martínez, and the parents of Pau Pérez, the young man from Vilafranca del Penedès who was killed in uptown Barcelona by a fleeing Younes Abouyaaqoub, the driver of the van that caused death and destruction on the Rambla.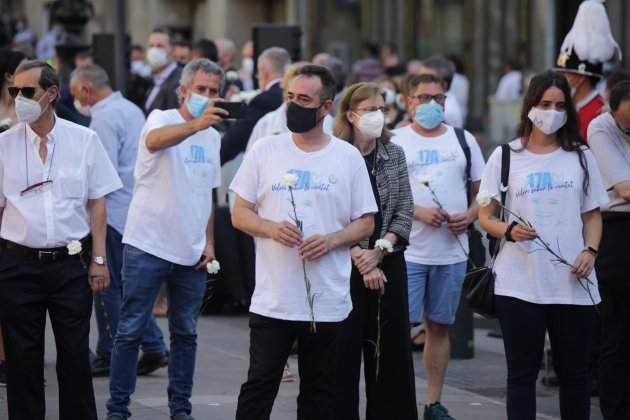 Those taking part included Catalan president Quim Torra, speaker of the Catalan Parliament Roger Torrent, the mayor of Barcelona, Ada Colau, among other Catalan politicians and government representatives. Also present were the speaker of the Spanish Congress Meritxell Batet, Spanish health minister Salvador Illa, and the Spanish government delegate in Catalonia, Teresa Cunillera.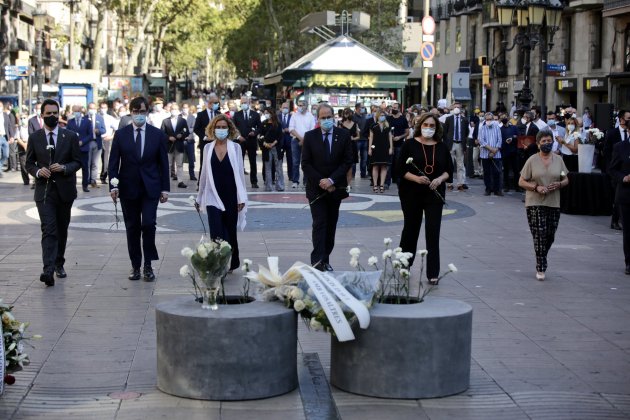 Taking place amidst another summer made atypical, this time by the coronavirus, today's tribute included a minute's silence in memory of the victims and a floral offering. The vast majority of the sixteen people murdered and over 150 people injured in the attacks were foreign visitors to Barcelona, enjoying one of the city's most famous tourist attractions. 
In the face of the Spanish state's refusal to create a commission of inquiry into the unknowns related to the attack, a campaign - not the first - has been launched this summer by the relatives of Xavi, the three-year-old Catalan who died, one of many children caught up in the attack. 17-A: Volem saber la veritat - "17th August: We want to know the truth" also seeks to fund the private prosecution which relatives are undertaking in the forthcoming trial of three men who allegedly took part in the terror cell. Eight terrorists directly involved in the attacks either died in an explosives accident just prior to the attacks, or were shot by police after the Rambla and Cambrils attacks.
Xavi Martínez, age 3, was the youngest victim of the Barcelona terrorist attacks of 17 Aug 2017. #Spain has never allowed a full, impartial investigation or addressed possible state complicity. Like Xavi's parents @JavierM21161125, we want to know the truth. Art: @JordiMagria1💛 https://t.co/E580cI6o8K pic.twitter.com/ZNxe5PWYhJ

— Foreign Friends of Catalonia🎗 (@Foreign_Cat) August 15, 2020