The Mobile World Congress always bring a sense of anticipation to Barcelona. Then it starts, and the halls fill with the "aaahs" and "ooohs" of industry insiders and journalists heading around the venue's corridors and halls. For this journalist, the first day alone saw more than eight kilometres (5 miles) of walking around large exhibitors, VR demonstrations, robots, cars, 5G posters and, of course, mobiles. Once again, this congress is where we get our first glimpse of the future.
More than 107,000 people attend the event over its four days. The city fills with different languages and cultures again (outside of the high-season for tourism), the hotels are full and transport issues become a part of daily life. Jackets, ties and briefcases are everywhere, as are people in a rush. It's not solely international, though: Spanish and Catalan politics reared their heads early.
This year's theme is "Intelligent Connectivity", here are some of the highlights:
First operation via 5G video
This Wednesday saw the most hotly-anticipated event of the Congress: the first surgical operation supervised over 5G. The operation was based on a connection between Barcelona's Hospital Clínic and the Congress auditorium, a pioneering project involving 5G Barcelona, Vodafone, AIS Channel and Hospital Clínic.
A surgical team from Hospital Clínic carried out a gastrointestinal operation under the orders of doctor Antonio de Lacy, head of the Clinic's gastrointestinal surgery service and head of its department of minimally-invasive surgery. Whilst his team was in an operating room at the hospital, he was at the Congress. Via a screen, the auditorium could follow developments in real time, as de Lacy could communicate with his colleagues.
Carlos Grau, CEO of Mobile World Capital said they wanted to offer a "legacy to Barcelona, Catalonia and the planet" through the step which means that "a top talent surgeon can help save lives in real time from the other side of the world". One of the Clinic's residents present at the operation, Romina, echoed this sentiment: "this technology gives the opportunity to be mentored at any time and from any place".
Ambulances too
That wasn't the end of Catalonia's contribution as the Congress's hosts: they unveiled the first 5G ambulance, baptised the "ambulance of the future".
Putting 5G connectivity in an emergency vehicle allows for an ultra-fast connection to specialised doctors at a distance, and great efficiency when it comes to distributing resources. As president Quim Torra said: "this ambulance is an example of how technology can help us to save and improve lives".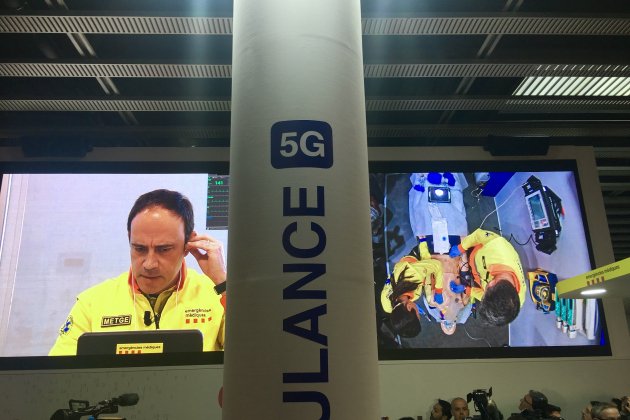 Sophia
Halls 3 and 4 are, without doubt, a tech-lover's paradise, full of the latest gadgets. That's where you can find the most important companies, including Samsung, Google, Huawei and Seat, and jostle to see their latest developments. It's the heart of the congress. In a corner of hall 4, next to Rakuten's large stand with its pictures of Barça's main players, we find Sophia, a humanoid robot, developed by Hanson Robotics in Hong Kong.
She greets the people crowding round to see her. She looks at whoever's talking to her, smiles when someone wants to take a photo and has as many as 62 different facial expressions depending on context. She responds to the questions she's asked and makes it clear that, no, she's not looking to take anyone's job.
Fire-fighting drones
Images of city skies full of drones may seem a distant dream, but within the exhibition halls it's no longer fiction. Today, Cellnex, Sitep, Grup MásMóvil and Mobile World Capital Barcelona, under the initiative 5G Barcelona, have revealed a pilot fire-fighting project.
The drones involved are especially designed for emergency-management, according to Cellnex. They use dedicated networks and are equipped with sensors to allow them to record, process and transmit high-resolution video and geo-tagged images via 5G. This will allow teams to track the fire in real time and very precisely define its extent, helping them better manage their response.
Revolutionising transport
Vehicles are often, surprisingly for a "mobile" congress, great hits in Barcelona, and the largest car-manufacturers, like Mercedes, Seat, BMW and McLaren, don't want to miss out. There are models from different brands all over the place (even Qualcomm has one!): some with 5G, others electric or hybrid, self-driving prototypes, etc. The features that will completely change the sector as we know it.
One notable example came from Seat, who have presented their new Minimó, a 100% electric car which they hope "will revolutionise car-sharing platforms".