After following the official party, headed by king Felipe VI, touring the Mobile World Congress in Barcelona today, Catalan president Quim Torra left just as the monarch headed towards Spain's pavilion, where one of the official photos would take place. Shortly after, the king was scheduled to visit Catalonia's pavilion, which was the other side of the corridor from Spain's. However, in this case it was the king who changed plans. Catalan government sources say the royal household was aware that Torra wouldn't go to the Spanish pavilion as he had a meeting at that precise moment.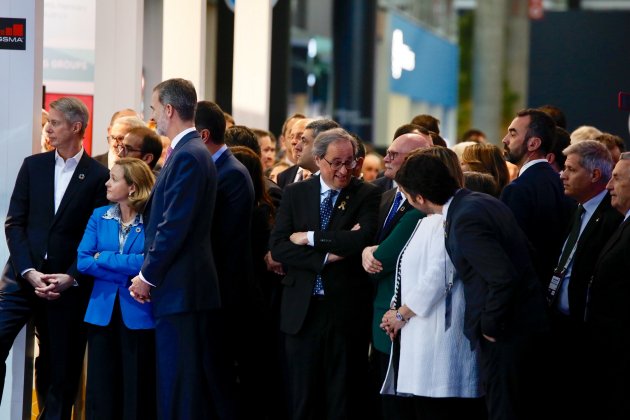 Torra and digital policies minister Jordi Puigneró doubled back after taking part in the first official photo with Felipe VI and Spanish prime minister Pedro Sánchez. That was the start of the final part of the official party's tour of the fair, precisely the part when they would be joined by the press.
The next stop for the king was Spain's pavilion. Two years ago, it had been where then vice-president Oriol Junqueras gave the anecdote of the day, rescuing his Spanish counterpart, Soraya Sáenz de Santamaría, from being hidden on the second row of the photo (link in Catalan).
This year's photograph, however, featured neither Torra, nor the current vice-president, Pere Aragonès, nor minister Puigneró. It did feature again, however, the mayor of Barcelona, Ada Colau. Colau did, on the other hand, join Torra yesterday in boycotting the king on his arrival at the opening dinner.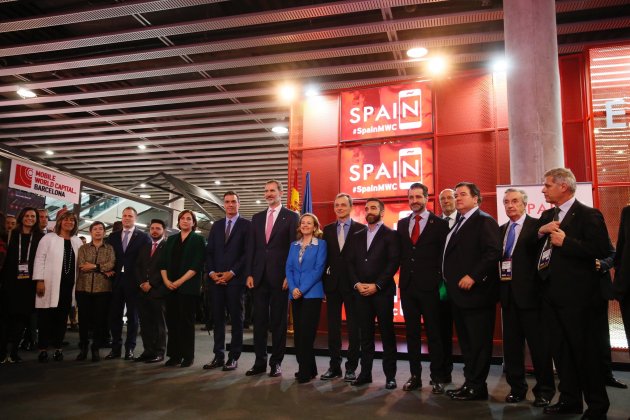 The monarch's response, although indirect, was immediate. At the start of the tour, it had been announced that Felipe would visit Catalonia's stands, indeed, his security guards had prepared for that part of the route. Regardless, after the official photo in front of the Mobile World Capital stand, palace officials announced that the tour had finished. This, despite them apparently having been told of Torra's departure in advance.
Four metres away across the corridor, watching and waiting outside Catalonia's pavilion, was Dani Marco, director general of SmartCatalonia, the government's digital strategy body. He was due to receive the official party and to give the monarch the government's official catalogue, entitled "Land of digital revolutions". But that wasn't possible.
Shortly after, Torra reappeared at the Catalan stands with Puigneró and the health and business ministers, Alba Vergés and Àngels Chacón, to present the first 5G-connected ambulance.
At the end of the presentation, the president remembered again "the president and the ministers who are in prison and exile, who cannot be with us today".