Pro-independence organisations ANC and Òmnium have agreed on their strategy to respond to the upcoming verdicts from Spain's Supreme Court in the Catalan referendum trial and are starting to reveal the broad strokes. This Friday, they have unveiled the Marxes per la Llibertat (Marches for liberty), five "popular and massive" marches leaving from five different places in Catalonia, all heading for Barcelona.
The marches will leave from Girona, Vic, Berga, Tàrrega and Tarragona. The plan is to cover 100km (60 miles) by foot in three days before they all converge on Barcelona.
As well as this, the day the verdicts are announced, widely expected to be some time in the next two weeks, they will also hold protests at 8pm in different towns and cities around Catalonia. Once the Supreme Court announces its verdicts and sentences, they will share specific details via social media.
⬛️⬜️❗️ Anunciem les Marxes per la Llibertat

5 marxes populars sortiran de 5 llocs diferents i confluiran a Barcelona com una de les respostes a la sentència del Suprem.

El dia de la sentència, concentracions. Estigues a punt per mobilitzar-te.#ObjectiuIndependència pic.twitter.com/NAME3TvFv2

— Assemblea Nacional 🧭 (@assemblea) October 4, 2019
The marches
According to a joint press statement, each of the marches will cover roughly 100km, split into 5 main stages over three days. The first two days will see morning and afternoon stages of about 20 km each, whilst the third should see the marches arriving in Barcelona at the end of the morning walk.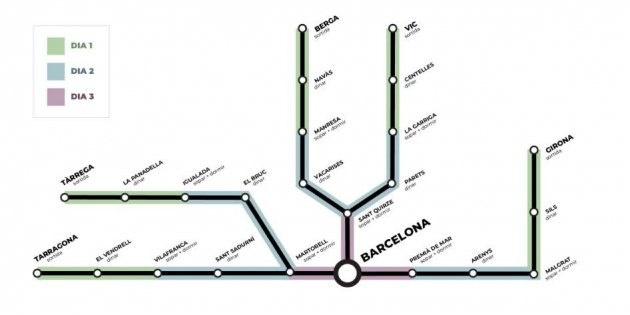 The two organisations say that anyone who wishes to can take part, "with no limits nor the requirement to complete whole stages". They add that "each stage will start and end in an urban centre, where there will be offered, at a symbolic price, popular breakfasts, lunches and dinners". There is also the possibility to reserve overnight stays "for free" through a special website: www.marxesperlallibertat.cat.
It's still not clear when the marches will happen: that depends on when the verdicts are published. The intention, however, is that they will happen on weekdays, sources have told El Nacional.