Europeans are critical of Spanish authoritarianism towards Catalonia, believe there's majority support for independence and that independence would positive for Catalans. These are some of the conclusions of the Barometer of the Image of Spain published this November by the think tank Real Instituto Elcano.
The survey was conducted by the Image of Spain Observatory which was created in 2012 to systematically track the country's image around the world. This time, they dedicate a section to the Catalan independence movement, which they believe to have "had an influence on how Spain is perceived abroad". They conclude that 80% of those interviewed have heard of the issue.
The majority of those surveyed criticise the authoritarianism of the Spanish state's reaction to Catalonia's declaration of independence. Majority opinion in almost also the countries surveyed (Belgium, Germany, the United Kingdom, France, Italy, the Netherlands, Poland, Sweden and Portugal) is that the "Spanish government hasn't been very open to dialogue".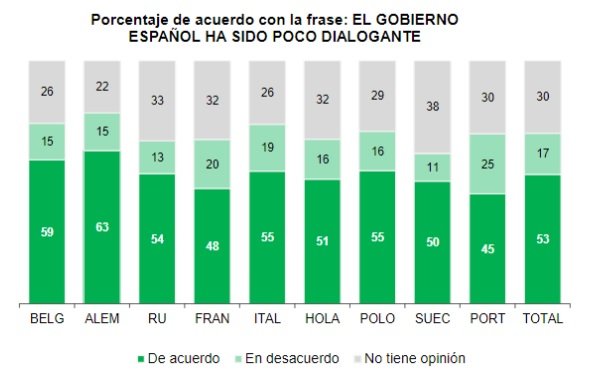 Country by country, the British show the highest rates of believing independence would be positive for the EU, Spain and Catalonia; the Belgians and Germans are the most critical of Spain's actions, and the French and Portuguese are the most worried by the "procés".
Majority in favour of independence
Respondents were also asked what they imagine Catalan public opinion to be. All the countries believe there is either a majority in favour of independence or that it is split roughly equally between those who support and those who oppose it. Recent surveys show support for independence to be greater that opposition to it, but still just shy of 50%. That said, there is a pro-independence majority in the Catalan Parliament.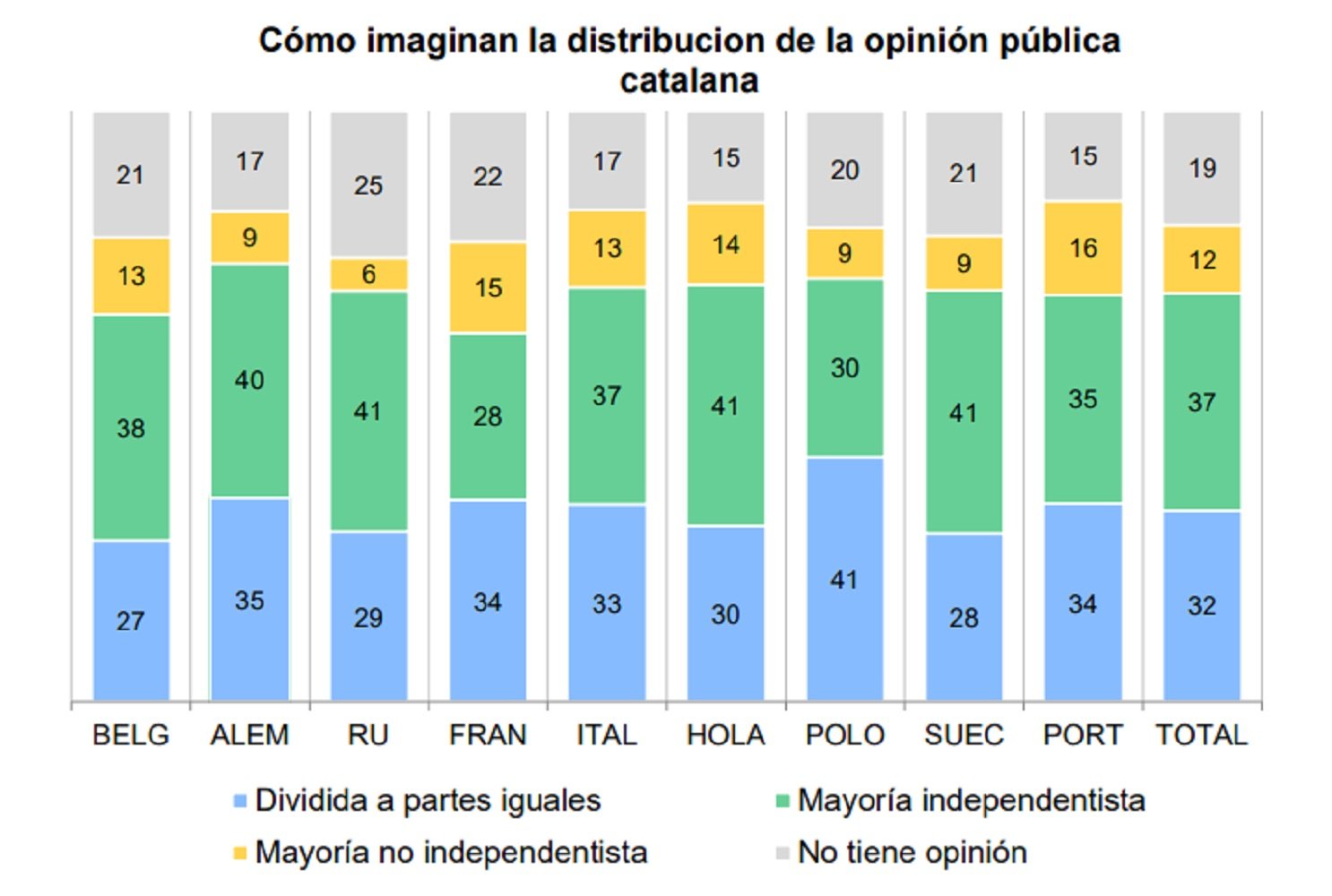 Will Catalonia gain independence?
Only three of the countries surveyed by the Barometer believed in the majority that Catalonia won't gain independence: the United Kingdom, Italy and Portugal. In the other countries, the total between yes, can't comment and don't know, surpasses those that think that Catalonia won't be independent.
In the majority of these countries, they believe that independence would be positive for Catalans. Only in France and Portugal do a majority not believe it would be either positive or "neither positive, nor negative".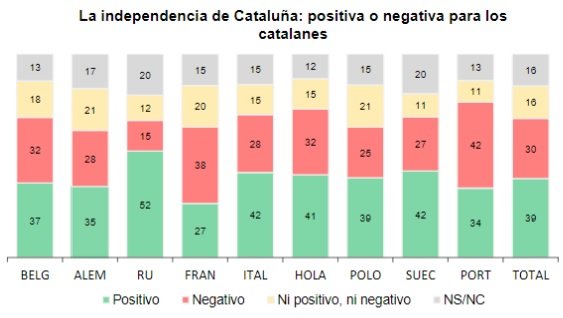 The Spanish government's actions
Another question the survey asked was whether the Spanish government "did what it had to do": the majority don't agree, most notably in Belgium, Germany and Sweden. Asked whether it "has been too authoritarian", the most frequent response in every country is 'yes'. Indeed, in a number of them, that is the majority opinion.