At least 15 arrests were made during incidents in Barcelona this Thursday night after a rally in the central Plaça Sant Jaume to mark the third anniversary of the October 1st referendum. According to sources in Catalonia's Mossos d'Esquadra police, 15 people were arrested for throwing glass bottles and disorderly conduct in the city centre, and one police officer was injured.
After an hour of peaceful assembly in the square, the hundreds of protesters who responded to the call by the pro-independence Committees for Defence of the Republic (CDR) marched towards the Spanish National Police station on Via Laietana, which was also surrounded by Mossos officers. Despite moments of tension with the police, the atmosphere was mostly calm and there were no clashes until the protesters returned to Plaça Catalunya. There, containers were moved to build burning barricades and riot police used batons to disperse the demonstrators.
Barricades and charges in downtown Barcelona
From the early hours of the afternoon, the Mossos d'Esquadra and the city police had been deployed in Plaça Sant Jaume for the rally called by the CDR, and officers were monitoring the various accesses to the square. By 8pm, hundreds had arrived at the CDR march called to "remind the political parties that we voted and we won." With banners showing the faces of some Catalan MPs, the protesters criticized that politicians are not complying with the mandate of October 1st and lit several flares in front of the government palace, the Palau de la Generalitat, highly protected with vans and riot brigades from the Mossos d'Esquadra.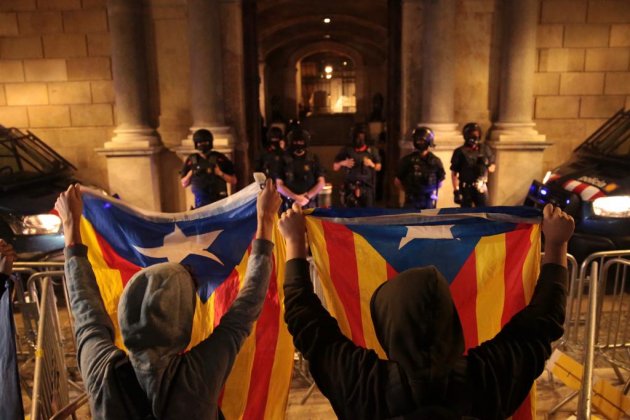 After an hour in the square, protesters headed for the Spanish police HQ in Via Laietana. There, several units of the Mossos d'Esquadra were reinforcing the deployment around the building together with the Spanish forces. Some protesters threw objects at the police and burned a Spanish flag, but the tension did not break until protesters started building barricades with containers in Plaça Catalunya and the police then charged to disperse the marchers.
Police fired foam projectiles and used the so-called carousel technique (police vans driven in tight circles at high speed) to deter the protesters, who were separated and scattered through streets of the Ciutat Vella district. This area of central Barcelona became a scene of police persecution and at least 15 people were arrested.
At least one other arrest, in Girona
Other rallies and demonstrations were also held throughout Catalonia this Thursday. In Girona, clashes with police took place and ended with one person being arrested.
A Girona s'estan començant a fer barricades als voltants de la Jefatura de la PN.#1O

📽️ Autor desconegut. pic.twitter.com/6TFzfF3EBp

— Carles Herèdia (@CarlesHeredia) October 1, 2020