We all know about Easter eggs - they're made of chocolate. Well, Catalonia has its Easter mona - the mona de Pasqua - and it's also usually built of chocolate - an elaborate sweet treat presented to children at Easter, and "traditionally" given by godparents to their godkids. The appearance of the mona (Catalan plural: mones) varies greatly, and the origin of the word is in fact uncertain - but what defines these creations is that they are usually edible representations of some figure or scene, well-known to children. And that means that right now, like every year, there's a new collection of mones in cake shop windows.
If you have a look, you'll see some classic designs - simpler chocolate representations such as eggs, rabbits, chicks or footballs - but there are also the new trends that emerge every year to delight the palate and imagination of the little ones (and the not so little ones). Thus, popular culture rules and in recent years figures from Disney movies have usually been present. Chocolate figurines related to the movie Frozen have had a good run, but this year, all indications are that the star of the season will be figures and scenes from the film Encanto, the new Disney hit. And, looking for cultural references closer to home, we can't forget the other great classic: the Barça mona, which may vary a bit this year - because for the first time, the players of the Barça women's football team are being represented in these chocolate delights.
Alexia Putellas replaces Leo Messi
Until now, the footballer's face (and sometimes, the hairy moptop) that was most repeated in the mones was that of former Barça astro Leo Messi, but this year he faces major competition in the Easter treat market: Alexia Putellas, Barça's new star and Ballon D'Or winner, who together with her teammates made history recently at the Camp Nou, filling it to the brim, will be one of the most requested this Easter.
Netflix-flavoured sweets
Series like Squid Game and Money Heist (in its original Spanish version, Casa de Papel), although clearly aimed at older viewers, are cool with the kids and have broken viewing records - the Barcelona confectioners' guild believes that they will also succeed in the pastisseries. These two internationally successful series, which ended in 2021, are still talking points and if you look you will see the chocolate figures representing them in the glass cabinets.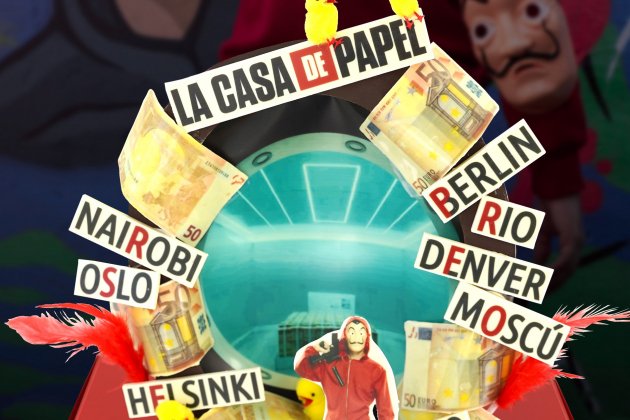 'Mones' from the movies
The Barcelona confectioners also predict that among the best-selling mones this Easter will be those based on the Star Wars spin-off The Mandalorian and the entire saga, as well as Harry Potter, superheroes like Spiderman and Batman, who are the stars of some brand new blockbuster movies. Meanwhile, the Girona confectioners' guild says that in its area, Disney still rules - especially "stories of princesses".
The return of Pokemon
One of the surprises of this year is that Pokemon has become fashionable again and the Girona guild says that the Pikachu creatures found in Pokemon are already big sellers. So be warned - they could run out!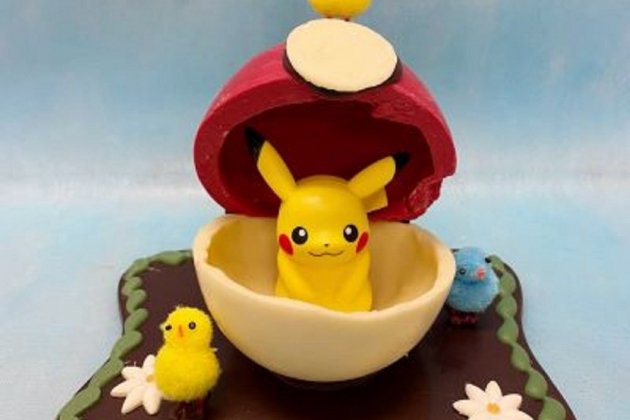 The classics never go out of fashion
The staple Easter sweet in some countries, the chocolate egg, has always been available here and remains the ideal choice for those who are not entirely clear about the tastes of the young person they are buying it for. They can be found in dark, milk or white chocolate, in every conceivable size, and perhaps even perched on top of a cake - the choc-plus-cake combination features in many a Catalan mona - in the Valencia Country, the tradition is different and a mona de Pasqua can be a sweet cake with a real hard-boiled egg in it.
'Mona' prices have risen
The Barcelona cakemakers' guild is optimistic about sale of mones this year and expects to reach pre-pandemic figures, exceeding 700,000 throughout Catalonia. With no restrictions on family reunions in 2022, they have also typically returned to a larger cake size. Of course, like just about everything else you eat, they are affected by increases in energy and raw material prices - eggs, for example, now cost twice as much as a year ago. The guild says you can expect 5% price increases but they have made the decision to largely absorb the extra costs themselves to reach the maximum number of families. And they urge families to buy the real thing - mones sold in pastisseries, handmade and with healthier ingredients, rather than mass produced chocolate products.
A solidarity 'mona'
The cakemakers also wanted to join the wave of solidarity with Ukrainian refugees. Specifically, the guilds of Barcelona, Lleida and Girona have promoted the Mona per la pau campaign - that is, for peace. This is an alliance with chef José Andrés and his World Central Kitchen Foundation to help Ukrainian refugees. "We thought that if we did it all together, we would go further and our small contribution would get bigger," explained the president of the Barcelona guild, Elies Miró, in statements to ACN. Each cakemaker who joins will donate 1 euro for every mona sold. Participating establishments have a campaign poster and stickers and will pass the donated sums directly to the foundation.