Today more than ever, the menus in the majority of restaurants boast an unprecedented variety. However, many of them exemplify the old adage "jack of all trades, master of none". If we go to the opposite extreme, however, what we find is specialisation: places which focus on a single product and try to uncover absolutely all its secrets.
And we thus arrive at Bardeni, a small venue in Barcelona which pays tribute to meat, with chef Dani Lechuga at the helm (what irony – his surname means "lettuce"!).
With a service and concept that is more relaxed than Caldeni (his gourmet restaurant), the idea here is that diners share little dishes and enjoy the amazing product he purveys, either comfortably ensconced on a stool at the bar or seated at the tables and chairs that fill the rest of the restaurant.
The menu comes on paper, but it is also written on the walls of the dining room, direct and concise just like the menu itself[M1] , and it also gives diners the opportunity to savour non-meat dishes designed for friends who prefer a lighter meal. Knife and fork in hand, we Miguelines anxiously got ready to discover the hidden pleasures of meat!
The first dish to reach the table is a delicious, refreshing salad made of tomatoes from the Maresme region with cilantro leaves. It is a seasonal dish, and the tomatoes are peeled, making it even easier to eat and preventing the peel from ruining the texture of the succulent pulp. We should stress how difficult it is today to find tomatoes that that actually taste as tomato-y as these did…
Maresme tomato salad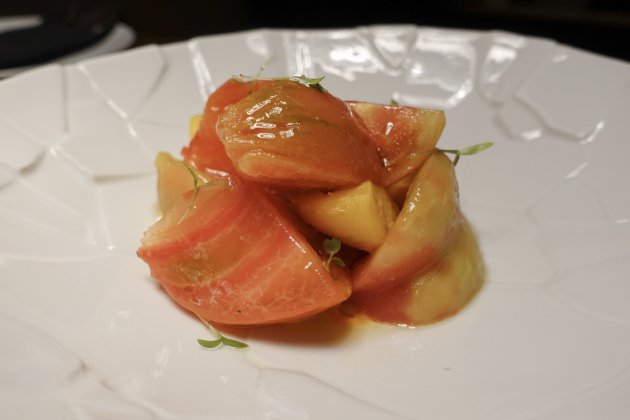 We continued with cured meat (cecina) from León, which was powerful and well-aged, with a slightly smoky scent which reminded us of the mountains and its products. It was delicious, but it could have been a bit fattier.
Cured meat (cecina) from León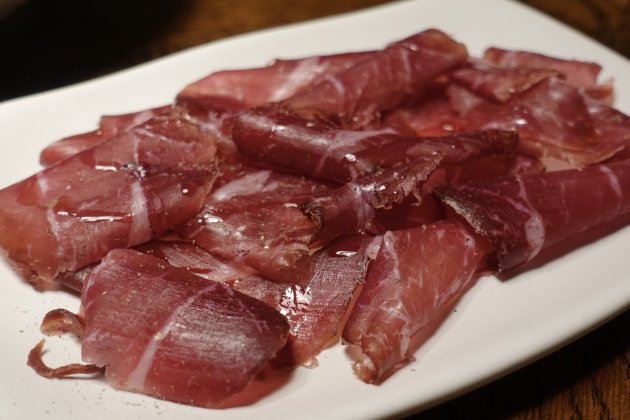 The next incarnation of cecina materialised in the form of croquettes, which unfortunately were almost 100% béchamel. They lacked substance and especially more meat inside. It was a pity, because their delicate crust and overall creaminess was amazing.
Cecina croquettes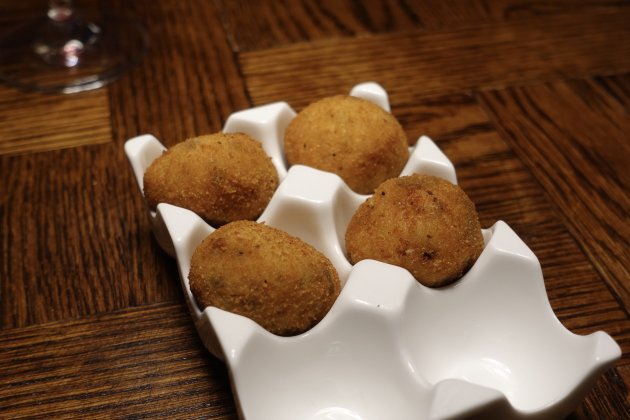 Now came the trial by fire: steak tartare. And fortunately, not only did it pass the test but it was outstanding! The wonderful hint of spiciness enhanced the whole, resulting in an elegant, refined flavour. A must-have!
Steak tartare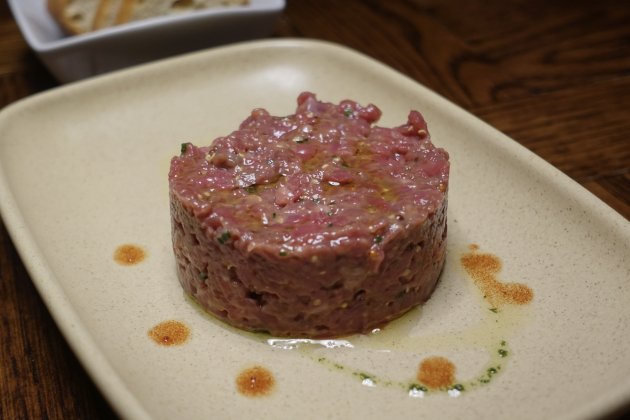 The fricassee sandwich then appeared, and this is when we Miguelines melted into sighs and praise for a dish that brought out the kid in us. Utmost scrumptiousness.
Fricassee sandwich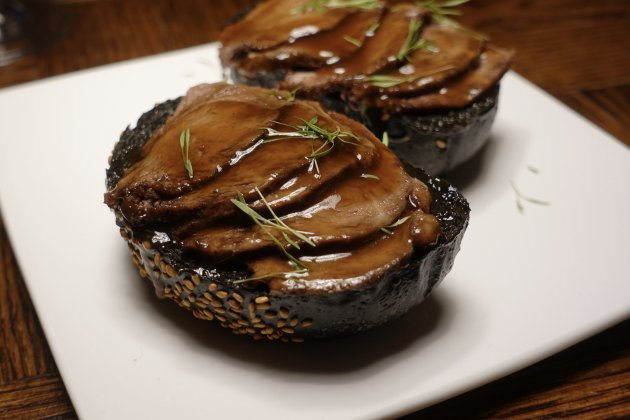 After the appetisers came the oxtail and summer truffle cannelloni. It was appetising as expected, although the cannelloni noodle was a bit too thick for our taste and somewhat hard to chew. It was fragrant thanks to the summer truffle, although taste-wise summer truffle can't hold a candle to their wintry black counterparts.
Oxtail and summer truffle cannelloni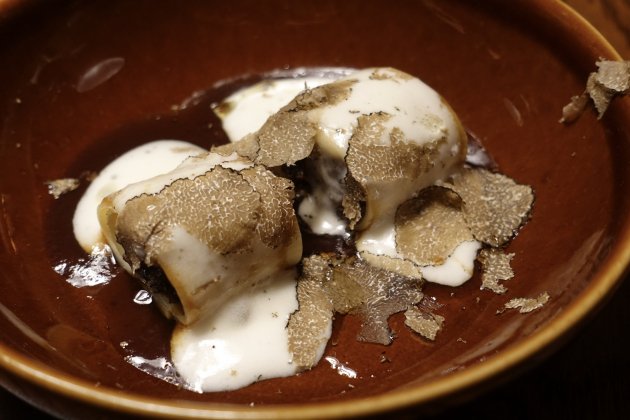 Now came the moment we were all waiting for: the Angus beef fillet from Nebraska. If we had to compare its texture with anything, it would be butter, hands down. The meat essentially fell apart in our mouths after just a bit of chewing, and its exquisite flavour was peerless. The fat infiltration of this cut is what creates this magic on our palates.
Angus beef fillet from Nebraska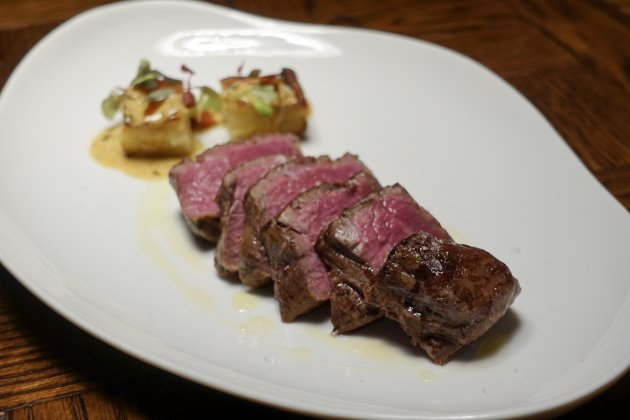 As the insatiable gourmands that we are, we could not resist ordering yet another cut: hangar steak with onion and Priorat sauce. Carved from the animal's diaphragm, hangar steak has an intense gamey flavour, and the crispy onion makes an interesting contrast with the tenderness of the meat.
Hangar steak with onion and Priorat sauce
Leaving behind the savoury part of the meal and going on to the sweets, we decided on a brilliant triumvirate: torradeta de Santa Teresa[M2] , crème brûlée and mini crème caramel. The lightness of the second was worth note, with a texture that was more mousse than cream.
Assortment of desserts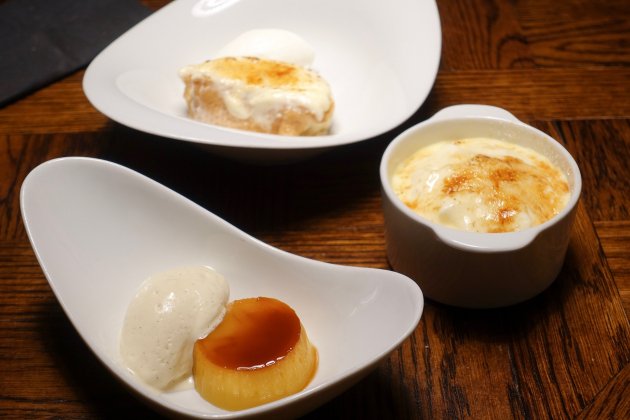 As you can see, Bardeni celebrates honest cooking that does not conceal the product. It is a true beacon for meat lovers in Barcelona.
Score
Food
Wines
69
67
Services
Venue
68
69
Price
MIGUELÍN STARS
35€
Per person: 4/5 dishes to share +1 glass of wine.
Where is Bardeni?
Adress: C/ de València, 454, 08013 Barcelona
Telephone: 932 31 45 11
Timetable: Tuesday to Saturday 13:30 a 15:15 i de 20:30 a 22:30. Closed Sunday and Monday
Website: http://www.caldeni.com/bardeni/