Wikipedia says that a bistro is a small restaurant, serving moderately priced simple meals in a modest setting. Today, we're going to talk to you about a very good evolution of this concept, a "bistro 2.0" if you will.
The first version of Plata Bistró is found in Teruel, Aragon, in the locally famous Bar Plata. In that modest setting, Víctor and Mario, brothers and owners of this week's restaurant, acquired the passion for and skills needed to cook tasty homemade food from their grandmother Lola.
After various spells in first-rate kitchens, Víctor decided to set up his own business in honour of his grandmother. He encouraged his brother Mario, a sociologist by training, to join in and together they found a small space in Barcelona's Sant Antoni neighbourhood.
The restaurant, opened four months ago, only has space for around 30 people split between 10 tables and the bar at the entrance. With simple decoration, white walls, dark flooring and wooden tables, Víctor and Mario put the diner's focus on the menu. This isn't fixed and printed out, it's projected onto the wall, changing every day based on what Víctor has found at the market.
This "virtual" menu contains 20 suggestions a day, split between starters (4-15€; £3-13, $5-18), mains (10-16€; £9-14, $12-19) and desserts (7-14€; £6-12, $8-16). But don't expect to find modernist techniques or exotic ingredients, what you will find are updated versions of the dishes the restaurant's founders enjoyed with their grandmother: croquetes de carn d'olla (stewed, mixed meat croquettes), bonítol en escabetx (marinated tuna), cua de toro (oxtail), lluç amb molles (hake with croutons), etc.
Croquetes de carn d'olla

Bonítol en escabetx

Galta de vedella amb carbassa

Lluç amb migas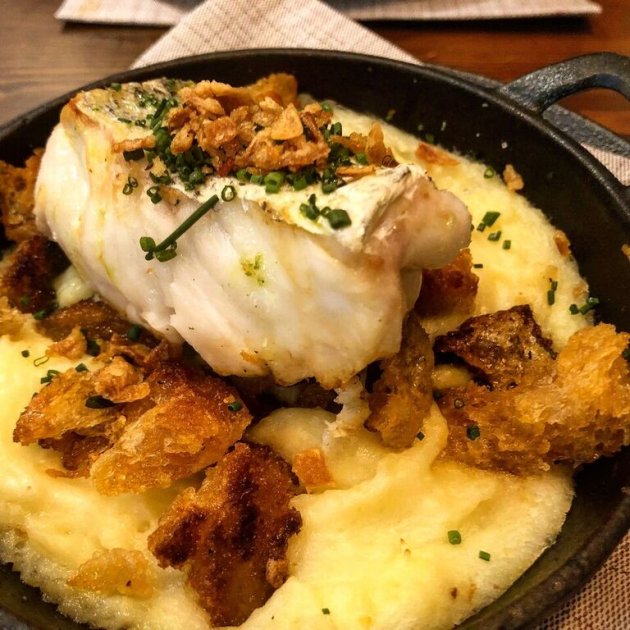 Whilst Víctor works in view in a minuscule kitchen, Mario is in charge of attending to the diners and guiding them through the interesting menu, designed for sharing. During our visit, we tasted eight dishes and a selection of desserts and, in our opinion, these four are doubtlessly worth the visit:
The bonítol en escabetx, for the mild but tasty marinade and for the succulence of the fish. Unbeatable! The royale de vieires (scallop royale), because you'll be left wanting bread with the delicious sauce that covers the seafood. The tartar de gamba amb cansalada (prawn tartare with bacon), for the rascally, spicy hints the combination gives. And, finally, truita amb ostres (omelette with oysters), because the softness of the omelette goes very well with the power of the oysters.
Royale de vieires

Tartar de gamba amb cansalada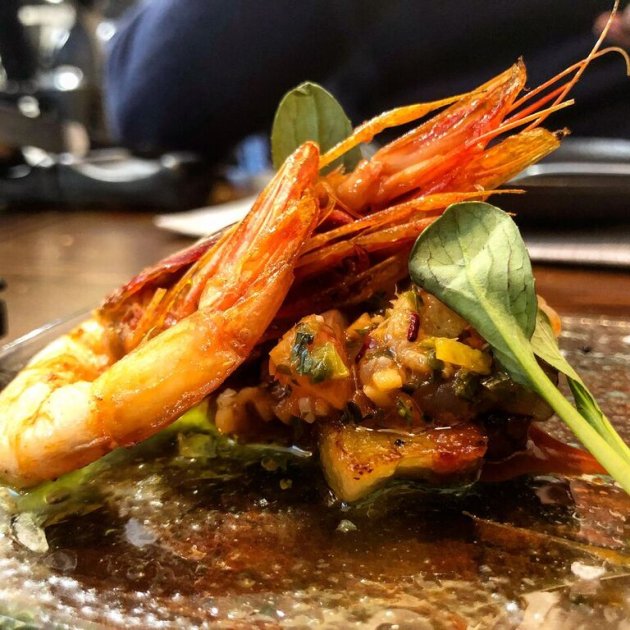 Truita amb ostres

All in all, we Miguelins left Plata Bistró very happy. We haven't had the pleasure of tasting Víctor and Mario's grandmother's cooking, but we believe they're honouring her as she deserves to be with food made from good ingredients, keeping it uncomplicated and tasty. Pick up your phone and reserve a table!
Score
Food
Wines
70
66
Service
Premises
67
66
Price
Miguelín Stars
30€ (£26, $35)
Per person: 4/5 dishes to share + glass of wine
Where is Plata Bistró?
Address: C/ de Sepúlveda, 23, 08015 Barcelona
Telephone: (+34) 935 16 91 30
Opening hours: From Wednesday to Saturday from 10am to 3:30pm and from 8pm to 12am. Sundays from 10am to 4pm. Mondays from 10am to 3:30pm. Tuesdays shut.