One of the most famous sites to visit in Barcelona is Park Güell. Known for its architectural beauty and historical significance, Park Güell is a special spot, but it can be hard to know what tickets to purchase and when it is best to visit. Read this guide explaining the background and importance of Park Güell, as well as how to best navigate your visit to the park.
Background history and significance of Park Güell
Over 100 years ago, the idea for Park Güell was produced as a place for wealthy families to live with an ideal location and surroundings. Eusebi Güell introduced the assignment to Antoni Gaudí, who wanted to style the land similar to the British residential parks. He made sure to use Mediterranean plants that required less water, as well as he constructed his own irrigation system to help manage the water resources. Originally, Gaudí planned for there to be 60 houses on this property, but due to a lack of buyers and a strong transport system for building, only two of the houses were actually constructed.
One house for Güell's family, and Gaudí, his father and niece resided in the other. Güell then made the remaining space into a large private garden for events. After Güell and Gaudí passed, the space was turned into a municipal park in 1926. Güell's house was turned into a school, and the Gaudí house later became what is now the Gaudí House Museum. In 1984, Park Güell became a UNESCO World Heritage Site, and its skyrocketing popularity with visitors led, in 2013, to the charging of admission fees to limit the crowds, a move which caused controversy. Today, though, the park remains one of the most popular tourist attractions in Barcelona.
What tickets to purchase for your visit to Park Güell
There are several different ticket options depending on the experience you would like. The general admission ticket is €10 and is a self-guided tour that includes access to Park Güell, as well as the green spaces and some incredible viewpoints. But if you prefer a guided tour, Park Güell offers guided tours for €22 in Catalan, Spanish, English and French. There will be a max amount of 25 people on this tour. There is temporarily no private tour option, but you can check the Palk Güell official website to see if they will be offering it again. If you have a group of 10 to 30 people, you can make a joint reservation, where you need to register in advance on the website. Children age 0 to 6 must still obtain an entry ticket, although they may enter for free.
In terms of access, it is important that you arrive at the access control point at your assigned ticket time since this is such a popular site. If you arrive at a different time, access will not be allowed. After you check in, you have 30 minutes after your assigned time to enter the park. However, once you enter, you can take as much time as you would like to explore the park. It is a large park, so good walking shoes are recommended.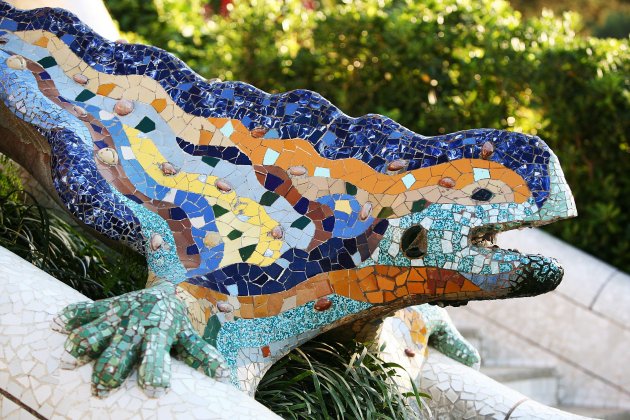 When to visit Park Güell: best times
As with most attractions, the afternoon is the busiest time to visit Park Güell, so it is recommended that you schedule your visit for earlier in the day to avoid crowds. Also, it is necessary to purchase your Park Güell ticket in advance because there is a park capacity and tickets sell out quickly. The hours of Park Güell shift with each season, so make sure you check the official website in advance. Typically, hours range from 9:30am to 6pm. 
Best things to see at Park Güell
There are so many beautiful elements to Park Güell, so here is just a sneak peek at some of the most iconic spots. One thing you cannot miss is El Drac, the colorful mosaic lizard that is the guardian of the park. He is a famous symbol in Barcelona, and definitely worth the photo. The Hypostyle Hall is another unique spot to see because of its 86 columns aligned in the Doric order and mosaic ceiling. There is actually a pipe that runs inside the hall, collecting the rainwater to then send it to an underground tank that releases the water through the lizard's mouth. The natural spaces are also stunning to explore. The Greek Theatre, also known as Nature Square, is an open space located right in the center of Park Güell. It is probably the spot you think of when you think of Park Güell, with the notable long and windy mosaic bench that creates an extraordinary view of the whole city of Barcelona. All of these spots will make your visit complete and give you beautiful photos and memories to take home with you!