The sunlight shines through the colourful glass, filling the room with a rainbow glow. Every small sound echoes as it floats up the large towers to the top. Roaming inside this architectural masterpiece, it is hard not to be frozen, in awe of the beauty around you. This piece of artistic beauty is the Sagrada Família, a historic basilica you cannot miss when visiting Barcelona. To help you plan your visit, read about the different ticket options, when is best to visit and what to see while you are there!
The history and significance of the Sagrada Família 
With over five generations of construction, the Sagrada Família holds a lot of history. The project for the basilica was first designed in 1882 by Francisco de Paula del Villar. Using the style during this period, he created a design using neo-Gothic elements such as arched windows and a pointed bell tower. But due to the expensive cost of materials, Franciso de Paula del Villar was replaced by one of the most famous architects to date, Antoni Gaudí. Gaudí wanted to create something innovative and different, which inspired his idea of designing a church of the future. Since Gaudí passed in 1926, many architects have used his designs as an example for finishing this long-term project. It has survived the passage of time and seen many different styles and influences but has stayed true to Gaudí's wishes. The basilica was expected to be finished in 2026, but due to the pandemic, construction was delayed, so now it may be closer to 2030 when the Sagrada Família is complete. It is really incredible to see history while it is still in the making, as well as it is very worth the visit once the basilica reaches its final form.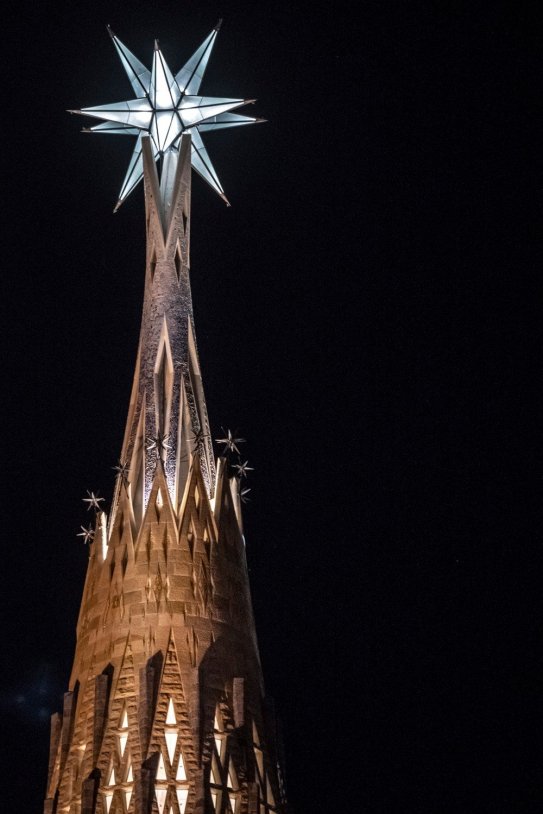 How to get tickets to see the Sagrada Família
When getting tickets to see the Sagrada Família, it is strongly recommended that you order your tickets in advance because the basilica is a popular spot and tickets sell out fast. The most standard and cheapest ticket option costs €26, and it includes an audio tour where you can download the Sagrada Família official app to follow along with the 45-minute standard or 25-minute express audio tour offered in 17 languages. If you want an audioguide tour where you can also go up to one of the basilica's towers for  €36, you can go up to one of the basilica's towers to see the city. If you prefer a personal guide for your tour, for €30 you can purchase a guided tour that is available in six different languages. For €40, you can also do a guided tour where you climb up to one of the basilica's towers. 
It is also important to remember that this is a basilica, so you need to wear appropriate attire covering your back and shoulders. For a normal tour, you do not need to be dressed up fancy –– many people wear tennis shoes and jeans –– you just need to make sure you are being respectful in your clothing choices. There is also a security check before entering the Sagrada Família, so make sure you arrive a little before your ticket time. 
When is the best time to visit the Sagrada Família
The best time to visit the Sagrada Família to avoid the crowds is at 9am, right when the basilica opens. The line to enter will be shorter and there will be fewer people to avoid when trying to capture the best photos. It is also nice to visit the Sagrada Família earlier in the day because just a few hours after sunrise will be the peak time to see the sunlight shine through the stained-glass windows to create a rainbow. You can visit the basilica for free on Sunday mornings from 9 to 10am for the weekly mass. However, this is not a time to tour the basilica, but rather take communion. If you want to get in, there is a capacity, so it is recommended to arrive as early as possible, even before 8:30am. 
What to see inside the Sagrada Família
When visiting the Sagrada Família, there is so much to see inside. The architecture alone is a masterpiece, from the colorful stained-glass window to the internal structure resembling a forest. There is also a neo-Gothic style altar and three intricate facades: Nativity, Passion and Glory facades. Below the altar is the crypt, which is a chapel open for mass. When exiting, you will go through the Sagrada Família Museum which features the basilica's history and many aspects of Gaudí's creative designs. To finish off your visit, there is of course a gift shop with many different types of souvenirs you can take home to remember your experience.