One of the most surprising things after the attack in Barcelona was the lateness of the Royal Family's response.
They did not give signs of life until three and a half hours after the attack, when they vigorously condemned the events through a tweet:
Son unos asesinos, simplemente unos criminales que no nos van a aterrorizar. Toda España es Barcelona. Las Ramblas volverán a ser de todos.

— House|Home of S.M. el Rey (@CasaReal) 17 of August 2017
Translation: They're murderers, simply some criminals who will not terrorise us. All of Spain is Barcelona. The Rambla will be for everyone again.
Eight hours had to pass before it was confirmed that King Felipe VI would attend the minute's silence the next day in plaça Catalunya:
El Rey estará hoy en la plaza de Cataluña de Barcelona para unirse al minuto de silencio en solidaridad con las víctimas del atentado.

— House|Home of S.M. el Rey (@CasaReal) 17 of August 2017
The King will be in plaça Catalunya in Barcelona today to join the minute's silence in solidarity with the victims of the attack.
The monarch ended up arriving at the Catalan capital on Friday, the day after the attack, while queen Letizia did not make it until Saturday.
The monarchs were then seen paying homage to the victims on the Rambla, Felipe after having attended the minute's silence on the Friday, and this is what the magazine ¡Hola! wanted to show on its cover this week.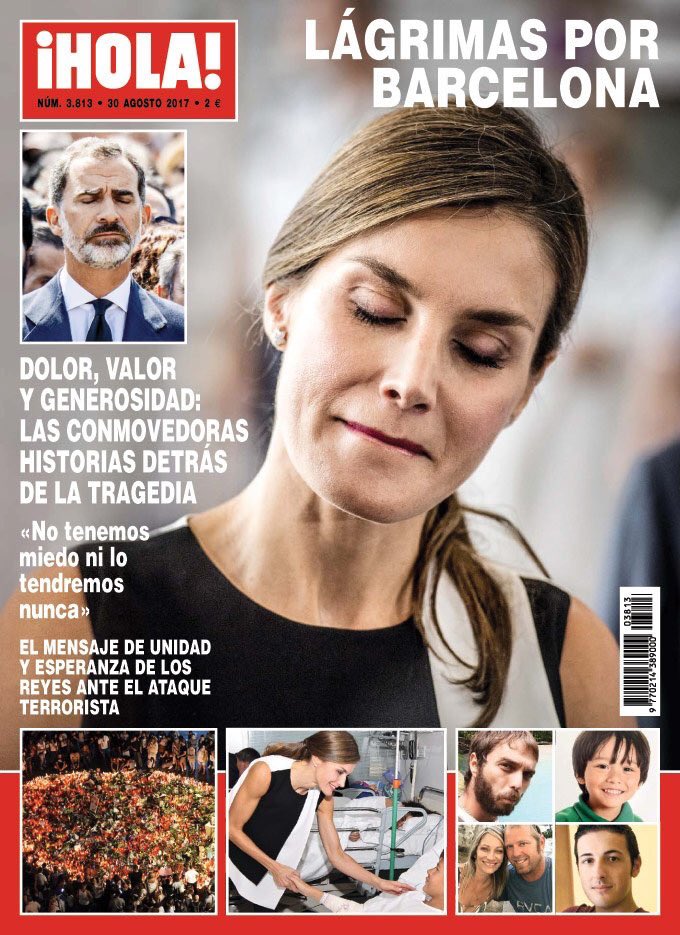 On it, we see Letizia's face as the main photo, whilst Felipe appears in the inset. Both photographed in moments of apparent pain: they show sad expressions and closed eyes. It's even possible to draw the conclusion that the queen cannot contain her tears.
The cover has received much criticism online among users wondering why ¡Hola! wants to show the supposed human face of the monarchs:
¡Pero photoshopeadles al menos alguna lagrimilla, que ellos bien que se esforzaron por poner el gesto!

— Sant Guinari (@SantGuinari) 23 of August 2017
But at least photoshop some small tear on to them, they're trying their hardest to make the gesture! 
Copseu la subtilesa del maquillatge. Maquillada, sí, però suavet, que no es noti. https://t.co/I5GTYkNtDd

— Empar Moliner (@emparmoliner) 24 of August 2017
Note the subtlety of the make-up. She's wearing some, yes, but lightly done, so you don't notice. 
El BOE de la monarquia; Hola!

— JOSEP CATÀ I TUR (@cata_tur) 24 of August 2017
The Official State Gazette of the monarchy; Hola! 
Perdonar que me ria....jajajajajaja
Ridículo que tengan que publicarse fotos así para dar bombo a @CasaReal
Penoso

— Dr. Lob (@allobe86) 23 of August 2017
Excuse me for laughing...hahaha. Ridiculous that they have to publish such photos to build up the Royal family. Pitiful
There are also some that, besides attacking the magazine, directly attack the monarchs. They believe that they went to Barcelona to have their photo taken and "now they have it", or they believe it "hypocritical" to show themselves so moved by attacks like this whilst allegedly selling arms to certain countries:
Ells van venir per això, i ja ho tenen. pic.twitter.com/Bq5EP4LnfQ

— Eduard Voltas (@eduardvoltas) 24 of August 2017
That's what they came for, and now they have it. 
Hola!! Hay alguien ahí? ... es que aparte de estos dos haciendo teatro del malo, ya no queda nadie.

— Au_vinga (@au_vinga) 23 of August 2017
Hola! Is there anyone there? ... just that other than those two acting badly, there's no one else. 
1/2 Muy poco acertada la portada. Los Reyes llegaron al día siguiente del atentado y buscaron la foto con los heridos.

— Aspasia 24 (@aspasia_24) 23 of August 2017
A cover that's far from hitting the mark. The monarchs arrived the day after the attack and looked for a photo with the injured.
Menos hipocresia que ellos también son responsables!! pic.twitter.com/N8iID1LDJ5

— Joaquim (@jobrama) 24 of August 2017
What hypocracy. They're responsable too!
Felipe and Letizia have been photographed in Mallorca days after the attack, where they've been having a break after the interruption to their secret holidays by the terrorist attack.