Serbian interior minister Aleksandar Vulin has expressly thanked Spain for not recognizing the independence of Kosovo. In a joint appearance with his Spanish counterpart, Fernando Grande-Marlaska, Vulin went as far as to say this Thursday that both countries know "the evil that is separatism", in clear reference to the Catalan independence movement.
The Serbian minister thanked Spain for its "firm attitude" towards the "false state of Kosovo": "Spain's voice is very important to us." In fact, Spain is one of only five countries in the European Union that do not recognize Kosovo. The others are Greece, Romania, Slovakia and Cyprus, with Spain the only one that takes its stand for reasons outside the territorial conflict in the Balkans.
"Spain and Serbia are two countries far apart in many aspects, but in one area we are in agreement and we are the same, we know the evil of separatism and we know that only respect for international law can guarantee lasting peace," said the Serbian interior minister.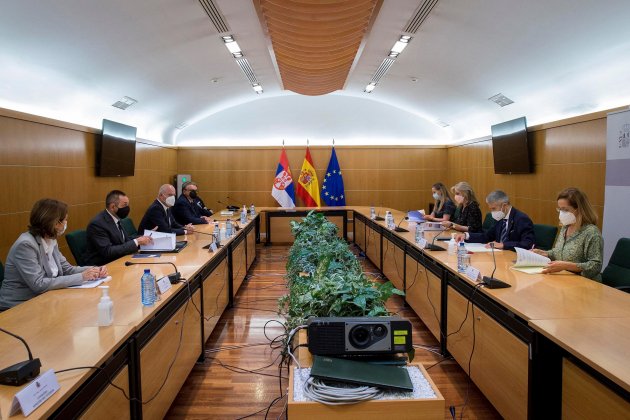 Serbia's response to self-determination
When asked about self-determination referendums, Vulin replied that when NATO "attacked" his sovereign country in 1999, "no one asked about any referendum." "They just bombarded us," he protested.
"Despite the size and strength of all those who think we must abandon the struggle for international law and the integrity of the Republic of Serbia, we will abide by international law and our right to subsist within borders," said the Serbian minister.
What Vulin did not say, however, is that Kosovo's unilateral declaration of independence in 2008 was not illegal, as the International Court of Justice concluded. "General international law does not provide for prohibitions on declarations of independence, and therefore the February 17th, 2008 declaration does not violate general international law," said Hisashi Owada, president of the international court, in 2010.
Borrell, in a surreal position
Spain's refusal to recognize Kosovo and Serbia's expression of gratitude to the Pedro Sanchez government also returned the spotlight to the former Spanish minister Josep Borrell​, who now, as High Representative of the European Union for Foreign Affairs and Security Policy, is not only forced to recognize Kosovo - as most of the 27 EU member states do - but to act as a mediator between the two countries.