The Edinburgh Sheriff Court has decided to postpone Clara Ponsatí's extradition trial until 18th June, since the exiled Catalan politician's immunity as an MEP prevents her from being prosecuted in the United Kingdom. Judge Nigel Ross has decided to wait three months to see if the European Parliament waives her immunity, as it has been requested to do by the Spanish Supreme Court.
Ponsatí went to court this Thursday for a preparatory appearance prior to the extradition hearing in the Scottish capital's Sheriff Court, which at its last sitting had set the date for the trial as 11th May.
Her lawyer, Aamer Anwar, described today's decision as a "victory" against "Spain's abuse of the rule of law". Speaking to the media after leaving the courthouse, Anwar said that "in a true democracy, people do not get prosecuted for advocating political change by peaceful and constitutional means".
Today is a victory against Spain's abuse of the rule of law "In a true democracy people do not get prosecuted for advocating political change by peaceful and constitutional means, nor can we allow @ClaraPonsati to extradited for doing the same in Spain" Extradition suspended🎗✊🏽 pic.twitter.com/agAPXmVyH6

— Aamer Anwar🎗✊🏽 (@AamerAnwar) March 5, 2020
Ponsatí, who had arrived at court with a suitcase, commenting that she had just come from Brussels, said that Spain was "acting in a completely un-European way." "Spain does not respect the decisions of the European Court of Justice and is acting in a discriminatory manner. If I can be in Perpinyà, why can't I go to Barcelona?", she asked, with reference to her participation last Saturday at the pro-independence event with former Catalan president Carles Puigdemont in the city 30km north of the Spanish border.
Ponsatí responded cautiously on whether she thinks that Scottish justice will definitively suspend her extradition process. "We can't get ahead of events, we have to get through the immunity issue in the European Parliament and then we'll talk about it. It's very clear that Spain is not respecting our immunity and is acting in a manipulative way," he said.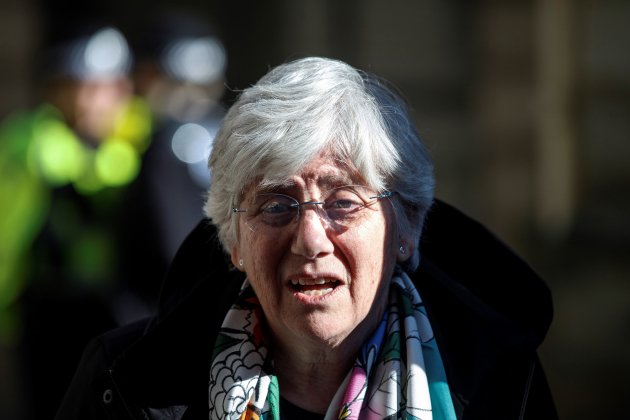 Ponsatí collected her accreditation as an MEP in Brussels on 5th February, but five days later the Spanish Supreme Court requested that the European chamber waive her immunity in order to be able to put her on trial.
The Spanish court also asked the United Kingdom to continue to apply the European arrest warrant it had issued, arguing that, after Brexit, an MEP's parliamentary immunity would not apply in the country.
For the present, the proceedings in Scotland continue, awaiting the decision of judge Nigel Ross on whether to accept the defence arguments or to rule that, as the prosecutors argue on Spain's behalf, the Spanish crime of sedition, which does not exist in Scottish law, would be equivalent to treason.
Ponsatí, whose passport has not been withdrawn by the Scottish authorities, continues to reside in the Scottish town of St Andrews, the university centre where she had worked prior to 2017 and to which she returned in March 2018.