Joan Laporta has spoken loud and clear and defended Futbol Club Barcelona again in the Negreira case. The Barça club president, more firmly than ever, addressed the media in the 1899 Auditorium at Camp Nou, with clarity and transparency about the multi-million euro payments made by the club over many years to the former vice-president of the Spanish referees' technical committee, José María Enríquez Negreira. Payments which the club, after its own internal inquiry, admits, while stating that they were entirely above board - and are normal practice in the world of sports. 
Barça did not buy off referees
In a fully packed theatre, with 70 different media present and 110 journalists in total - an attendance almost as high as the day of Leo Messi's farewell - all attention was focused on Laporta. Before the appearance of the Barça president, however, the club's compliance officer Sergi Atienza, legal head Pere Lluís Mellado and lawyer Marc Molins brought out four boxes containing the documents relating to the Negreira case.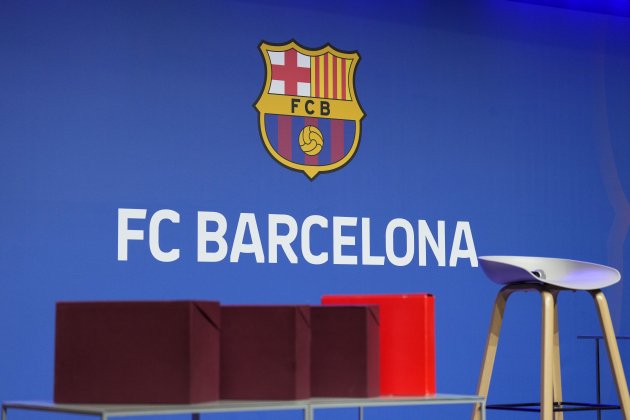 And Joan Laporta began by asserting that "Barça is suffering from a gigantic reputational smear campaign". And he believes that, "as a great club, we have detractors who seek to erode our prestige, out of envy, resentment or other motives."
The Barcelona president then confirmed that "Barça has never taken any action with the purpose or intention of adulterating the competition in order to obtain a sporting advantage in its favour". And for this reason, he asserted, "they haven't been unable to show that the payments made to the companies related to Negreira were able to have influenced the referee or the result of any match".
🎙️ @JoanLaportaFCB: "This is one of the most ferocious attacks in our history. I ask FC Barcelona supporters to be as united as ever in defense of our crest, our essence, and our ownership model, which is that of a club owned by all of its members." pic.twitter.com/qX8uBezSt1

— FC Barcelona (@FCBarcelona) April 17, 2023
"Common practice in sports advisory services"
And, the Barça president continued, nothing has been proven because "it was not possible", since "the consultancy" which was carried out "is reflected in itemized invoices paid via bank transfer and which have remained in the club's accounting books in a clear and transparent way". Quite another thing, he went on, is that someone external to Barça was able to take advantage of this situation. But Laporta also points out that "Barça is a victim of this situation".
According to the conclusions of the internal investigation carried out by the club's compliance area, "no conducts of a criminal nature associated with the crime of sporting corruption have been identified". In addition, the payments are for "sports advisory services (scouting and advice regarding referees)" that are common practices in the professional sports sector. And the amounts of the invoices "vary depending on the number of competitions being analyzed", which are a total of 629 technical arbitration reports, 432 CDs and 4 miscellaneous reports. 
FC Barcelona president @JoanLaportaFCB presents the conclusions of the Compliance Department's preliminary report: pic.twitter.com/F0MqaQvPlL

— FC Barcelona (@FCBarcelona) April 17, 2023
"It is the most ferocious attack that the club has suffered in the course of its entire history," said Laporta. But he asserted vehemently that "Barça has not committed any crime". And Laporta added that "they want to damage the image of Barça and destroy one of the most powerful elements of identity in Catalonia, which is FC Barcelona".
"No one has put their hand in the cashbox"
The president of Barça explained that, in terms of the amount of more than 7 million euros paid to Negreira, "that must be contextualized over 18 years". But, at least during his own first term as president, based on the information he has from the internal reports, Laporta stated: "I guarantee and state categorically that no one put their hand in the cashbox."
🎙️ @JoanLaportaFCB: "No campaign to discredit us will prevent us from continuing to be an organization of reference in the world of sports that is beloved and admired by millions of Catalans and by many more millions of people around the world." pic.twitter.com/j3XFAS8HBe

— FC Barcelona (@FCBarcelona) April 17, 2023
"I have no reason to distrust the mandates that succeeded me", Laporta also affirmed. And that there is no company belonging to any ex-director or ex-employee of Barça that appears, apart from the mediation of Josep Contreras, to benefit from or interfere in this process of consultancy payments to Negreira.
Finally, the culer president pointed out that "Barça is a victim" of this case. "Every time someone goes too far, we are forced to defend the honour of FC Barçelona." In this same line, he asserted: "We will claim damages, they can be quantified and they will be astronomical amounts." And beyond putting all the documents on the table - and showing some of them - he also issued strong criticism of Real Madrid, Javier Tebas and UEFA. Barça, however, will continue on its way and Joan Laporta confirms that it has not committed any crime.