Catalan athlete Adel Mechaal has achieved an impressive classification for the final of the 1,500 metres at Tokyo 2020 this Thursday, a success that caused the middle-distance runner from Palamós to explain - in front of the Teledeporte microphones - the difficulties he has had this year due to the illness of his mother, who is being treated for leukemia in Girona Hospital.
Aquestes paraules d'Adel Mechaal després de classificar-se per la final de 1500 metres a Tòquio m'han emocionat moltíssim. Com a familiar de pacient oncològic, sí, però sobretot com a persona. Quins Jocs Olímpics tan importants per a la salut mental i emocional. pic.twitter.com/ammV3d4Lqt

— L'enèsim Marc (@nonantlemarc) August 5, 2021
Mechaal's emotional words
"It's been a difficult year, my mother has had to watch the race from the hospital. She's still there, we're happy, because she's much better, in the latest tests the leukemia has gone into remission, it's pretty good. We await the possible side effects of chemotherapy," Mechaal explained.
"This [good news] is thanks to all the doctors who are caring for her, they've been looking after her very well for more than 40 days. Thank you very much. I have not competed this year because I didn't have the desire or the enthusiasm to compete. It's a cliché, but you realize that health is the most important thing and when the health of a family member of yours, like your mother, is at risk, everything takes second place to that. I didn't feel like training or competing. "My wife got me up... I'm here thanks to my wife. I wanted to give something to my mother and all the workers of the Girona Hospital who are there every day to take care of her. I hope that in the end I can give you a good result," he added.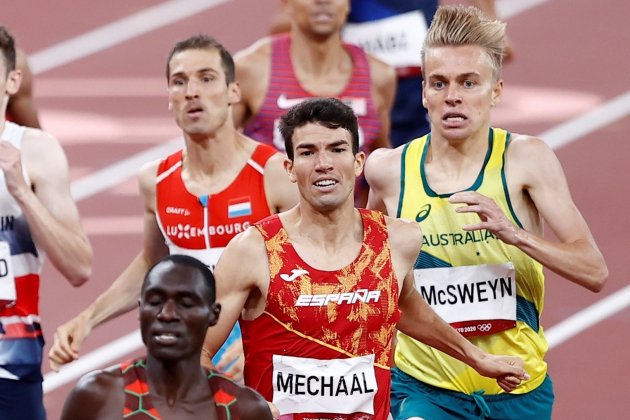 "I would compete under the Catalan flag"
Born in El Jebha, Morocco, 30 years ago, Adel Mechaal came to Catalonia at the age of two and at a young age became interested in athletics. The Spanish federation, however, put many obstacles in the path of his quest to gain citizenship and the ability to compete under a Spanish flag, and as a result, Mechaal always felt more attracted to Catalonia than to Spain. In fact, a few years ago, he attracted some negative reactions after stating in an interview that he would not say no to competing under the Catalan flag if independence came.
Mechaal found himself accused of being an independence supporter, to the point where he was asked to explain his views. "What I told the journalist was, verbatim, that in the hypothetical case that Catalonia became independent, which does not depend on me, I have my tax address in Catalonia, so if this happens and if the International Olympic Committee allowed me to compete under a Catalan flag, because of the fact that I live there, I wouldn't mind competing for Catalonia", he explained in an interview with the newspaper 20 Minutos.
After a period when everything stopped due to his mother's illness, the athlete from Palamós arrived in Tokyo in good shape, after taking third place in 3,000 metres at the European Indoor Championships. In Japan, though, he is competing in the 1500 metres. And now he has made it to the final - to be run on Saturday at 1:40pm, Central European Summer Time.
POST SCRIPT: Adel Mechaal smashed his personal best to gain an outstanding fifth place in the 1500 metres final at Tokyo 2020. In the fastest Olympic final ever over the distance, 20-year-old Norwegian Jakob Ingebrigtsen took the gold medal in a race in which the first five to finish - including the Catalan athlete - all broke the former Olympic record. Mechaal's time was 3m 30.77s.