Switzerland's newspaper of record, the German-language Neue Zürcher, has published an extensive article noting how the "rhetoric is getting stronger" as Spain approaches its general election on November 10th, and asserting that that rhetoric is likely to have one predominant theme: "Catalonia, as always, once again: the independence question will be the central issue of the Spanish election campaign," the Swiss newspaper writes in an article focusing on the run-up to the Spanish elections.
Setting the scene, the Neue Zürcher article notes that the verdict in the trial of 12 independence leaders is about to be announced and "the verdict is likely to further aggravate political tensions." Journalist Ute Müller, who wrote the story, reports that "there are many signs that the Catalan politicians will be sentenced to long jail terms."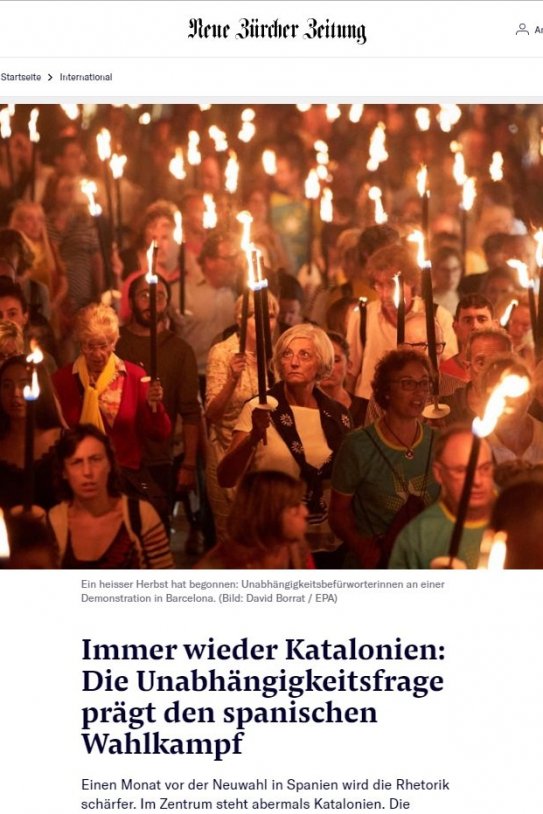 From there, the Neue Zürcher story anticipates "a hot autumn" with mobilizations driven by the "Catalan unions, Democratic Tsunami and the CDR."
The newspaper asserts that the Spanish prime minister, Pedro Sánchez, "is threatening" the Catalans: "Sánchez has flip-flopped. Previously, he expressed an understanding of the desire for independence of many Catalans and was willing to negotiate. Now he is threatening to place Catalonia under an imposed administration with the help of article 155 of the Spanish Constitution". Ute Müller does not overlook the fact that "his predecessor, Mariano Rajoy had already done the same".
Neue Zürcher also analyzes the behaviour of the "conservative" parties and emphasizes that this sector "interprets any reference to possible dialogue [on Catalonia] as a weakness" and adds that "conservatives are calling for a firmer stand on Catalonia."
Jailed CDR activists
As well, the Swiss newspaper mentions the recent incarceration of seven pro-independence CDR activists and the subsequent accusation against Catalan president in exile, Carles Puigdemont, regarding his supposed "connections with the arrested activists." The article ends noting that Puigdemont answered the claims by "accusing investigators in Madrid of criminalizing the independence movement in order to obtain a new European arrest warrant", aimed at extraditing Puigdemont himself and the other exiled Catalan leaders.