The case mounted by Spain's Court of Accounts against former members of the Catalan government over its foreign relations spending has crossed the Atlantic. After the son of former government minister and economist Andreu Mas-Colell explained his father's situation in a Twitter thread in English, well-known figures from the academic and economics spheres in the United States have spoken out in support of Mas-Colell.
As his son Alex Mas notes, the Court of Accounts is "a politicized, non-judicial 'tribunal' of controllers" seeking to impose massive financial penalties on his father "without due process". And thus the Spanish state could seize his parents' house, and his father's pension and bank account at the end of this month. A situation that Harvard Kennedy School economist Dani Rodrik calls a "disturbing threat." "I have great respect for Andreu Mas-Colell," Rodrik said. A viewed shared by former World Bank chief economist and Cornell University professor Kaushik Basu.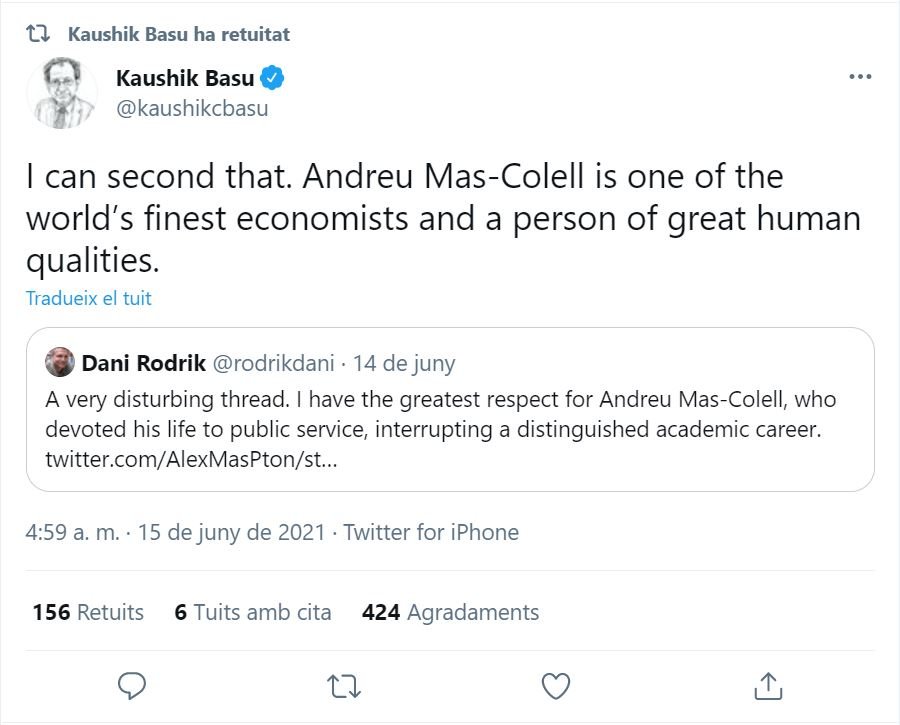 Former White House Economic Council advisor and University of Minnesota professor, Aaron Sojourner, also denounced that "the use of state power with political motives to punish public servants is corrosive." From the same university, economist and Doctor Honoris Causa, Tim Kehoe, also stated his concern about the charges against Mas-Colell and other former Catalan government officials.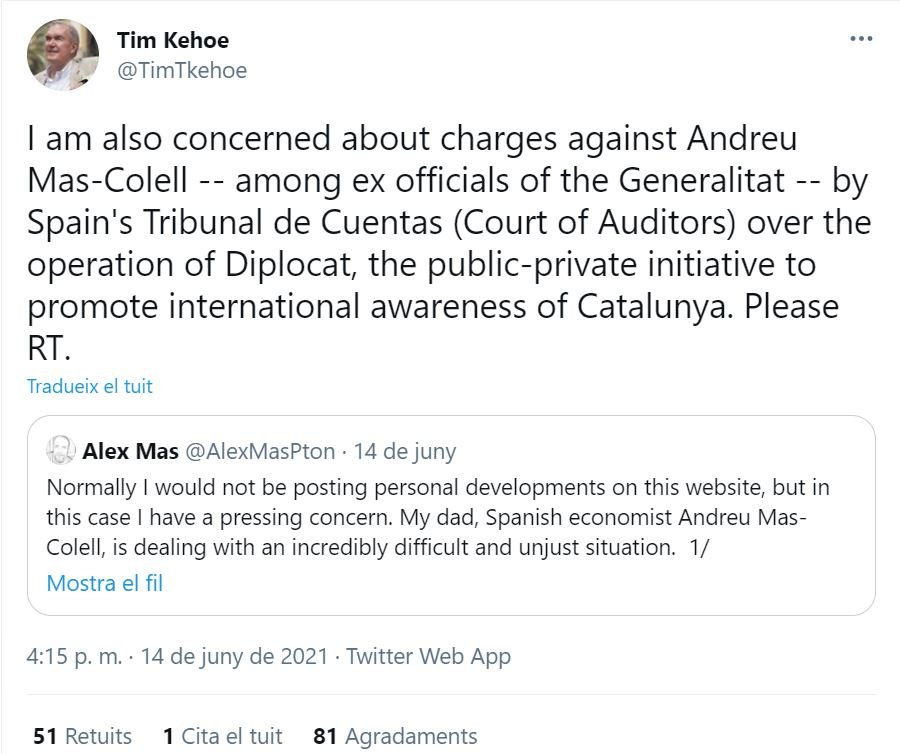 Solidarity from the Georgetown Center for Economic Research
Apart from the individual expressions of support, the institutional account of the Georgetown Center for Economic Research also expressed dismay at the treatment that Mas-Colell is receiving from the Spanish government. "Many of us have learnt from this distinguished economist. We are disturbed by these reports of his treatment by the Spanish government. This deserves a proper public airing, with a full legal recourse to Mas-Colell," they wrote in a tweet.
From the prestigious Massachusetts Institute of Technology (MIT), economist Sinan Aral, a world-class authority in business analysis, expressed his astonishment at the situation. "'Kafkaesque' cannot even describe what is happening in Spain to a giant of modern economics," he tweeted. "Let's spread awareness please".
The economist at Washington University in St. Louis, Michele Boldrin, went even further and in a tweet questioned whether Spain is a functioning liberal democracy because of the way it treats political dissidents. "The international economic community needs to speak clearly about this situation," he concluded.
The original twitter thread
Mas-Colell's son Alex, himself an economics professor at Princeton University, raised the issue with his academic community in a Twitter thread yesterday, justifying the use of his professional profile to share the story due to the extreme gravity of the situation facing his family.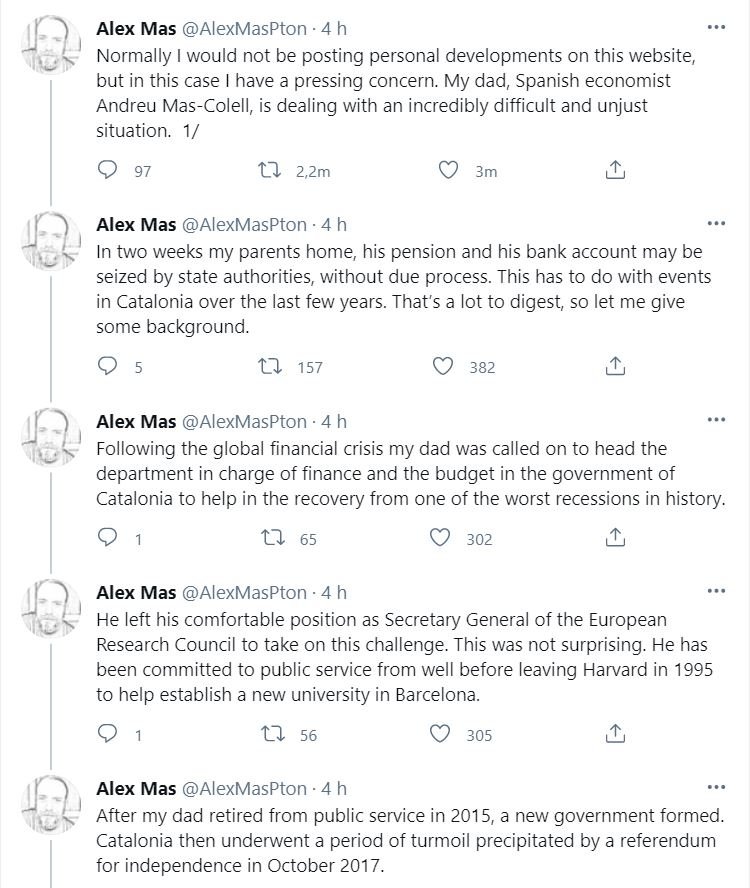 Mas notes that his father retired from politics in 2015, two years before the next government launched the October 1st referendum on independence from Spain. "These events led to a wave of arrests, convictions, imprisonment and harsh punishments against political and civil society leaders," explains Alex Mas. He points out, however, that his father had nothing to do with the organization of the referendum, because he was already retired. "And now, six years after his retirement, he has been singled out with severe financial punishment," he denounced.
The siege by the Court of Accounts
"Though not stated, my father seems to be targeted because he was, in the last resort, responsible for implementing the budgets voted on by parliament. It appears that for that he is now being held personally liable for a total amount that may add up to tens of millions of dollars."
Alex Mas explains in the thread how Spain's Court of Account works: that there will be no trial, that the sentence will simply be handed down and it will take years for the case to reach the European Court of Human Rights. "The neat trick is that in the meantime the defendants will have to put up a guarantee for the full amount requested," he remarks. Therefore, all defendants may have to cede their savings and property to the state.
"It will be complete and arbitrary expropriation. It saddens me that someone who has put so much effort into helping to build Spanish higher education and research is being treated in this way," he said.
On June 29th, the defendants will have to appear, coinciding with the 77th birthday of Andreu Mas-Colell.
The case in the quasi-judicial Court of Account focusses on the Catalan government's foreign relations between 2011 and 2017, claiming that many of its expenses were related to the independence process, and therefore illegal. The public auditing body has named over thirty people, including Catalan presidents Artur Mas and Carles Puigdemont, former vice president Oriol Junqueras and many other ex-ministers such as Raül Romeva, Jordi Turull and Andreu Mas-Colell as responsible for this spending. To quote just one expense, 4.5 million euros are claimed for the work of the Diplocat network of government offices abroad; the total expenses are thought to run into the tens of millions of euros. This is the sum which the body wants to reclaim from the former Catalan government officials.