For the first time in post-Franco Spain, the parliament in the country's most populous region, Andalusia, will be dominated by right-wing parties, with the extreme right having a key presence. With 98% of votes counted in Sunday's election for the Autonomous Community's parliament, the sum of the seats won by the Popular Party (PP), with 26 seats, Ciudadanos (Cs), with 21, and far-right party Vox (12) gives the right a total of 59 deputies, putting them over the victory line in a chamber where the absolute majority is 55. Thus, the formerly-dominant left is in the minority, with the Socialists (PSOE) winning 33 seats, and Adelante Andalucía (AA) taking 17, insufficient to form a government.
The PSOE has thus been shut out of government in Andalusia, with no possibility of forming any coalition, losing control of the Andalusian parliament after nearly forty years of Socialist majorities. PSOE leader Susana Díaz, despite leading the most voted party list, lost 14 deputies compared to 2015, a major collapse in a region that has long been the Socialists' strongest redoubt in the Spanish state.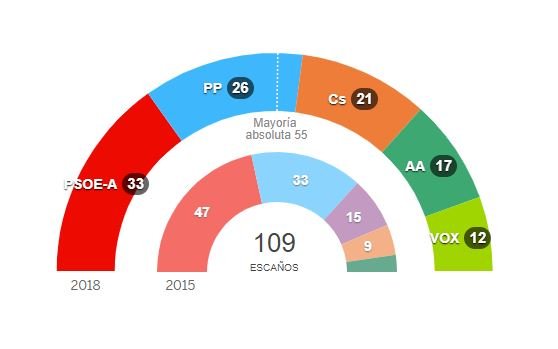 The rise of the far right party Vox has been a greater electoral earthquake than any of the polls predicted. The fragmentation of the Andalusian parliament means that the extreme right wingers now have the key to the formation of the future government. It remains to be seen whether the PP and Cs are willing to enter the parliamentary chamber in Seville hand in hand with the far right, or whether they will refuse to include Vox in a pact, which would almost certainly lead to a repetition of the elections.
One of the lowest voter turnouts in the last 40 years gave a helping hand to the right. Some of the historical bastions of socialism were most affected by voter apathy, while right wing parties were more successful in getting their voters to the polls.
Faces were long at PSOE headquarters, and beaten leader Diaz called on the "constitutionalist forces" to come together to stop the extreme right. Meanwhile, at the election night centres of Cs and PP, celebrations of their largely unexpected new situation were already under way, without closing any door to a possible agreement with Vox. The PP leader in Andalusia, Juanma Moreno, saw his party's representation in the parliament fall by 7 seats, yet paradoxically he now has the numbers to be the new Andalusian president, thanks to the overall right-ring majority. Ciudadanos, the other right wing group, surged from 9 to 21 deputies - a 12 seat gain which was equal to that achieved by Vox.