Less than 24 hours after Joan Laporta won a clear election victory to become the new president of Futbol Club Barcelona and he has already received his first warning. And not from within the Barça club, nor for anything to do with football, but rather, from a political leader in Madrid. José Manuel Rodríguez Uribes, the Spanish minister of culture and sport, has given a warning to the new president of the Catalan football club about his politics.
Laporta, Barça and independence
Laporta, having been president of Barça previously (from 2003 to 2010) and also a former Catalan parliamentary representative, has always been associated with the struggle for the independence of Catalonia, and he has never hidden the fact. In an interview with ElNacional.cat during the Barça election campaign, he affirmed: "The heart of Barça has always beaten in parallel with the pulse of Catalonia. In this regard, Barça must take a stand on issues relating to the country."
He also said that "Barça has become a global institution, with Catalans all over the world, but maintaining our origins, our Catalan-ness, as a club born in Barcelona". Laporta defends that the famous Barça slogan 'More than a club' means this, a "way of promoting the rights and freedoms of Catalonia".
Rodríguez Uribes's warning to Laporta
Spanish minister Rodríguez Uribes gave his words of warning to the new football club leader during a press event on Monday morning. And the warning was in political terms, relating to Catalan independence. In recent years, with the presidencies of Sandro Rosell and Josep Maria Bartomeu, the club has had a different profile, but with the return of Laporta, Barça could raise its presence in the political arena.
In his initial comments, Rodriguez Uribes was equidistant, saying: "It doesn't concern me if Laporta is president of Barcelona, I congratulate him." But then the tone has changed and he turned to politics: "We have to work together so that sport continues functioning, and Spanish football and sport are part of Brand Spain. We have often been recognized abroad for sporting reasons".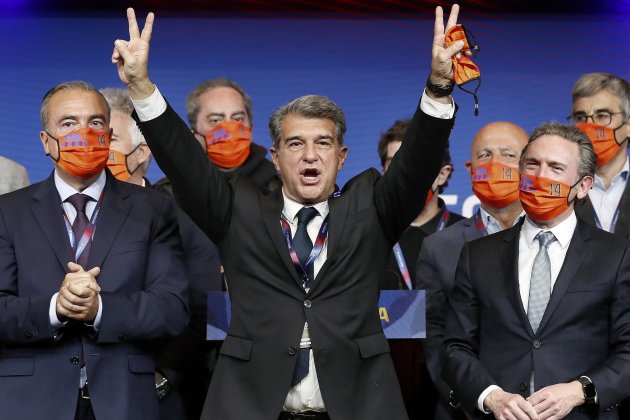 And the real warning came at the end. "If Laporta puts Barcelona at the service of the independence movement, he'll be making a mistake," he concluded, holding up a metaphorical yellow card to the new president, elected with 54% of the votes in the three-way presidential vote ahead of Victor Font (30%) and Toni Freixa (9%).