The reform of the offence of sedition, announced months ago by the Spanish government​, with the aim, in the words of justice minister Juan Carlos Campo, of "harmonizing" the Spanish Penal Code with that of other European countries, could lead to a reduction of sentences for the crime, by equating the conduct that it involves with offences of "severe resistance" to authorities, officials, or public peace - which are punished in most other European countries with a maximum of five years in prison.
Spanish government sources consulted by Europa Press argue that the Spanish offence of sedition is a crime whose equivalent in other European legal regimes is difficult to find, which is not the case with rebellion, which although not referred to by the same term in other codes, can be compared more easily with other severely-punished conducts such as high treason in Germany or crimes against the Republic or the integrity of national territory in France.
Although the Spanish justice department plans to reform the definition of both offences, the focus is especially on sedition because this is the offence which the Supreme Court determined that the nine Catalan pro-independence leaders committed, and for which it sentenced them to jail terms of 9-13 years.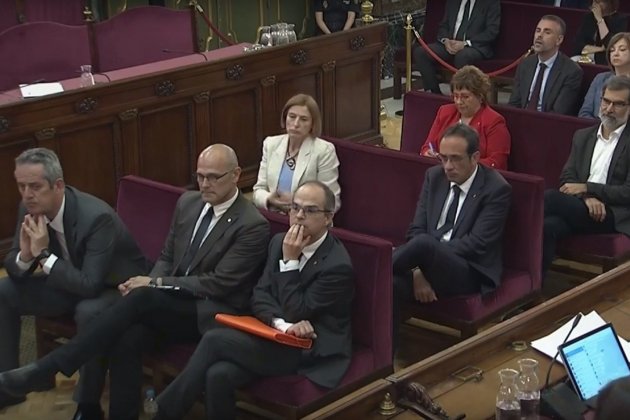 Moreover, if the sentence for the re-defined offence is reduced, the reform will have consequences for the sentences to be served by former Catalan vice president Oriol Junqueras and the other 8 convicted leaders, because the retroactivity of the law would be applied to the benefit of the offenders.
For this reason, an assessment under comparative law of sedition is of particular importance. According to legal sources consulted by Europa Press, a comparison of the penalties imposed in other codes for similar conduct, such as those of serious resistance against authorities, officials or "public peace", reveals prison sentences ranging from an upper limit of 8 years (only in Portugal) to sentences not exceeding 5 years in prison in most countries, and as short as 6 months at the lower end.
Currently, this crime is regulated in article 544 of the Spanish Penal Code, which states that a person is considered to have committed the crime of sedition if, "without [their actions] being covered in the crime of rebellion, they rise up publicly and tumultuously to prevent, by force or outside of legal means, the application of the Law or any authority, official corporation or public official from legitimately carrying out their functions or complying with their agreements or [to prevent the application] of administrative or judicial resolutions."
The penalties range from 10 to 15 years in the case of those in positions of authority, while for others, those who have "induced, sustained or directed sedition or taken part in it as its main perpetrators, will be punished with a penalty of imprisonment of from eight to ten years".
That is why it is being proposed to compare sedition - a nineteenth-century term, removed from the books in many countries, but perpetuated in Spain since the country's Penal Code of 1822 - with crimes listed in other countries to punish conduct that disrupts public peace or uses intimidation to prevent political authorities or civil servants from fulfilling their functions, according to legal and academic sources consulted.
Closest equivalents in Europe
In all these cases there is a fundamental difference with the Spanish definition of sedition, since in all of them there is talk of the use of violence or intimidation to achieve the alteration of the mentioned public peace and, even so, the penalties provided in these cases are less than those currently imposed in Spain.
In Italy, crimes in a similar category are regulated in Articles 336 and 337 of the Italian Penal Code, which imposes sentences of between 6 months and five years in prison, depending on the seriousness of the conduct; while in Germany, Article 113 of the Code punishes such resistance and public disorder, when violence is used, with 3 years in prison or a fine. These are the lowest sentences, without regard to any aggravating circumstance.
A similar situation, without consider aggravating factors, applies in Switzerland, where crimes against the State or the Constitution are punished with less than a year in prison, but "serious resistance" is punishable under Article 285 of the Penal Code with 3 years, even if it occurs with an uprising.
The highest penalties are provided by the Portuguese Code, with sentences of between 1 and 8 years in prison for such categories of "resistance" under article 333 and up to 3 years under article 334 in cases where there is rioting to disrupt the constitutional functioning.
In France, a similar crime is regulated in articles 433 to 426 of the Code with a prison sentence of 2 years which rises to 3 years if the crime is committed in a group; while in Belgium this sentence is up to 5 years if committed by a group, and falls to between 3 months and 2 years if it is individual, according to article 269 of its criminal code.
Thus, according to the same sources, "seditious" behaviour in Spain, although not requiring violence - just "tumult" - entails much higher penalties than in other European countries. In addition, the Spanish situation is exacerbated by the hazy definition of the article, which has become obsolete.
The reform, they point out, should be aimed at improving the definition of the offence and adjusting the sentence, which would also avoid what legal experts call the "discouragement effect", which occurs when a law is poorly defined, yet has high penalties, as this damages fundamental rights and is typical of authoritarian countries.
Rebellion
As for the Spanish offence of rebellion, identification with the penalties for such conduct against the constitutional order in other countries is simpler. France's Penal Code punishes "the act of committing one or more acts of violence likely to endanger the institutions of the Republic or to attack the integrity of the national territory" with thirty years in prison and a fine of 450,000 euros.
For its part, Portuguese law provides for sentences of between 10 and 20 years in prison for "those who try to secede from the homeland", subjugate Portuguese territory to foreign sovereignty, or endanger the independence of the country. In the case of Germany, a crime of high treason against the federation, with violence, can end up being punished "for life."
The crime of "rebellion against US authority or its laws" is punishable with up to ten years imprisonment and disqualification from holding public office, while the maximum punishment for those who "conspire to overthrow the US government will not exceed 20 years in prison."